Though there are lots of colors available to choose from, black has its own appeal. It is considered the color of luxury, elegance, and swank. And, when it comes to choosing from various black granite stones, Absolute Black Granite wins the race. But what is there in this granite that makes it a versatile choice of construction contractors, landscapers, flooring experts, home designers, and even homeowners? Let's find out in the following post.
Apart from diamonds, rubies, and sapphires, granite is known to be the hardest material available today. It is harder than marble and limestone and outdoes other stones in its capability to battle staining and acidic materials. Granite remains the first and foremost choice for exterior cladding as it is known for its high strength and resistance to adverse elements. Contrary to marble, granite requires low maintenance and is tremendously resistant to heat, stains, and scratches.
What is black granite?
Black Granites refer to dark-hued igneous rocks stated by geology experts as basalt, diabase, gabbro, diorite, and anorthosite that are extracted as building stone, building roughcasts, monuments, and specialty tenacities and marketed as black granite.
The chemical and mineral arrangements of such rocks are a bit different from those of true granites, but black granites nonetheless may be acceptably used for some of the similar purposes as marketable granite.
Black granites are primarily made up of middle to calcic plagioclase complemented by one or more usual dark rock-creating minerals like pyroxenes, hornblende, and biotite. Such rocks, due to their comparatively high level of iron and magnesium, are selected as ferromagnesian or mafic. One exclusion is anorthosite which, though usually dark, contains generally or completely calcic plagioclase.
Absolute Black Granite
Being one of the popular and darkest black granite stones, absolute black granite is known by different names like Super Black Granite, Absolute Black India Granite, Nero Assoluto India Granite, Premium Black Granite, India Black Granite, and Black Absolute Granite. 
Traits That Make Absolute Black Granite A Wonderful Choice
SOPHISTICATED APPEARANCE | RESILIENCE AND DURABILITY | VERSATILE DESIGN APPLICATIONS
This granite is found to induce a stylish, bold, and dramatic vibe that is perfect for chic and conventional looks. It is primarily quarried from South India and exhibits a uniform color and texture. On taking a look at it from afar, the stone looks pure black, but on a closer look, one can easily notice its grey mineral deposits.
Absolute Black Granite is a fabulous stone choice for both interior and exterior applications, particularly countertops, flooring, external cladding, and other architectural applications. The best thing about this granite is that it performs well even at freezing temperatures. Though this granite can also be sourced from other countries, the overall grade of the Indian variant is much better than other variants. This is why India is considered the biggest exporter of black granites to various parts of the world.
Popular Applications
Countertops
Flooring
Backsplashes
Fireplace surrounds
Outdoor Cladding
Architectural Features
Design Pattern
The color and design pattern of absolute black granite or jet black granite largely depends on the quarry from where it is extracted. In general, its black surface features little grains that occur due to the presence of minerals. The royal looks of this granite make it a popular natural stone for a variety of construction applications.
Technical Performance
The worth and usefulness of a granite stone are measured on the basis of its performance in the long term. And that is checked by determining the abrasion, absorption, and sensitivity quotient of the stone. In general, granite manufactures and suppliers in India opt for a lap test where granite is checked against various parameters. This lab test report is of immense value for granite buyers who can check its quality and performance through it. For your reference, below are some major rating factors in regard to the technical performance specifications of a stone:
Abrasion resistance (Rating- Medium)
Abrasion resistance of Absolute Black granite is determined to analyze its potential to fight surface wear. On the Mohs scale, this black stone is rated as 3.5-6.5. The high scratching resistance of this stone over other stones with a low abrasion resistance evaluation makes it extremely valuable for flooring and countertop application.
Absorption (Rating- Moderate)
Absorption of Absolute Black granite is also considered the relative porosity of a material. In regard to absorption ability, this stone exhibits a low to moderate absorption degree. This means that it is extremely necessary to seal this material correctly before usage. To upkeep the fresh look of this stone, one may need to wipe up spills from the surface often. Do keep in mind that the stone is susceptible to highly pigmented fluids and oils.
Acid sensitivity (Rating- Minimal)
The acid sensitivity of Absolute Black granite refers to the likelihood of a stone material responding to acidic liquids and foods. As far as this stone is concerned, black granite product is measured minimally reactive to acids. In addition, the stone doesn't lose its surface gloss and acid scratch after coming in contact with acidic liquids.
Mechanical Properties
·       Apparent density: 2960 – 3010 kg/m3
·       Open porosity: 4 % vol.
·       Water absorption: 0.02 – 0.06 % wt.
·       Flexural strength: 16 – 21 MPa
·       Compressive strength: 225 – 250 MPa
·       Resistance to fixings: 1900 – 2100 N
Durability
In comparison to other black granite stones, absolute black granite is found to be more durable. Its high glass polish tends to last for longer periods of time. Apart from featuring uniform color and surface pattern, this granite is an ideal choice for both indoor and outdoor construction applications. As this granite can be obtained in different thicknesses, one has the option to enhance its durability by choosing a thicker granite slab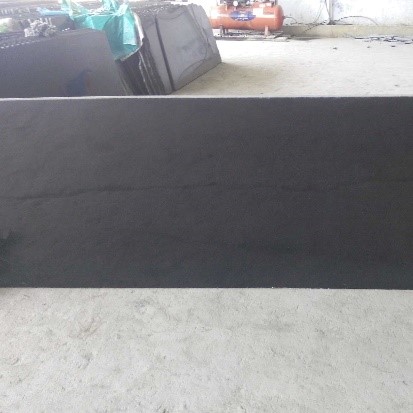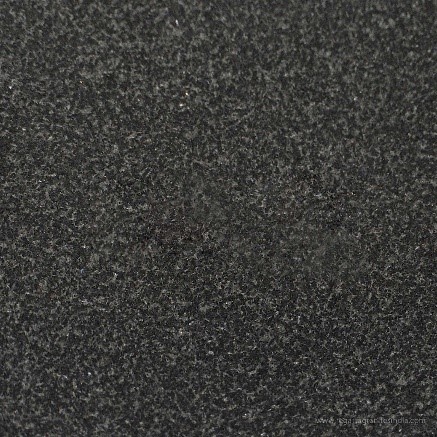 Finishes
Granite is considered a great countertop material for kitchens and bathrooms. The natural attractiveness of this natural stone has arrested the hearts of many. As granite ceases to become more affordable, more and more people are integrating it into their places. There are large numbers of color and pattern options available that a majority of folks often forget that there are numerous other ways to make their countertops look exclusive.
One of the popular ways to alter the appearance of a granite surface is to apply a finish to it. Here are six widely chosen finishing options for granite stone.
Polished
It is the most commonly applied finish on a granite stone. The reason behind its application is that it lends a glossy and even texture to granite surfaces. This finish tends to highlight the fundamental characteristics of the stone and its color appears more pulsating on this finish.
From a functional perspective, this finish makes it easier to clean the granite surface. Generally, people tend to refinish a countertop after several years with this finish to make it look new. Another plus point with a polished granite finish is that it closes the pores of the stone to keep water and moisture at bay.
Honed
Hone finish is also called matter or buffed finish and results in a very smooth surface without any reflection or gloss. This stone finish is achieved by terminating the polishing process before the buffing of the stone which results in a matte surface or satin finish. Honed finishes are extremely popular on floors to avoid people from getting slipped on the stone surface. This finish can also be used on countertops, but it makes the granite more prone to discoloration.
Bush Hammered
It is done by employing a tool that resembles a meat tenderizing hammer with triangular points on it. This tool is hit against the surface to enable a naturally battered look with a bit textured surface. This technique is found to weaken the color of the stone.
Flamed
This finish is done by applying high heat to the granite surface. And granite is the only natural stone whose surface can be treated this way. This is one of the most popular granite finishes being done today. This type of granite stone is mostly used for outdoor kitchens and is usually not preferred for indoor applications.
The application of high heat causes the stone grains to burst and change their color. The final appearance is the combination of a natural and faded surface texture.
Lepatora
Lepatora finish is done by first grinding the stone surface using an abrasive. This is done to remove the existing polish. After this, scratches are eradicated by using several other abrasives. Different numbers of stone brushes like 26, 80, 60, 120, 320, 240, and 500 are used to achieve lepatora finish.
Things don't end here as several other stone brushes are used to eventually get a finish that is a combination of gloss and muted, and appear less reflective. Though this type of finish appears a bit worn-out, overall it looks classy.
Leathered
Also known as the brushed finish, the leathered finish is a comparatively new finishing pattern. It is prepared by capturing a honed surface and applying diamond-tipped brushes which causes subtle dimples on the surface texture. According to experts, this surface finish tends to make the black granite surface look more urbane. Leathered countertops often maintain the color of the natural stone, dissimilar with a honed finish.
Here is a video that shows how flamed finished is achieved on a granite surface:
Installation
The installation of granite is a job that is best done by professionals of varying skill levels. Like anything else though, having the skills and the tools makes the installing project come out the best. Installing Absolute Black Granite would make use of standard diamond bridge saw blades and epoxy resin for installing granite products.
Once it is installed, it is usually necessary to make sure the surface has been wrapped with an impregnating granite sealer. Absolute Black Granite is such a unique stone surface that keeping it protected by maintaining the seal on the stone is a key to long life. It is relatively easy to learn how to seal granite. Even after the stone is installed though, the maintenance is ongoing.
Why Indian Absolute Black Granite remains a preferred choice among construction contractors and builders worldwide?
There are various reasons that make Indian absolute black granite a wonderful choice for construction contractors worldwide including:
·   Exceptional Endurance and Resiliency – Absolute Black Granite is extremely tough and amazingly resistant to stains.
·       Heat-Resistant – Granite easily manages heat without encountering damage.
·       Unique Patterns – Every stone piece is different as well as includes characteristic mottling, rainbow-like flecks, or veining.
·       Classy Shade – Black is a versatile color that matches well with almost any surroundings.
·      Combats Wear – Granite counterattacks scratches, chips as well as threats emerging from high website traffic exposure.
·       Acid-Resistant – This granite stone doesn't get damaged by various acidic foods or fluids.
·       Antibacterial – It is less likely to promote the growth of microorganisms on its surface
·       Improves Residence Value – Natural stone like absolute black granite advances both visual appeals as well as market price.
·    Cost-efficient – In comparison to other countertop options, this granite is cost-efficient in terms of purchase and installation cost.
·    Easy availability – India is a leading producer of granite and different types and colors of granite stones can be obtained in the country at competitive rates.
·       Lasting Shine – When taken appropriate care of, its surface stays unspoiled for an extended period of time.
·       Easy Maintenance – One can easily clean the granite surface with a moist sponge and mild detergent. Routine sealing may be required.
       The most exciting part of absolute black granite is its uniform black texture that not gives royal visual treatment to a place but also enhances the functionality of it like no other. Be it a commercial use or a residential one, Indian absolute black granite comes in a variety of finishes and sizes from various natural stone exporters in India.