Granite has been around us for decades. It is a big fit for all sorts of commercial and residential construction projects. Among different granite colors, white granite makes a big difference when it comes to floors, walls, vanity tops, and countertops. It redefines the living room, bathroom, and kitchen. Moreover, a white granite hue with some veins and lines over the surface simply steals the show. Amba white granite stone from South India is such a perfect stone option for the people who prefer to have the right material, color, and design. This stone suits not only different construction needs but also an aesthetic taste for interior and exterior décor. Read this content and find out why this stone type gives B2B buyers a competitive edge and B2C buyers lots of benefits.
Amba White Granite: An Introduction
A natural stone product allures all when it is strong, beautiful, and versatile. In the white color category, Amba white granite stuns with a refined, clean-lined surface that is synonymous with an elegant look. This stone comes from South India. With loads of features and attractions, this stone product is good for kitchen countertops, vanity tops, and floors.
• Popular names – Ambas White Granite or Bianco Amba Granite
• Primary color – White
• Variation – High
• Origin of the stone – South India
• Available forms of the stone – Rough blocks, polished tiles, cutter slabs, gangsaw slabs, countertops, stone articles, backsplash, and vanity tops
• Stone recommend for – Commercial and residential projects
Stunning beauty
When it comes to examining the surface of Amba White Granite, it is a medium-grained stone carrying interesting cream hues and clear crystals of medium sizes. The thing that makes this alluring stone look more unique is its white base that is smeared with grey-hued veins and brown dots. This stone can brighten up space where it is installed. The original beauty of this stone product lies in its variations and flecks. The perfect look and variation of the stone make this white granite look so luxurious and stylish in any kitchen.
• Surface description – White backdrop and brown dots and grey veins
• Available surface finishes – Polished, honed, brushed, leather, bush-hammered, flamed, and lepatora
• Available edge finishes – Machine-cut
Strength and resistance to wear
White granite is one of the hardest natural stones. That is why it has a very strong and durable surface. It is also unlikely to be flawed by cutting, scraping, etc. It can easily last long if it is properly sealed. Being stain-resistant, Amba white granite easily bears wear and tear. Interestingly, this stone product hides imperfections and blemishes. Thanks to intricate veining and colorful flecks of the stone that are patterned with lighter or darker hues. Moreover, this granite makes minor surface flaws, dust, watermarks, and fingerprints less visible. Find here information on Amba granite that comes with loads of properties. Also, check various physical features and aspects of the granite product.
• Apparent specific gravity – (min) 2.75
• Compressive strength (kg/cm2) – 1000-2200
• Dry density (m/v) – 2.58 to 2.68
• Hardness (Mohs' scale) – 6 to 7
• Moisture content (%) – 0.15 (max)
• Porosity (%) – 1 to 2.50
• Resistance to wear – 2 to 2.5 mm
• Shear strength (kg/cm2) – 280–540
• Tensile strength (kg/cm2) – 90 (min)
• Ultrasonic pulse velocity – 5000
• Water absorption (%) – 0.50 (max)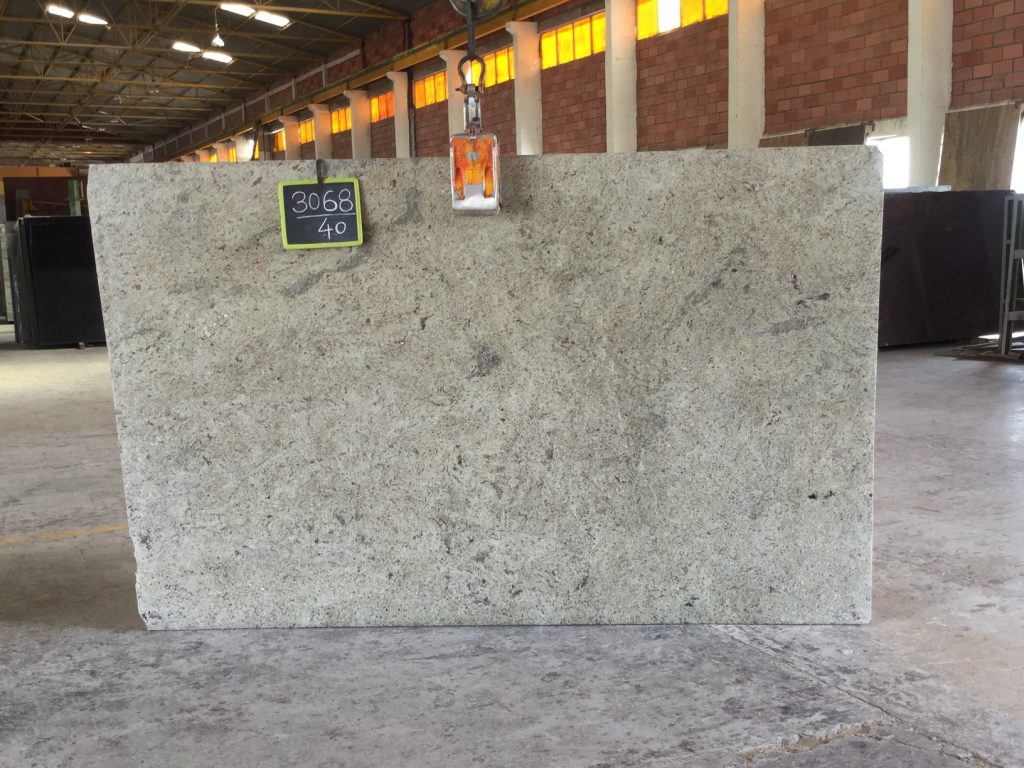 Great compatibility
Being of a complementary nature, white granite goes well with almost any color. With higher compatibility, granite slabs, tiles, and countertops suit all needs and aesthetic preferences. Just imagine a stark contrast (like black and white) cabinetry inside your kitchen! It will give a contemporary look to space where it is installed. A slightly darker (beige or brownish) cabinetry can do wonders. Indian white granite comes in different shades like snow white and off-white hues. Amba white granite is such a perfect stone that matches well with wooden cabinets of various colors around. The best compatible feature of the stone is that it works well in multiple kitchen designs where cabinets, furniture pieces, and flooring take things to the next level.
When it comes to finding quality Amba white granite options, Indian granite suppliers are capable of catering to all B2B granite needs in a professional way. They sell and supply white granite in bulk at competitive prices. Buyers can expect countertops and vanity tops in custom sizes to fit their commercial needs. In the same manner, they can have cut to size products on demand. Expect the availability of cutter slabs in the size of 180 x 60 cm up in 2 & 3 cm and gangsaw slabs in the size of 260 x 160 cm up in 2 & 3 cm. Last but not the least, tiles can be bought in the size of 30×30, 30×60, and 60×60 cm.
Summing up, Amba white granite is a useful and enticing natural stone product famous for its durability, beauty, and ease of maintenance. This feature-rich granite stone is good for all sorts of residential and commercial construction projects.