Granite countertops are common in all modern kitchens. People welcome them to make their cooking areas look unique. As far as a particular color of countertops is concerned, black granite countertops with more or less veining and splashes are making a big comeback into kitchens. Be it a glossy or a matte-finished kitchen countertop, granite-made black countertops make a fascinating appearance and offer a powerful performance. If you want to give a daring touch of sophistication to the kitchen, try out the most loved black color choices. Read the content ahead and find out the topmost black granite countertop options and their inherent features that make them never go out of style.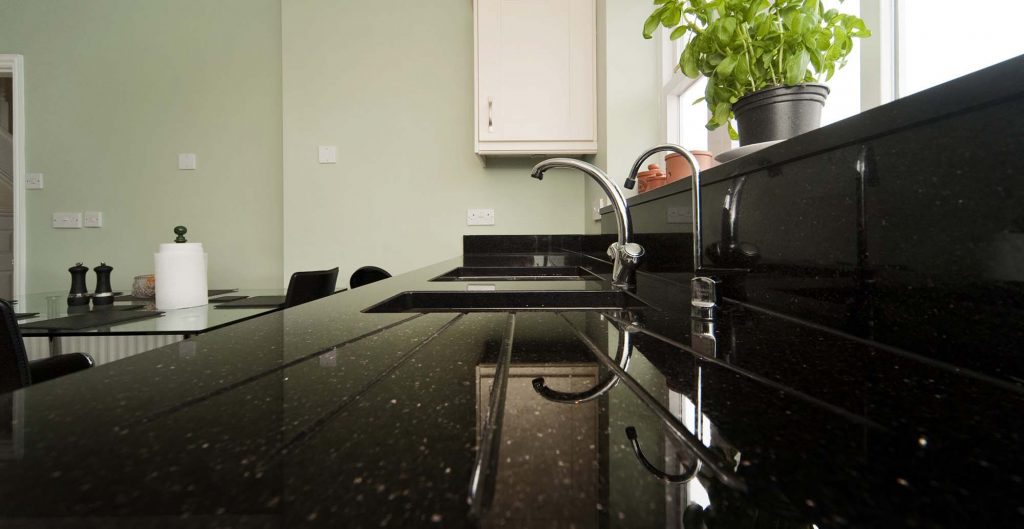 Granite countertops in black that never goes out-of-style
People love to renovate the existing kitchen area and make new kitchens to make the most out of the cooking and dining areas. With changing technologies, cooking needs, and modern living, homeowners like to have ergonomic countertops that are practical and easy to use. Some people who are not granite experts think that black granite surfaces will make the kitchen look too dark. They also believe that homeowners will find it hard to clean and maintain black counters.
With a universal appeal and tempting style, black granite countertops are always trendy and catch all eyes. They make a big difference to any kitchen area when they combine with light-colored cabinetry and walls. The best part of using dark countertops is that they make the space look dark. Being dense, black granite is less likely to absorb stains.
From light black to dark black and from absolute black to black with veins and dots, black granite comes in a variety of choices. With interesting finishes and edges, black countertops make things easy for the people who spend their maximum time in the kitchen area. Be it a wooden cabinet or a metal cabinet, black granite matches well to everything around. It also gives a complement to kitchen walls in an impressive manner.
Black and white color do magic when they are mixed. Imagine a black countertop in a traditional kitchen with a white cabinet! Isn't it a cool factor? A colorful tile backsplash above a black countertop will do wonders. A rustic wood self with a dark or light black-hued granite countertop simply inspires a kitchen renovation.
Topmost black granite countertops
Undoubtedly, the black granite countertop products do wonders when it collides with other colors. No matter you are opting for an off-white cabinet, floor, wall, or backsplash inside your kitchen, a granite countertop molded in a black hue adds a powerful statement. Indian granite market deals in the selling and supplying of a wide range of black granite stone products. The following are the top five black countertop options that one can expect from an ETI and ISO-certified granite supplier in India. These include:
Black galaxy granite stone
• Additional name: Gold Star Galaxy Granite, Black Star Granite, Galaxi Black Granite, Galaxy Gold Granite, Nero Star Galaxy Granite, Nero Galaxy Granite, Nero Star Galaxi Granite, Black Galaxi Granite, and Star Galaxi Granite
• Color: Dark black
• Material origin: South India
• Surface description: Golden and white speckles on its surface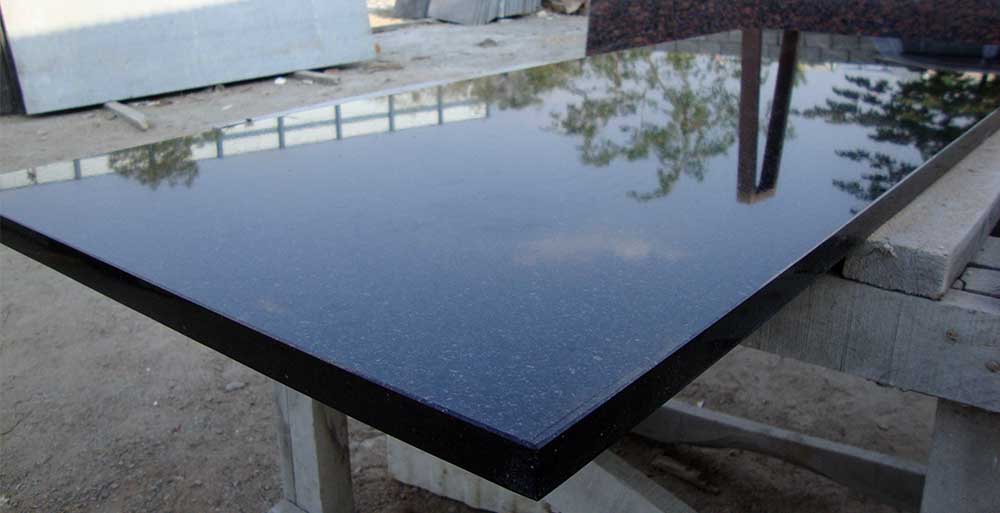 Absolute black granite stone
• Color: Dark black
• Material origin: South India
• Additional name: Nero Assoluto India Granite, Absolute Black India Granite, India Black Granite, Absolut Black Granite, Super Black Granite, Premium Black Granite, and Black Absolute Granite
• Surface description: A dark black backdrop with a very consistent texture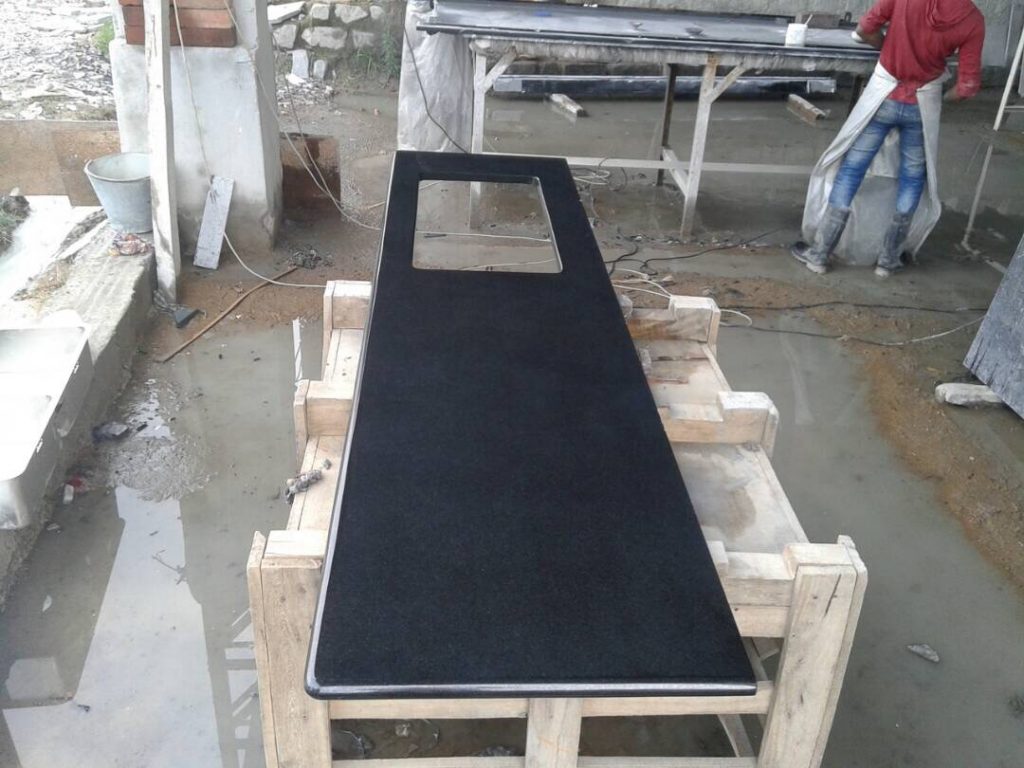 Black beauty granite stone
• Additional name: Black Beauty Breccia
• Color: Dark black
• Material origin: South India
• Surface description: A striking blend of black and grey tones with red speckles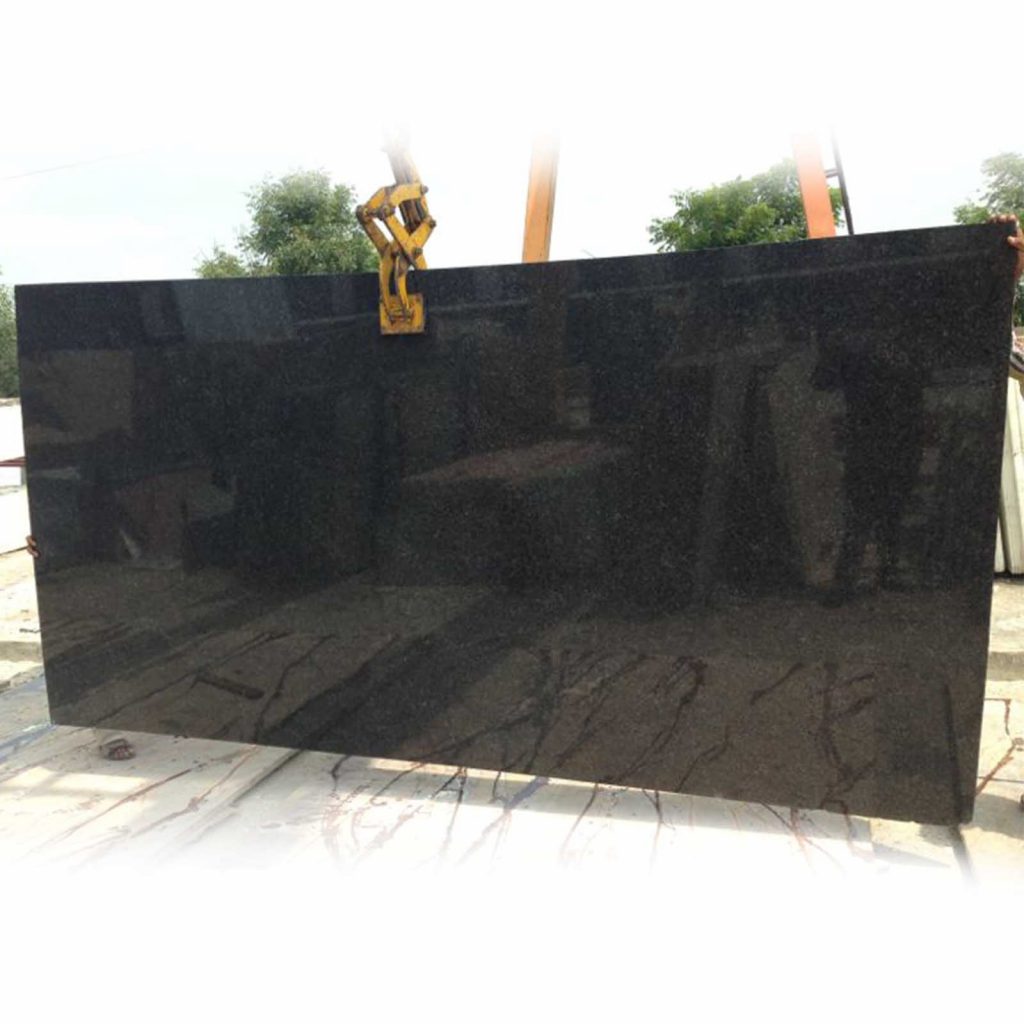 Black forest granite stone
• Color: Light black
• Material origin: South India
• Additional name: Silver Paradiso Granite, Forest Black Granite, and Lava Vechia Granite
• Surface description: Snow-white swirls and stripes over a black backdrop
Black pearl granite stone
• Additional name: Indian Black Pearl Granite, Black Pearl India Granite, Pearl Black Granite, Labrador Black India Granite, and Black Pearl Indiano Granite
• Color: Light black
• Material origin: South India
• Surface description: Semi-solid tones with speckles of black, silver, golden, grey, and brown shades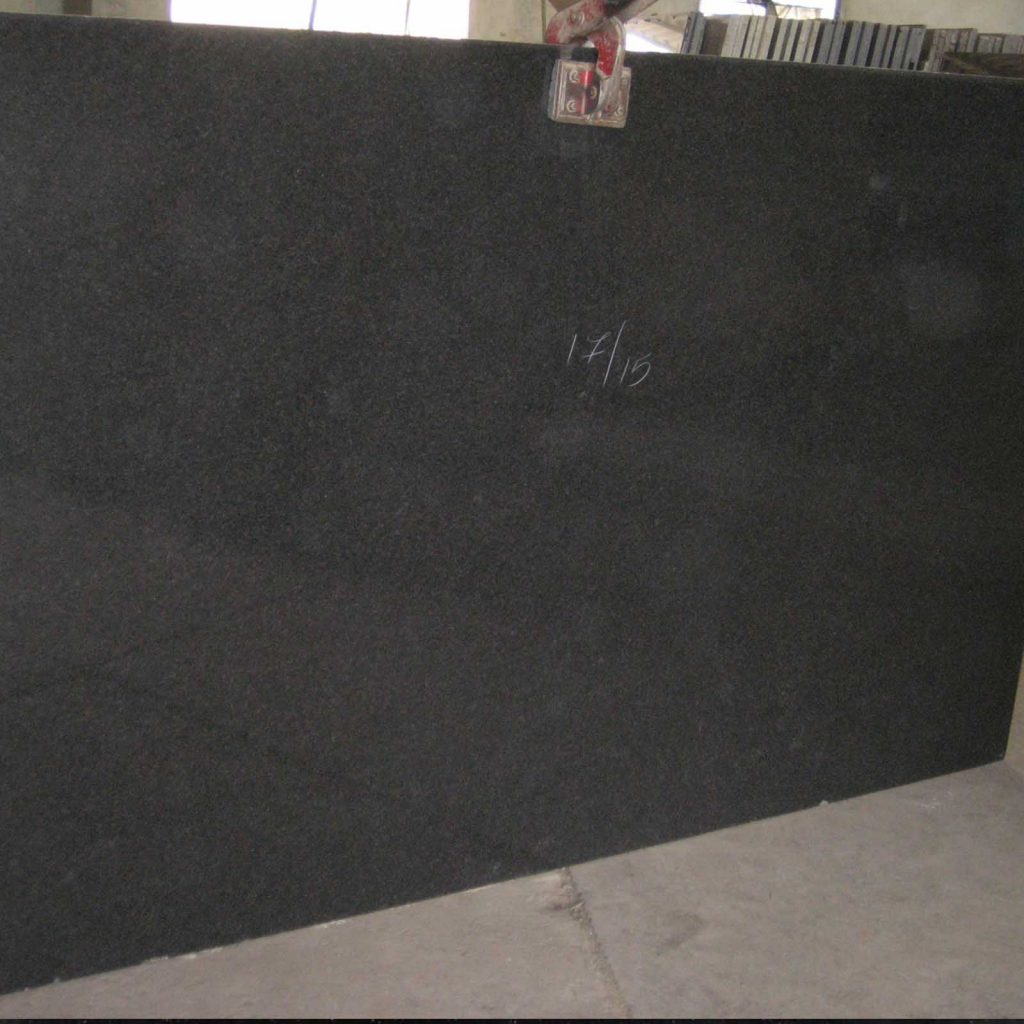 All mentioned-above stone types are ideal for black kitchen countertops. B2B buyers can expect granite stone countertops in standard and custom size options.
Buyers can expect the availability of custom-sized granite countertops and vanity tops in various finishes like honed, brushed, flamed, polished, lepatora, bush-hammered, and leather. As far as an edge finish is concerned, one can expect machine cut edges.