Granite is great construction material for having stylish and practical floors. This non-porous material is good for high traffic areas. With loads of chemical and physical properties, granite stone simply resists odd weather and temperature conditions. That is why it is seen as a durable option for all sorts of indoor and outdoor flooring projects. Here, the content discusses a successful granite flooring project accomplished in California. Here, some granite installation images will let granite enthusiasts understand how to get the most out of granite floors. It is about the successful completion of rosewood granite projects with granite tiles, steps, and risers.
Success story – Rosewood pink granite project in California
This case study shows how Regatta Granites India (RGI) overcame the expectations of its Californian client by supplying granite flooring tiles for an indoor office construction project. The 20-year-old company analyzed not only the actual needs of the client but also tactics to overcome challenges. From stone cutting at the factory to packing of stone to the delivery of packed products, the company gave prime importance to the exact business needs of the client. The client was looking for the following options in a pink granite product.
• Rosewood pink granite flooring tiles
• Rosewood pink granite step stone
• Rosewood pink granite riser stone
• Polished finish of tiles, risers, and steps
The Californian client demanded top-quality pink granite stone material in bulk. The client also shared sizes and patterns of pink granite for an office flooring project. The polishing of the stone was also a big concern. Moreover, the company had to deliver ready-to-use granite in a short time. Keeping the preferences of the client in mind, the company focused on quality, price, and delivery of the stone.
First, the company sent a sample to the client. After getting approval, the company asked a South India granite quarry to produce some rough blocks of rosewood granite. The production of tiles, risers, and steps at the factory started as per the needs of the client. The company kept the client reported on the status of granite production at its South Indian factory. The company got all stone types processed in a polished finish. Lastly, the company delivered the following stone types to its client at competitive prices.
• Rosewood pink granite tiles (60×90x2cm) in a polished finish
• Rosewood pink granite steps (100x30x3cm) in a polished finish
• Rosewood pink granite risers (100x15x2cm) in a polished finish
Have a look at some of the indoor flooring project images shared by Regatta Granites' Californian client. With these images, it is clear that RGI met all expectations of its client with the granite stone in terms of quality, quantity, and size.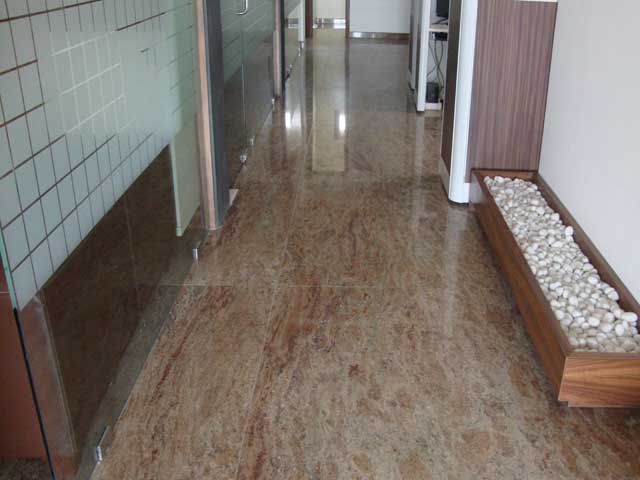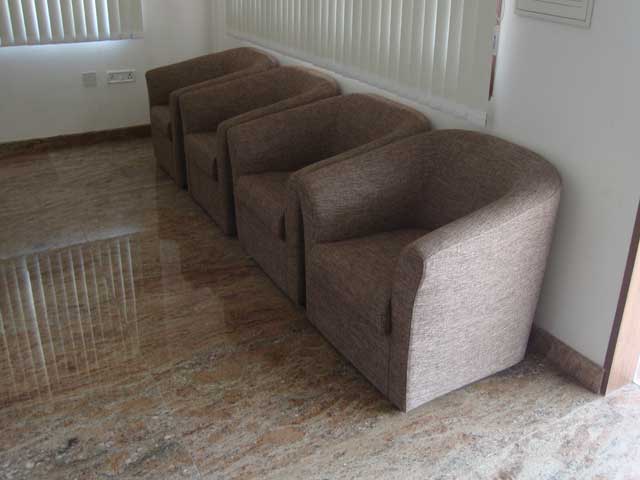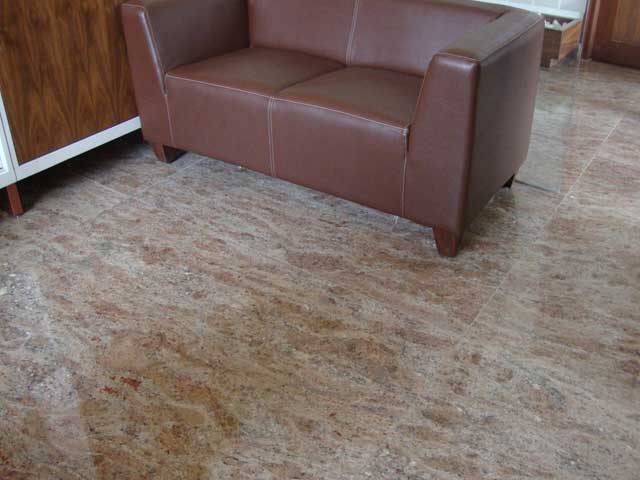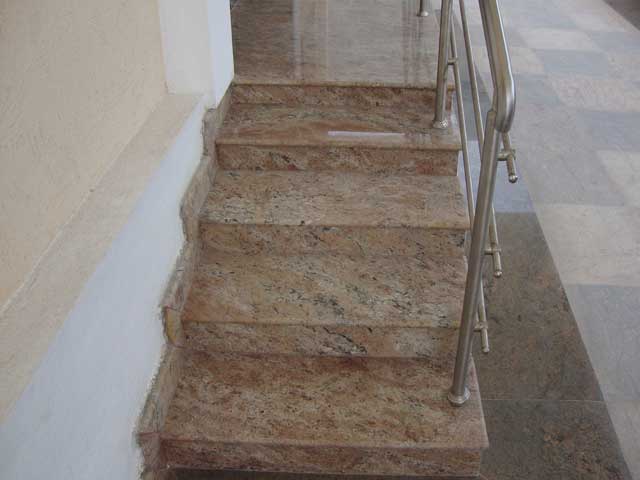 Rosewood granite status for indoor flooring
When it comes to having premium, commercial, or standard quality granite stone products for B2B and B2C buyers, Indian granite suppliers make a big difference. For pink granite buyers, Rosewood pink granite is a superb construction material that defines indoor flooring very well. Indian granite market is capable of catering to all changing needs of B2B buyers professionally. The following is a brief description of rosewood pink granite stone regarding an indoor construction project in California.
• Stone types: Granite flooring tiles, steps, and risers
• Color: Pink
• Material origin: South India
• Additional name: Rose Wood Granite or Rosewood Gold Granite
• Surface description: Swirls of peach color and veins of light grey shades
• Standard tile size: 60×90, 60×60, 60×30, and 30×30 cm with a thickness of 2.5 cm
• Standard step size: 100x30x3cm
• Standard riser size: 100x15x2cm
• Custom tile size: As per changing needs of B2B buyers
• Finish: Polished
• Edge: Machine-cut edges
Summing up
This content depicts the success story of Regatta Granites India. It also lets you know how the granite company matches the expectation of the client by solving all issues and problems amicably. B2B buyers interested in buying standard and custom-sized rosewood pink granite should buy granite stone only from an ISO and ETI-certified granite supplier, exporter, and manufacturer.
The best part of buying from a registered Indian granite supplier is that it can offer high-quality pink granite at competitive prices.