Be it the USA, UK, UAE, Australia, China, India, or any other country in the world, granite remains the most preferred material for countertops, vanity tops, and worktops worldwide. Not only does granite look awesome, but it also boasts superior levels of functionality, sturdiness, and performance in various scenarios. As granite comes in a plethora of colors like white, black, green, blue, brown, grey, and others, it allows both architects and homeowners to get a countertop for a property that can match perfectly with the surroundings.

Another important thing in granite is its edge. Mostly, the edge is created using high-end machines that process the side of a granite slab to achieve a specific edge.
The edge of a granite countertop is of immense value as it not only spruces up the overall aesthetics of the slab but also defines how to clean the countertop. As the edge of a granite countertop remains heavily exposed to an open environment, it should be done in such a way to avoid any kind of damage to children and other people.
Preparation of Countertop Edge
With the latest advancements in CNC technology, marble and granite countertops feature several types of edge that may be suitable for a number of applications. Some extremely fundamental edges are included in the square-foot or linear-foot price of the stone. However, more creative or complicated edges may incur an additional charge, which is pretty nominal given the overall amount you invest in the countertops.
There are primarily two types of edges – Basic and Premium.
Basic
The most elementary edge in a granite countertop is a straight edge. Being a squared edge, it features an extremely slight bevel, known as chamfer, which is known to make the edges blunt. However, at present, a bit round edge has become popular where the top edge is rounded off. Another commonly used edge is double quarter round, in which both the upper and lower edges are rounded.
A new variation is a bullnose where the upper edge is rounded amazingly, however, in the case of a full bullnose, the edge of a countertop is converted into a complete half-circle. Bevel edges are also in demand and they can be carved on either upper or lower edges or even both.
Premium
Today, many architects and homeowners prefer creative countertop edges that come at no extra cost. One of the popular options is ogee. Stirred by European construction, the ogee edge is made up of two elegant, comprehensive arches, one dipped, and the other curved. Other popular edges are cove, DuPont, waterfall, and stair tread.

Below is a detailed explanation of all popular edges in marble and granite countertops.
Popular Edges in Marble and Granite Countertops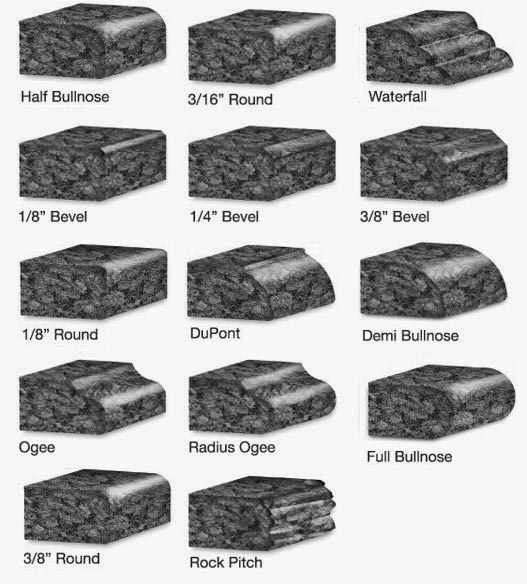 Full Bullnose Edge
Full Bullnose Edges boasts curves on both the upper and lower side of the bulging side of your granite countertop. The style is considered extremely safer for children it doesn't have any sharp edge. It is a very popular edge in different types of granite countertops.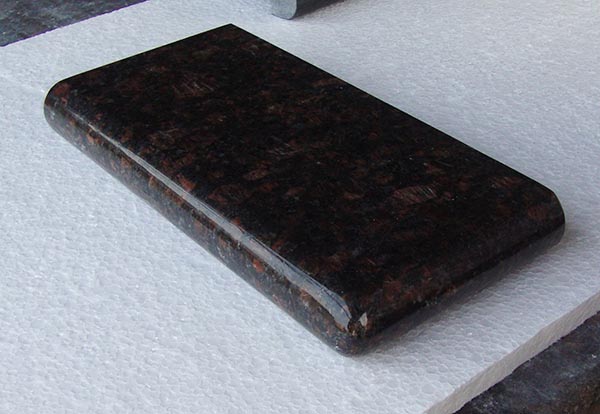 Pros
Matches both modern & classic kitchen styles
Children-friendly
Perfect for small kitchens
Cons
Cleaning may be difficult
Liquid tends to slip beneath
May result in spills into cabinets
Half Bullnose
It is quite similar to full business but it slants down to a 90-degree angle right to the floor. It makes cleaning and wiping easy and spills tend to fall on the floor rather than slipping into the cabinetry.
Pros
Quicker to clean
Available in marble, granite, and quartz countertops
Low-cost & chic
Cons
Not so children-friendly
Not preferred by some homeowners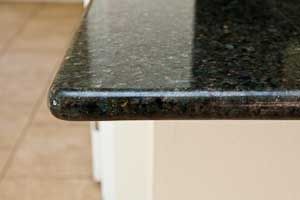 Beveled
A beveled or bevel edge is another edge type that can easily match with different types of decor, highlighting a distinctive 45-degree angle slope that goes straight to a right angle. A beveled edge makes it simpler to clean the granite countertops and cabinets in case of spilled liquids.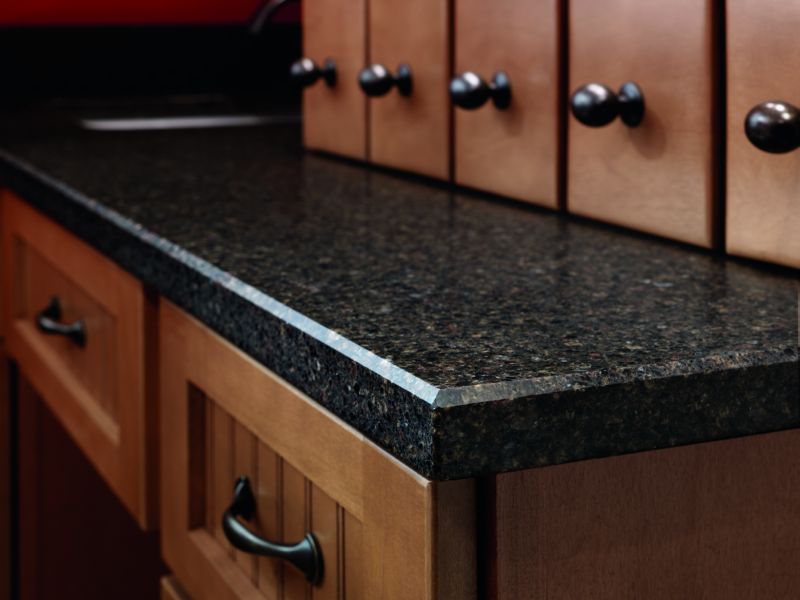 Pros
Perfect for both modern & classic décor
Distinctive 45-degree angle
No chance of spills slipping into the cabinets
Cons
Not safe for children
Not so well-accepted countertop edge
Ogee
It is the latest and modern countertop edge at present. This edge is primarily applied in areas that ask for superior levels of luxury and lavishness. The S-shaped edge profile is truly eye-catching, particular in marble and granite countertops.
Pros
Exclusive S-shaped edge
Lavish & timeless décor choice
Ideal for kitchen islands
Cons
May appear over-the-top
May not be perfect for all modern kitchens
Costly option
Waterfall
A waterfall edge is a visual concept that draws a 90-degree angle at the side of the countertop. Instead of just ending with a finished edge, the countertop moves toward the floor and extends down the side of the island, cabinet, or seating area.
Pros
A value-added product
Timeless design
Easy to clean and maintain
Cons
Costly
Sharp corners
Not ideal for every home
Straight
This edge is quite plain as it makes a clean 90-degree right angle cut. The reason behind its popularity is its cost-effectiveness in regard to cutting and cleaning. This is also a perfect choice for almost any space.
Pros
Easy & modern
Minimal décor
Easy to clean
Cons
Not safe for children
May not be preferred by all
Eased
As its name indicates, this edge profile exhibits a soft round edge that moves smoothly towards the floor. Nowadays, this countertop edge is very popular since it is ideal for all types of kitchens.
Pros
Easy & widely-prevalent edge
Round profile for safety
Ideal for small kitchens
Cons
Obsolete design
The upper edges are curvier than the bottom ones
The Conclusion
Be it a residential project or a commercial one, choosing the right countertop edge is very important as it affects the overall functionality of the countertop. So, if you are an architect, construction contractor, interior designer, or even a homeowner, make sure you are aware of all top countertop edges to choose the perfect one.