India is known to have a rich abundance of granite deposits and other natural stones. In fact, it is considered one of the leading granite exporters in the world. Experts claim that there are over 100 different varieties of granites found in the country that vary distinctively in their color and texture. These stones are largely used to build monuments, buildings, tiles, and surface plates, etc.
From residential to commercial, low-key to high-end, outdoor to indoor, granite emerges as the most sensible construction stone choice among builders today. Due to their innate beauty and toughness, Indian granite stones outperform their counterparts against a wide range of parameters.
The need for high-quality granite got up due to fast-paced industrialization and growth in infrastructure. As a result, the number of granite quarries and granite suppliers is continuously increasing in the country. Granite is the most prominent material in this sector, for the export sectors like monuments, flooring slabs, kitchen countertops, sculptures & exports. Considering the demand for Granite, granite producers intend to produce the demanded quantity of quality granite for both domestic & international markets.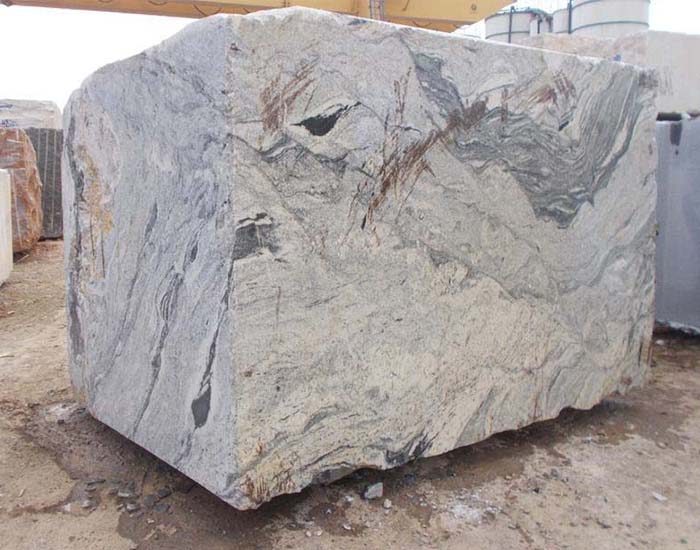 What is Granite?

Granite is considered a major structure and decorative stone. Due to its extremely compressive strength and lasting ability, it is used largely for large-scale construction projects. Fine-grained granites that are prepared using high-end polish is used in decorative and monumental projects and also for inscription jobs. The term granite is taken from the Latin word 'granum' which refers to a grain.
Having plutonic origin, Granite is an igneous granular rock and comes primarily in red, grey, white or green color due to the presence of felspar, quartz, mica, and ferromagnesian elements like amphibole, biotite, and pyroxene. It is usually of three types:
Alkali – It is composed of alkali feldspar
Cal-alkali – Primarily known as granodiorite having plagioclase felspar
Adamellite – A mid-level variability, having an equal portion of alkali and cal felspar.
Arrangement and Physical Properties of Granite
Granites tend to possess a wide range of physical and chemical properties. The matching ability of a granite stone for a project is determined by examining its properties which abide by the requirements established for the project. As granites are primarily used for their visual beauty, physical properties carry more weight than chemical ones. However, the chemical properties also play a major role, particularly when it comes to checking the stone's resistance to weathering.
The following tables highlight the chemical composition of granite.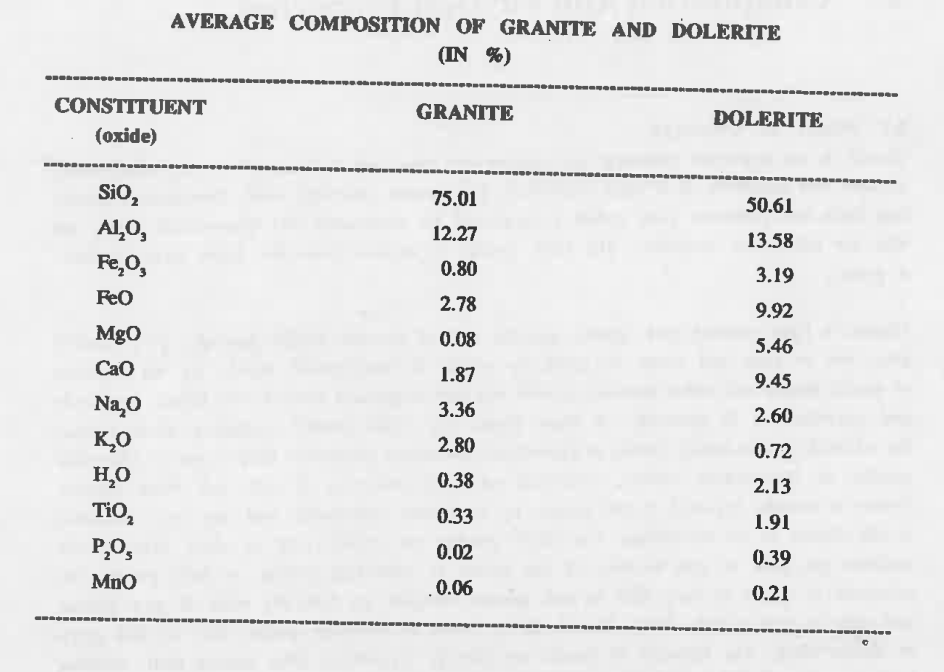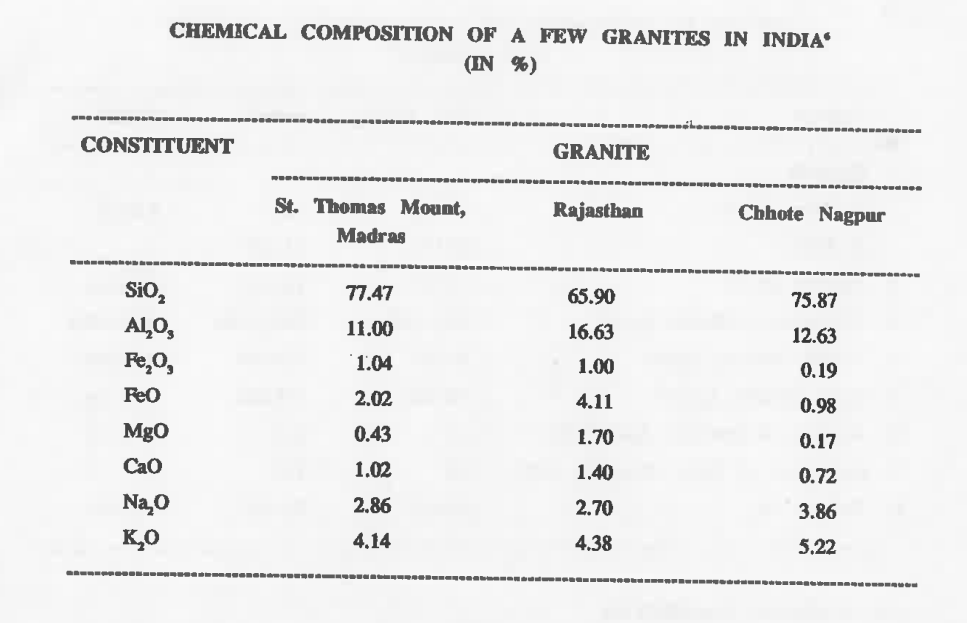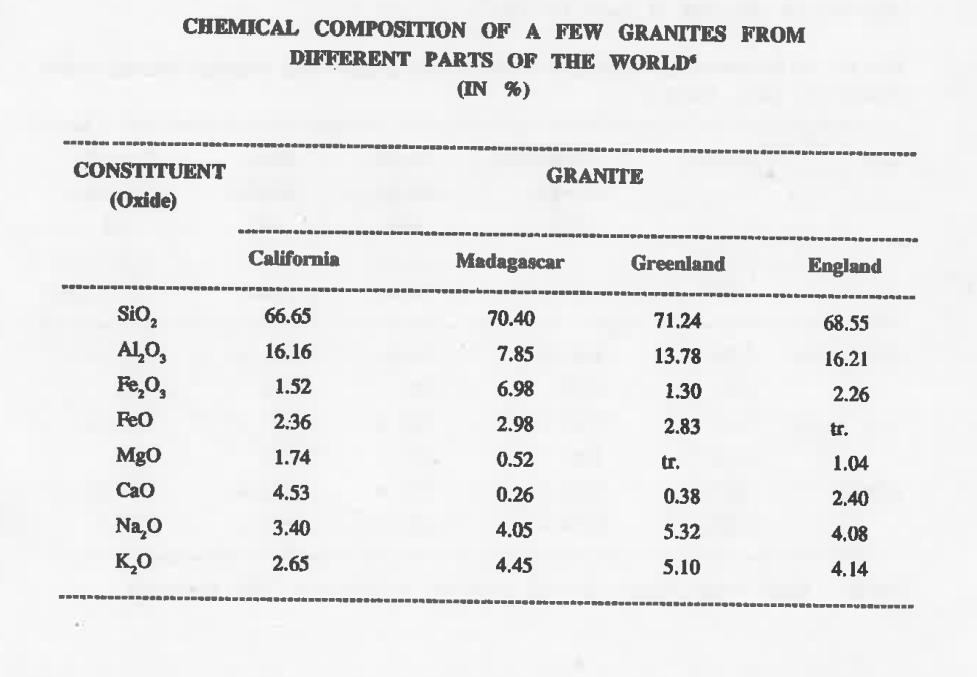 Geographical Distribution of Granite across Indian states
Granites are quite prevalent throughout the Archaean belt. Archeans are known to the oldest rocks on the planet and found the base of the stratified creations of the Cambrian upwards in various parts of the world. These are omnipresent with likewise properties with respect to their structure and arrangement.
According to Sir Lewis Fermor, below is the general sequence of Archaeans of India in 1919.
The eldest base gneisses showcasing in part, the primeval earth crust.
Dharwar sediments and concurrent lavas; also called khondalities.
Remelted lumps of basement gneisses, now having a high level of schistose and gametiferious rocks in Bengal and Peninsular gneisses and schists.
Charnokites and Bundelkhand gneisses with intrusions such as granites, periodicities and syenites.
The rocks under the Archaean system can be found over hundreds of kilometers of the region in India. The largest portion of India is occupied by this ancient crystalline setting. The Archaean System includes Chrnockites, Dharwars, Bundelkhand Genisses, Older Metamorphics and Basement Complex. These stones span extended areas in West Bengal, Assam, Rajasthan, Bihar, Rajasthan, Maharashtra, Gujarat, and Orissa, along with Southern states of India like Goa, Karnataka, Andhra Pradesh, Tamil Nadu, Kerala, and Pondicherry.
Some of the popular regions in India where granite reserves are found:
Andhra Pradesh
The state is known to have superb quality granites. The major districts here are Hyderabad, Chittor, Khammam, Prakasam, and Warangal.
Assam is known to have enormous reserves of granite in its central and lower part. Some of these reserves have very high grade pink granites. Besides, there is an abundance of grey and light colored granite.
The northern state of India has some good varieties of granites and gneisses. Geologically, they are pink granite, porphyritic granite, black granite, and others.
Granite stones of decorative and building values are found in Baroda, Amreli, Banaskantha, Mehsana, Sabarkantha, and Panchmahal.
Karnataka lies in Southern India and this region is known to have ample reserves of pink granite, grey granite, and black granite variants. The major areas where these deposits available are Tumkur, Kolar, Chickmagalur, South Kanara, Hassan, Raichur, Bellary, Bijapur, and Gulbarga districts.
Different varieties of granite are found in Jagannathpur, Kakuri Hill, Sunajheli, Kamalpur, Thirajaunju, and Ganjam districts. The granites found here are of pink color and boast easy splitting qualities as compared to stones found in other regions.
The state has excellent amounts of granite deposits in the region. Though granite is found in abundance here, other constructions stones can also be found here like limestone, sandstone, phyllites, and marble.
Granite of superb quality is primarily discovered in Barmer, Ajmer, Bhilwara, Sirohi, Pali, and Jalore districts.
This region is known to have rich amounts of black granite. The regions where it can be found are Walajah, Tirupathur, Vellore, Chengam, Dindigal, Tanjore, Nilgiri, and Salem districts.
Uttar Pradesh
The grey granite which is largely used for decorative purposes can be found in the Almora district. However, the Bundelkhand region also has some reserves of pink granite.
Granite deposits in the state can be found in the Purulia district. Birbhum district is also known to have some granite reserves.
Usage of Indian granites
Granite is one of the most popular building stones due to its high compressive strength and durability. Here are the recommended grades of granite stones for different applications.
Due to its large varieties, exceptional quality, high durability, and vibrant color patterns, Indian granite always remains the most sought-after choice of builders, architects, construction contractors, and homeowners all across the world. Due to the rising demand for quality granite stone, granite suppliers in India source the best quality stone from the quarries and supply them to other countries like the US, UK, UAE, and others.