There are lots of granite stone types having white veins over the surface. Some people who are not industry experts can take veins as flaws. But, they are natural flaws that add more beauty to the stone surface and value to space where the granite stone with veins is installed. When it comes to getting a black granite stone that comes with white veins, Black Marcino granite with its white veins running on a contrasting black surface makes a big difference. With this content, readers will know more about Indian Black Marcino granite from south India. Also, know more about veining patterns and types in the wake of black granite with white veins.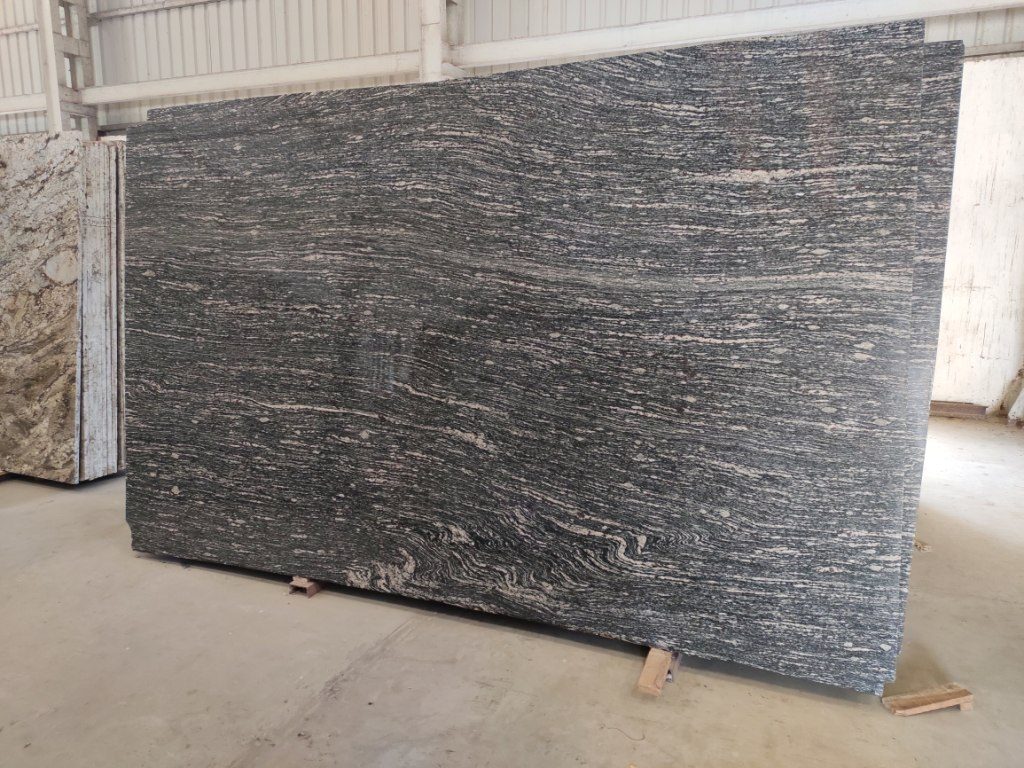 Veins on the surface induce a big difference
On granite stone surfaces, you will find some long, meandering lines of a particular color. These lines are called veining that crisscross natural stone. Interestingly, veining is one of the most looked-for characteristics that make a granite stone organic, elegant, and unanimous choice. In geological terms, veins are crystallized mineral sheets found inside a rock. Veins can be of different width sizes and may have numerous branches.
Crack-seal growth and open-space filling are two prime types of vein categories. The former one occurs quickly at higher pressures. This vein category gives birth to large open space. On the other hand, the latter one is concerned with the occurrence at relatively low pressures. Asymmetrical veins (having layers of different material on either side) and banded veins (having layers of diverse minerals laying parallel to the walls) are also other types in which you can categorize veins.
There is also another way to observe veins over the surface of a stone slab. This veining pattern depends upon the way a tile or slab is cut. Here, vein-cut and cross-cut stones are two broader types of vein-cutting. If a stone is cut against the vein, it belongs to the former type. When the stone is cut with the vein, this pattern belongs to the latter type. The best part of cross-cut stones is that it makes veins look like swirls than lines. Indian Black Granite with white veins is such a perfect stone type that it makes a big difference.
The story of Indian black granite with white veins
Veins always look effective; no matter what type of granite color you are choosing. The presence of a particular color of a veining pattern over a different colored surface is out of the description. White veins over a black surface or black veins over a white surface imparts the stone an enviable look. The real beauty of natural stone lies in the fact that no two pieces are ever alike. That is why some B2B buyers opt for well-matched slab products. The following is a brief description of the Black Marcino Granite stone that comes from South India. It includes:
Black Marcino Granite
Additional Names: Owl Black Marciano, Tiger Black Marcino, or Black Markino Granite
Color: Black
Destination of origin: South India
USP: White veins running on the surface with a contrasting black backdrop
Finishing Surface: Flamed, bush-hammered, polished, lepatora, honed, brushed, & leather
Edge finish: Machine-cut
Recommended Usage: Countertop, worktop, wall and floor applications
B2B buyers interested in buying this stone product can opt for custom and standard size as well. Primarily, an ISO-qualified Indian black granite supplier deals in the selling and supplying of custom-sized black granite countertops and vanity tops. Standard cutter slab size (180 x 60 cm up in 2 & 3 cm), standard gangsaw slab size (260 x 160 cm up in 2 & 3 cm), and tiles (30×30, 30×60, 60×60 cm) are easily available in India.
B2B buyers can opt for their choice standard and custom-sized black granite products in any quantity at competitive prices.