A large number of buyers get attracted to Indian granite colors, slabs, tiles and price. Granite as a solid construction material for floors, roofs, countertops, and wall cladding brings global buyers to India. With features of high resistance, this natural stone is in great demand in the international market. For global buyers, granite business in India is widely reorganized. Thanks to the availability of large reserves of natural granites suitable as a popular construction and architectural material. Let's see how Indian stone caters the preferences of global buyers with a difference.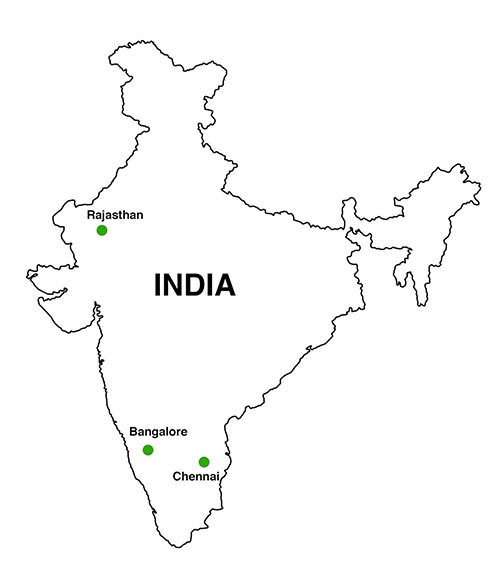 Benefits that international buyers ensure with Indian granite
Growing usage of granite as a decoration material is the latest trend as it not only delivers beauty to a concrete structure but also it is long-lasting. Moreover, the increasing use of granite in memorials and funerary items has bolstered the production of granite in India. Nowadays, the supply of granite products and articles in the global market has become smooth and regular. Granite importers interested in purchasing Indian granite products come with loads of questions before making a purchase. In return, Indian granite products and varieties overcome their expectations with the following facts:
• Attractive quality-price ratio
• Lower production costs and strict governmental regulations
• 12 major ports and around 200 intermediate ports
• Granite transportation by sea
• Improved logistics operations and infrastructure
• Over hundreds of granite reserves in North and South India
• Technological advancements
• Sophisticated quarrying and techniques
India doesn't import China-like granite for the production purpose as it has a large number of quarries and processing units. Decreased cost of mining and ample availability of granite colors and patterns help international buyers come to India and buy in bulk. If buyers get in touch with an ETI and ISO certified granite supplier, exporter, and manufacturer in India, they are likely to buy and import granite floor tiles and slabs at a price tag that suits the pocket of buyers from USA, UK, Canada, Australia, Europe, Middle East, and Russia.
Factors that determine Indian granite grades
Although there is no set industry-wide standard for determining quality or grading of granite at the global level yet the factors of price, origin, cost, color, and thickness of granite plays a vital role. In addition, one should consider the factors of veins, marking and pitting. Finally, it is the quarry location and the number of soft minerals in the slab that induce a big difference.
Level 1 – Low-Grade Granite
This granite type is termed as "commercial grade or second choice." Such a grade is widely available in China at a lower price tag.
Thickness – 3/8 (Thinner cut)
The product of this quality needs external support for having demanded strength.
Level 2 – Mid-Grade Granite
The stone of this grade is harder and more durable. It has average colors and patterns. In addition, it comes with a pitted surface.
Thickness – 3/4 inch or 1 1/4 inch
This middle-grade granite type is widely available in India at a higher price tag for global export.
Level 3 – High-Grade Granite
Available at a higher cost, this granite grade delivers the best quality. With soft or hard material, this granite type comes with rare colors, pattern, and veins.
Thickness – 3/4 inch or 1 1/4 inch
Moreover, this stone has a rare appearance and source. India supplies rare granite colors and higher grade in bulk. For example, black galaxy, lavender blue, new Kashmir white, multi-color red, etc.
Granite buyers interested in purchasing Indian granite varieties can take help from professional Indian granite suppliers. 
India is capable of fulfilling the growing demand for granite colors, especially 2 and 3 level granite material, along with other granite exporting countries. Indian natural stone company Regatta Granites India offers top-level granite blocks, slabs, and tiles products. For having complete product information or sales inquiry, explore our product gallery or fill the form here.
Whether you are searching for granite worktops or vanity countertops, the granite supplier offers an edge and resolves your granite import, supply, and delivery-related needs, queries and problems in an amicable manner.