Among different varieties of granite stone available globally, Indian granite is the most preferred choice of buyers across the globe. The primary reasons behind this liking are the hardness of Indian granite, wide range of colors and patterns, affordability, and most importantly unmatched quality. The right combination of aesthetics and strength makes Indian granite a hot selling natural stone in the global markets.
Granite precisely refers to coarse-grained igneous rock primarily made up of alkali feldspars, quartz, and plagioclase. It origins from magma with abundant levels of silica and alkali metal oxides that gradually solidify beneath the earth's surface. However, in general terms, the term granite has become identical with all those crystalline rocks which have an eye-catching design, and strength to undergo the processes of quarrying, cutting, and polishing. Due to its unmatched hardness and excellent resistance to wear and tear along with weathering, granite is the most preferred natural stone to be used for construction and decorative purposes. Moreover, it comes in a wide range of colors which is another big reason behind its popularity.
India is known to have huge deposits of different types of natural stones and granite is one of them. It is one of the biggest producers of dimension stones in the world. Broadly, Indian Granite is divided into two categories based on its origin – North Indian Granite & South Indian Granite.
DID YOU KNOW?
India accounts for over 20% of the global granite resources.
(Source – Indian Bureau of Mines)
In India, granite is generally considered expensive when compared with other options, hence, its use and trade on the domestic side have been relatively lesser when compared to its export capacity.
Granite is exported from India in the form of rough blocks, cutter blocks, slabs, tiles, and custom-sized granite stones.
Resources
India is awarded plentiful resources of a wide range of granite stones comprising over 200 shades. As of April 2015, reserves/resources of granite dimension stone of all types have been assessed at 46,320 million cubic meters. (Source – Indian Bureau of Mines)
State-wise Production of Black/Colored Granite
Specifications
The main properties of granite stone which are generally respected for exploitation are compressive strength, density, tensile strength, p-wave velocity, etc. Its other functional properties include a wide range of colors, texture, granularity, size, porosity, hardness, moisture content, etc. A granite stone is considered of good quality if its design pattern is uniform all over the surface and free from general flaws like fractures, joints, shears, hairline cracks, and pinholes, etc.
Uses
Granite always remains a winning choice among architects, contractors, and interior designers for a variety of construction projects. In erstwhile times, the use of granite on pillars and beams was quite prevalent as the stone is sturdy enough to support the mammoth structures of palaces and temples. However, with the advances in technology like improved polishing ability, the application of granite has immensely increased on the aesthetical front. The advanced mechanical tools made up of tungsten carbide and brazed diamond enable the granite manufacturers to cut & polish granite as per the precise requirements and specifications of the running construction projects.
Granite has been extensively used in both indoor and outdoor construction applications like paving, flooring, monuments, countertops, stains, and wall cladding, etc.
Production
Granite is termed as a "Minor Mineral" under the MMDR Act, 1957, and thus comes under the control of the State Governments. Most of the granite production of granite both raw and processed form is done in Rajasthan, Tamil Nadu, Andhra Pradesh, Karnataka, and Gujarat. The raw blocks of granite are quarried and transported to processing units located in various parts of the country.
Colors
The easy availability of different colors of Indian granite is another reason why global B2B buyers prefer this stone. Some of the most popular colors are black, green, blue, brown, grey, pink, and white.
Mining
Extraction of blocks of substantial size and weight is an important element of granite mining. The process and equipment used for granite mining vary from those used for mining other objects. There are two major steps of the granite mining process – the first actual block excruciating either from sheetrock or boulder and the second is a range of other activities like the removal of the weathered zone, unraveling faces, lifting of cut blocks, transportation, and much other additional work before and post block splitting.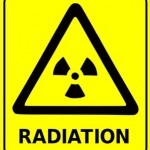 The top producers of granite in the world are India, Brazil, China, Saudi, Arabia, and Italy. At present, the United States of America is the world's largest consumer of granite and most of its requirement is fulfilled through Brazil, India & China.
India has one of the vast granite deposits in the world with wide-ranging varieties comprising over 200 shades. This makes India a substantial player in the global natural stone market.
Though China is also a leading exporter of Granite, Chinese granite is found to be of inferior quality. Leave aside quality, even on comparing the chemical structure of Chinese granite with other granites, it has been discovered that Chinese granite contains radium and potassium residues in the form of radioactive isotopes.
Popular Indian Granite Variants
As its name indicates, it is pure black granite and features a very uniform color and texture. It is also known by other names like Super Black Granite, India Black Granite, Premium Black Granite, Nero Assoluto India Granite, and Absolut Black Granite. 
This Indian granite is widely used in making kitchen countertops, monuments, gravestones, fireplaces, backsplash, and flooring. The available polishes on this stone are polished, flamed, leathered, lepatora, honed, bush-hammered, and brushed.
Click here to know more
It is another black granite from India which showcases golden-yellow glittering bronzite scales. Black Galaxy granite is ideal for both interior and exterior application, however, it is frost resistant and widely preferred in colder regions.
Black Galaxy Granite is among the most demanding Indian granite stones and is widely used in countertops, flooring, mosaics, window sill, and vanity tops. This granite looks awesome with a gloss polished surface but is also available as honed, polished, lepatora, thermal/flamed, brushed, bush-hammered, and leather finish.
Click here to know more.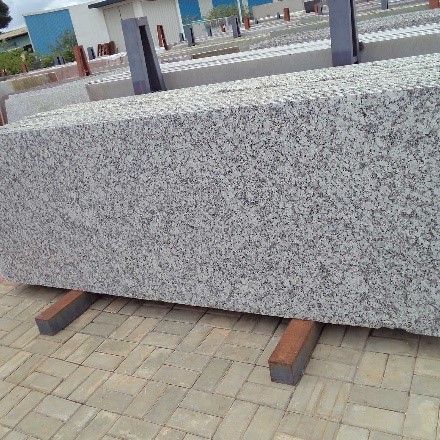 Admired for its refined tone and subtle appearance, this white Indian granite highlights a snow-white backdrop with black & grey speckles. Commonly known as P White Granite, this stone is a fabulous choice for a myriad of commercial and residential construction applications like countertops, flooring, exterior wall cladding, fountains, stairs, window sills, and others.
Apart from its stupendous beauty, its other features like hardness, durability, moisture-resistance, and low maintenance requirement make it a hot selling product worldwide.
Click here to know more.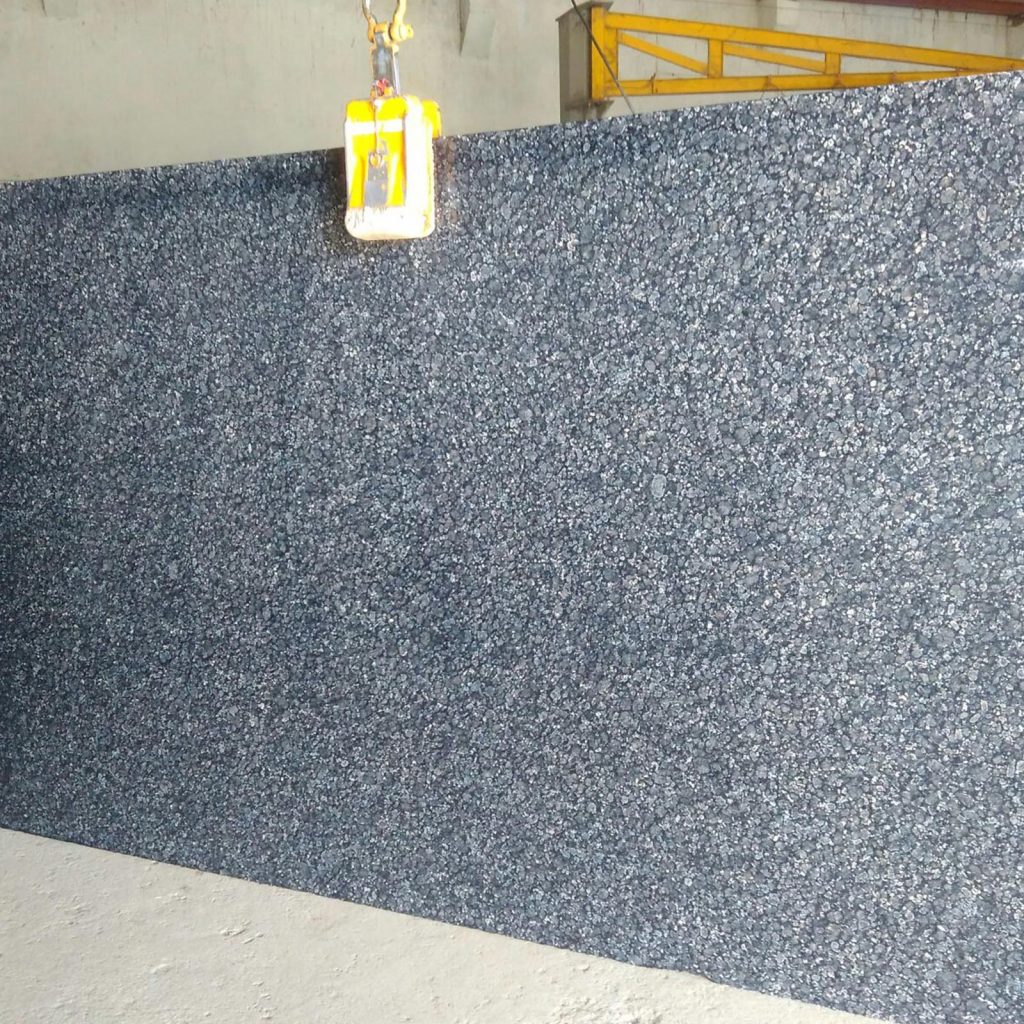 Quarried in North India, Imperial Blue Granite features a visually-appealing blue background with white, light grey greenish-blue colored speckles scattered all over it. Available in standard and custom sizes, this granite stone is a perfect choice for residential and commercial construction applications.
Available in multiple finishes and sizes, this Indian granite remains always in demand among B2B buyers worldwide.
Click here to know more.
Admired for its beautiful floral patterns on a pink backdrop, Rosy Pink Granite is counted among widely exported granites from India. It is extensively used for both indoor and outdoor décor applications like kitchen countertops, flooring, tabletops, window sills, fountains, vanity tops, and others.
Rosy Pink Granite is extremely hard, durable and most important heat and scratch resistant which make it a stone of choice among contractors, architect, landscapers, and interior designers worldwide. It comes in various finishes including polished, flamed, lepatora, brushed, bush-hammered, honed, and leather.
Click here to know more.
Quarried from both North and South India, Kashmir White Granite is popular worldwide due to its exemplary compatibility with various interior and exterior applications. Its snow-white background looks awesome with evenly scattered speckled of colors like burgundy, charcoal, and steel grey.
This Indian granite is a wonderful option for kitchen countertops, vanity tops, worktops, paving stone, fireplace surrounds, backsplashes and tiles. However, this product may be a bit expensive than other variants due to high demand globally.
Click here to know more.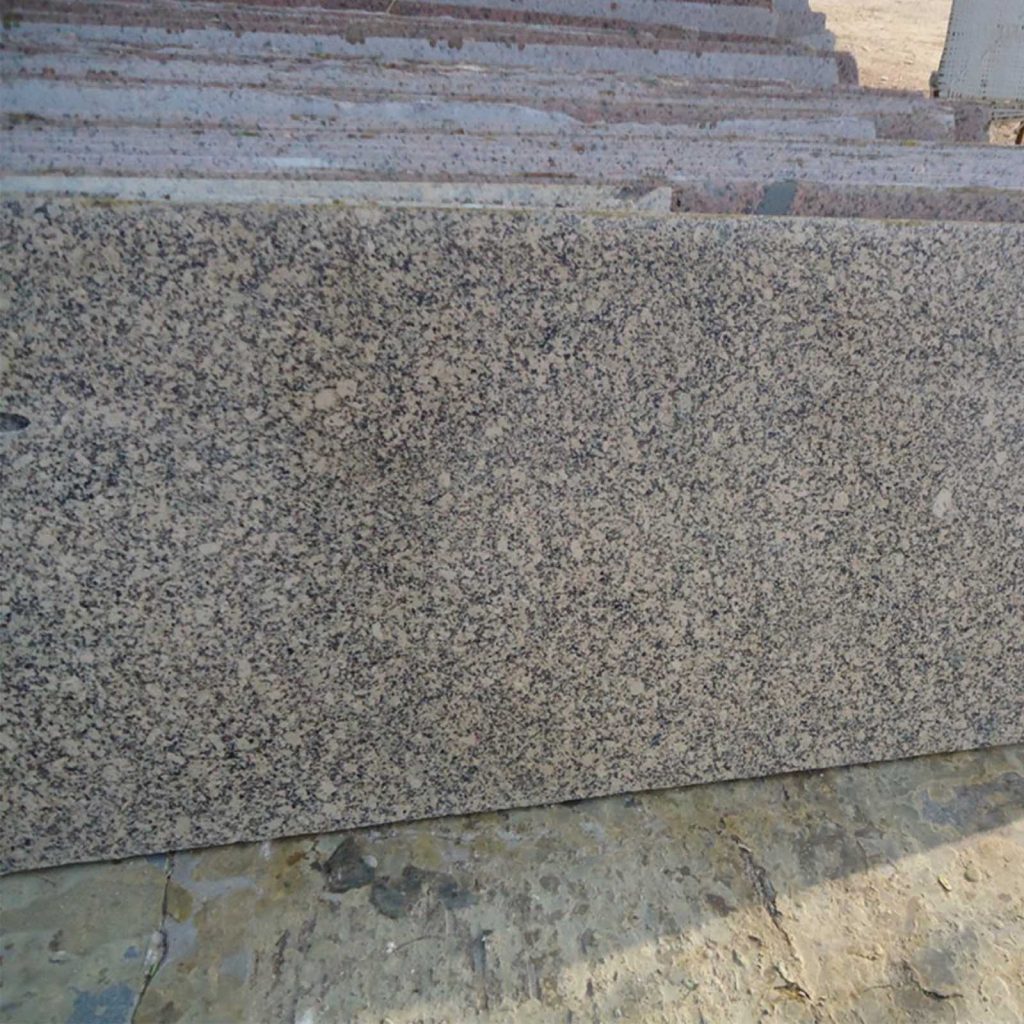 It is another most popular Indian granite in the global markets. It boasts a shiny yellow surface with evenly dispersed black dots that look eye-catching to onlookers. A versatile stone product for both residential and commercial construction applications, it can be purchased in various shapes, sizes, design patterns, and thicknesses.
Crystal Yellow Granite exhibits strong resistance to freezing temperatures which makes it a favorable choice in western countries. It can be used in a wide range of applications like Kitchen Countertops, Tabletops, Vanity tops, Flooring, Basins, Window Sills, Fountains, Wall Cladding, and Elevator Panels.
Click here to know more.
Today, India stands firmly as the global leader in the global granite market by exporting high-quality granite to countries like the USA, UAE, Italy, Germany, UK, and others. Due to refined quality stone and the availability of multiple varieties, Indian granite is quite popular among B2B buyers globally. On the other hand, Chinese Granite is considered of inferior quality as compared to Indian and Brazilian natural stones.