Granite has always been a mainstay in the global construction industry. Among various natural stones available today for both commercial as well as residential applications, granite tops the chart due to many reasons. From intricate designs, wide-ranging colors to high durability, versatility, and low maintenance, there are lots of pluses that give granite a winning edge among contractors, architects, and interior design professionals. 
As granite comes in a wide array of colors and finishes, it always remains top-of-the-line construction material for residential, commercial, and renovation projects. Moreover, granite has an inherent ability to make any space look spacious and gratifying. However, when it comes to conveying a sophisticated and timeless appeal to any space in a remarkable way, Indian white granite emerges as an excellent option.
Indian white granite is known to give a touch of luxury and magnificence to any space without downplaying the durability factor. Some of the popular variants of Indian white granites are River White, Alaska White, Colonial White, Moon White, New Kashmir White, and Imperial White. It can be procured in different forms like slabs, tiles, blocks, vanity tops, décor stones, and other stone articles. B2B buyers can buy them in both standard sizes as well as custom sizes.
Ivory White Granite's design is characterized by very tiny grey/black-colored dots and speckles on a milky-white surface. It is also known as Milky White Granite or Colonial Ivory Granite.
Due to the hard-wearing characteristics of this Indian white granite, it remains in high demand worldwide and is used mainly for countertops, mosaic, exterior – interior wall and flooring, fountains, stairs, window sills, and other construction projects.
Available in multiple finishes, this white granite can be bought in both standard as well as custom sizes by global B2B buyers.
Suitable for both interior and exterior décor applications, Thunder White Granite is a popular Indian granite and can withstand harsh climatic conditions from extreme summers to freezing winters. 
This Indian white granite got its name from the light grey-colored bands on its surface that appear like thunder to the onlookers. A great option for commercial and residential construction applications, this white granite is primarily used on Walls, Stairs, Countertops, Flooring, Fountains, and Window Sills.
Given the specific granite slab, the design patterns can be web-like or linear, with diverse movement options to match various construction applications.
Among the vast range of Indian white granite stones, Imperial white granite remains a remarkable choice for exterior and interior granite cladding, countertops, furniture, water features, elevator panels, curtain wall panels, and areas where a durable, nature-touched surface is required.
 Globally, it is known by many names including Juparana Avorio Granite, Tippo White Granite, Tippu White Granite, Tipu White Granite, Bianco Imperial White Granite, Irish Cream Granite.
This granite stone boasts a cool-toned background which is surfaced by tiny blue-gray dots scattered all over. Its universal texture not only looks eclectic but also exhibits excellent resistance to water and moisture.
Also known as Cashmere White or New White Kashmir Granite, this is one of the most widely chosen granite stones for commercial and residential construction projects. It has a soft snow-white background with bands of grey and red spots dispersed evenly all over its surface.
It is durable, harder, and also considered one of the lightest granites available in the market today. Due to its premium looks and good weather resistance, it is widely used in health care facilities, hotels, restaurants, casinos, monuments, government buildings, exterior cladding, waterfalls, fountains, countertops, and others.
Various studies show that when used outdoors, Kashmir White Granite weathers at less than .125″ per 1,000 years.
Moon White Granite is considered a mid-level granite in terms of cost which makes it a top seller when visual appeal and diversity are the prerequisites.
This multi-purpose Indian white granite is an all-favourite option for applications like backsplashes, flooring, and outdoors both commercially and residentially. Highlighted by a primarily white setting, this stone features grey swirls and a mass of darker nearly black mineral deposits. These darker mineral deposits resemble the craters on the moon.
In the construction industry, it is known by many names like Moonlight Granite, Morning Mist Granite, Lunar White Granite, White Moon Granite, Emerald White Granite, and Kashmir Pearl Granite.
Featuring a unique cut-texture with asymmetrical brown and black flecks, Alaska White Granite is one of the most beautiful granite stones that can gel perfectly with a variety of settings.
 It is ideal for both interior as well as exterior construction purposes and is used mainly for exterior flooring, stair casing, and wall cladding.
Its other popular names are Alaskan White Granite, White Alaska Granite, Ice Brown Granite, Branco Alaska Granite, and Bianco Alaska Granite. This granite has a natural tendency to amplify lighting within the area where it is installed.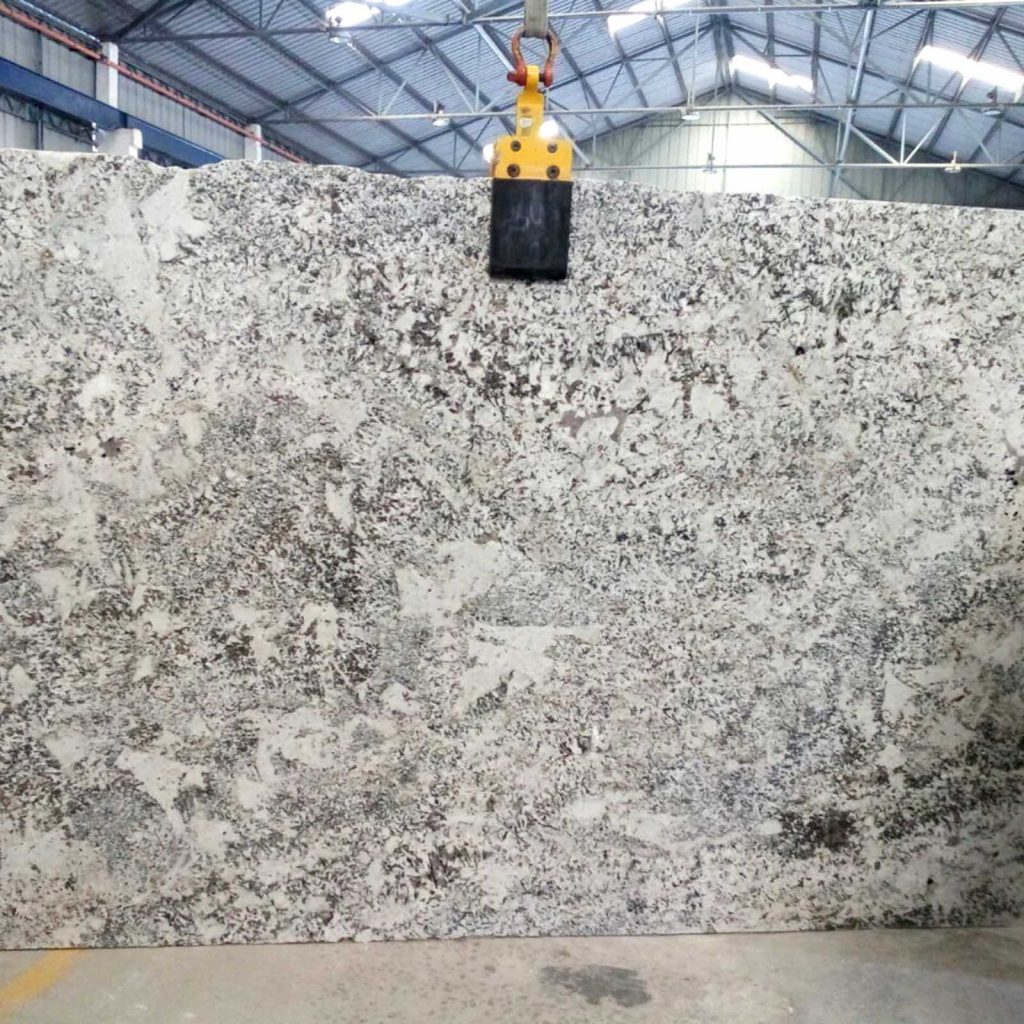 White Indian Granites: Available Sizes
Indian white granites can be bought in both standard and custom sizes as per the distinctive needs of the buyers. The standard dimensions of white granites are as below:
Gangsaw slabs – 260 x 160 cm up in 2 x 3 cm
Cutter slabs – 180 x 60 cm up in 2 x 3 cm
Tiles – 30 x 30, 30 x 60, 60 x 60 cm
Countertops and Vanity tops – Custom sizes
Indian white granites come in different types of finishes including polished, lepatora, flamed, honed, bush-hammered, leathered, and brushed.
The list doesn't end here. There are lots of other white granite variants that are immensely popular in the global construction sector. India is known to be a popular avenue for B2B buyers looking to buy high-quality granites at competitive rates. Over the years, Indian natural stone suppliers have been catering to the diversenatural stone-related needs of global buyers by offering a huge variety of stone products in different colors, patterns, and sizes.
Backed by two decades of rich expertise in sourcing, manufacturing, and export of natural stones, Regatta Granites India supplies granites and other natural stones at competitive rates to B2B buyers in different countries across the globe.