Stone finishes come in various stunning styles. In recent years, a newer style of stone finish that looks well on darker granites and delivers a textured appearance has raised all eyebrows. 
Moreover, it puts no negative effect on the natural color of the stone. This newer trendy finish is called leathered finish which is less shiny than polished products.
With a textured, crinkled surface plus little pits and fissures, a leather finish granite from India offers granite buyers lots of benefits that they are supposed to miss with glossy finishes. With the content, you are going to understand the unique features of this finish along with available options from a certified and recognized Indian granite supplier.
Unique features of a leathered surface
All the time, it is not possible for busy homeowners to take care of their polished or smooth granite surfaces in the kitchen. So, they prefer something different that needs less care and maintenance. As a result, leathered finish catches all eyes. With unique leathered granite colors, granite lovers get immense opportunities to garner their domestic interiors and exteriors.
Basically, leathering is the procedure of adding a special texture to a natural stone product so that the stone may appear less shinning. Leathering is also good for enhancing the natural features of an existing rough surface with an exquisite surface. When you have a leathered countertop, you find the stone more stylish and practical. Moreover, it is easy to clean and maintain and add elegance to overall decor too. Following are some of the unique features of a leathered granite countertop in a kitchen and vanity top in a bathing space:
Soft sheen over the granite product
Less shiny than polished stone
Hiding fingerprints, water spots, and smudges
Need lower maintenance
All these unique features make a leathered finish product suitable for kitchen, bath and other outdoor applications. When you look for tightened natural pores that can lessen spillage and stains, this finish gives you an edge.
Leather finished stone options for global granite buyers
Indian granite market is filled with colorful granite slab and tile products with numerous granite finish options. There are lots of big and professional granite suppliers that cater to all needs of granite buyers with quality and customized products produced after getting an order. If buyers are interested in ready-made products, they are liked to get a leathered stone that doesn't leave the pores of the surface more exposed. If granite products are processed with this finish come with sealed pores, they are likely to less susceptible to damage over time.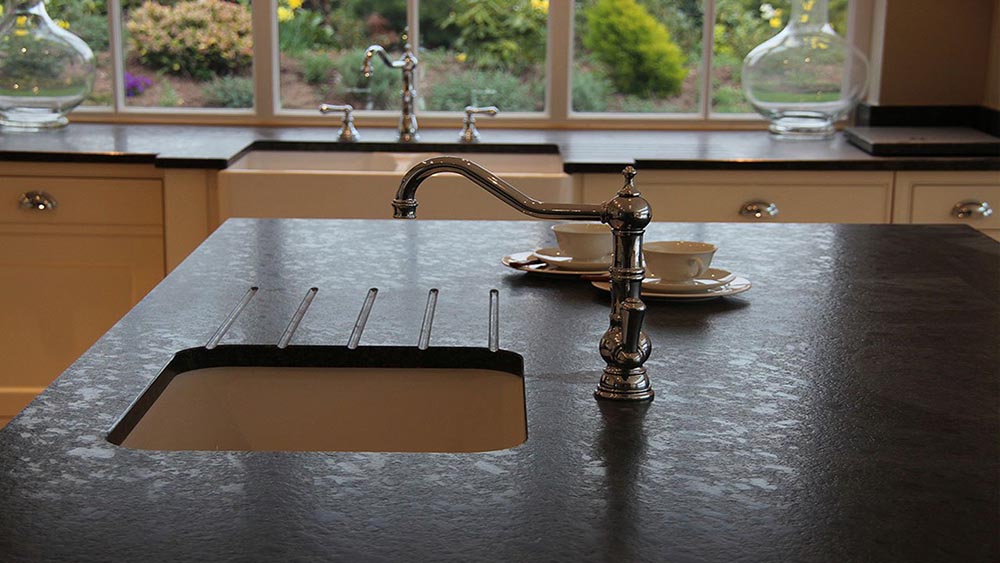 Global buyers can avail immediate benefits of leathered granite countertops that come with a unique and rustic style, wonderful texture, natural color, and hardness to stains. If you are thinking of buying leathered granite countertops and vanities from the Indian market, you can choose from the following options:
Black forest leather finish
Steel grey leathered granite finish
Absolute black leathered granite
Black galaxy leather finish
Antique brown leathered granite
Whether you are searching for leathered black granite in India or leather finish granite countertops in all popular hues, Regatta Granites India makes a big difference. For product information or sales inquiry, simply fill the inquiry form given on the website. No matter what sort of queries you have, we welcome you to our website.