Popularly called ASTM International, "American Society for Testing and Materials", ASTM refers to a creator of international controlled accord standards. ASTM standards are released by committees of significant industry experts who meet and discuss routinely in an open and transparent process to prepare quality standards, testing methodologies, qualifications, guides, and practices. The use of ASTM quality standards is quite prevalent in the natural stone industry.
Being a popular construction stone, granite remains in huge demand worldwide. With more than 300 varieties available at granite suppliers worldwide to choose from, today natural stone buyers have the option to choose from a wide range of stone products in different shapes, sizes, and finishes. This means it has become quite easier to get a stone for any specific application.
The Use of ASTM Standards
ASTM test methodologies are primarily used in the buying and selling of materials as per the specifications and thus provide a high level of precision that when the test is carried out by a competent operator the outcomes will be discovered satisfying for determining the product compliance with the given specification. These ASTM test methods are meant to determine the basic properties of stones like absolute viscosity, density, melting point, softening level, and flash point. They are conducted using different types of lab procedures such as chemical and spectrochemcial analysis, electrical and mechanical tests, visual inspection, ignition tests, sampling, performance characteristics, radiation exposure tests, and nondestructive tests etc.
Globally Accepted ASTM Codes for Granite Inspection
Some of the popular quality agencies globally are ASTM, BSI, and CDOS that release and define natural stone quality testing guidelines. Among them, ASTM is the most popular one due to its wide-range of quality testing standards available for granite and other natural stones.
ASTM C97            Standard Test Method for Absorption and Bulk Specific Gravity of Dimension Stone
ASTM C99            Standard Test Method for Modulus of Rupture of Dimension Stone
ASTM C120         Standard Test Method of Flexure Testing of Slate (Modulus of Rupture, Modulus of Elasticity)
ASTM C121         Standard Test Method for Water Absorption of Slate
ASTM C170         Standard Test Method for Compressive Strength of Dimension Stone
ASTM C199         Standard Test Method for Pier Test for Refractory Mortars
ASTM C217         Standard Test Method for Weather Resistance of Slate
ASTM C241         Standard Test Method for Abrasion Resistance of Stone Subjected to Foot Traffic
ASTM C880         Standard Test Method for Flexural Strength of Dimension Stone
ASTM C1028       Standard Test Method for Determining the Static Coefficient of Friction of Ceramic Tile and Other Like Surfaces by the Horizontal Dynamometer Pull-Meter Method
ASTM C1201       Standard Test Method for Structural Performance of Exterior Dimension Stone Cladding Systems by Uniform Static Air Pressure Difference
ASTM C1352       Standard Test Method for Flexural Modulus of Elasticity of Dimension Stone
ASTM C1353       Standard Test Method Using the Taber Abraser for Abrasion Resistance of Dimension Stone Subjected to Foot Traffic
ASTM C1354       Standard Test Method for Strength of Individual Stone Anchorages in Dimension Stone
Standard Specification for Granite Stone
This specification is inclusive of material specifications, physical requirements, and sampling properly to granite selection for typical building and structural objectives. Look at the following table to know the requirement test values for granite as per the ASTM standards.
| | |
| --- | --- |
| PROPERTY | REQUIRED TEST VALUE |
| Density, min lb/ft3 (kg/m3) | 160 (2560) |
| Absorption by weight, max, % | 0.40 |
| Compressive strength, min, psi (MPa) | 19, 000 (131) |
| Modulus of rupture, min, psi (MPa) | 1500 (10.34) |
| Abrasion resistance, min, hardness | 25 |
| Flexural strength, min, psi (MPa) | 1200 (8.27) |
Another thing to look at is Environmental Data:
| | | |
| --- | --- | --- |
| | Quarrying | Processing |
| Embodied Energy (MJ/ft3 stone) | 400 | 2, 500 |
| Embodied Water (gal/ft3 stone) | 86 | 9, 100 |
| Global Warming Potential (kg CO2 equivalents/ft3 stone) | 14 | 52 |
For granite suppliers globally, it is necessary to have proper knowledge about these quality standards.

Indian Standard Specification (IS: 3316-1965)

Granite stone should not have any cracks and other defects that affect its structure cohesiveness and negatively impact its performance and looks. Granite containing deleterious minerals such as marcasite and pyrites which rust quickly upon exposure and causes disturbing marks on the stone surface.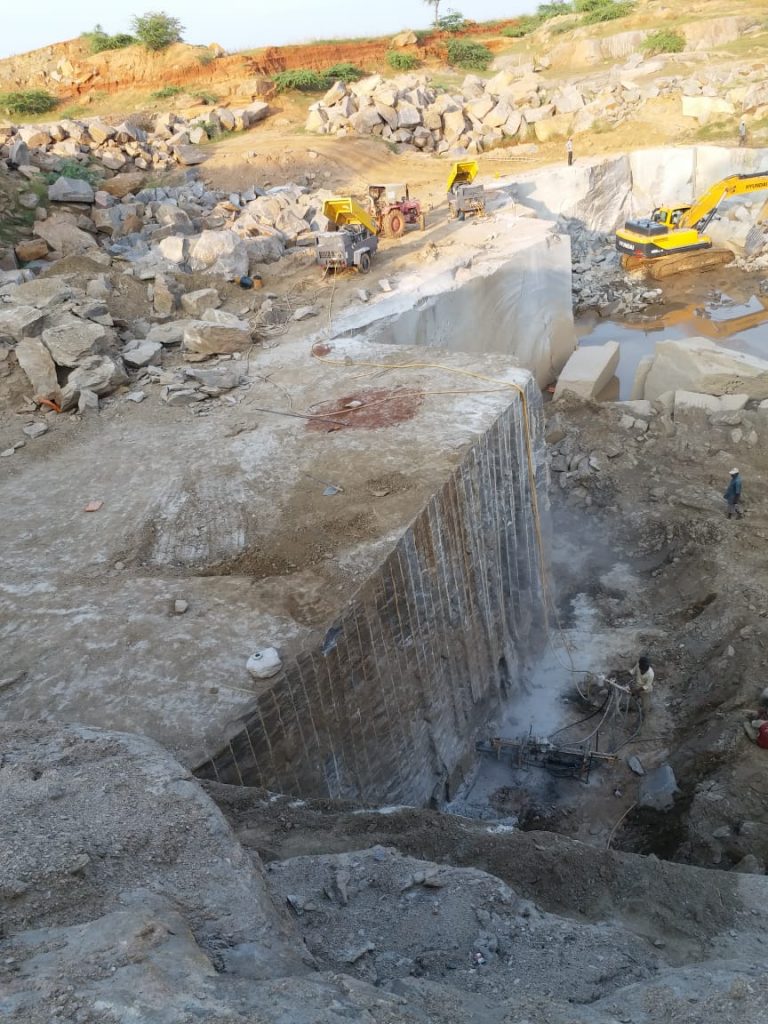 According to Indian Standard Specification, granite is categorized in four grades given its compression strength and abrasion resistance.
Designation/Grade
Compression Strength

(kg/cm2)

Abrasion Value

(%)

A
2, 200
32
B
1, 800
36
C
1, 400
40
D
1, 000
45



There are lots of factors that play a substantial role in determining the quality of the granite. Some of them are its thickness, porosity, visual appearance, origin, and lab test report.