Primarily, a supplier is known for supplying various products and services offered by it or on the behalf of third parties to consumers. The supplier is also known as a vendor who is involved in the activities of selling and supplying granite in the local and international market as well. It is interesting to know that a granite supplier can also be an exporter and manufacturer. In such a scenario, the supplier can control the supply of granite products sold in the overseas market. There are lots of certified and professional granite suppliers in countries that produce a big quantity of granite variety. Such vendors not only sell natural granite stones in their own country but also in other countries. With this content, readers will be able to know more about the role of suppliers in the supply chain of natural granite stone; the availability of granite colors and products; and how supply chain agents resolve problems faced by global buyers.
Role of Suppliers of granite in the supply chain
Primarily, suppliers make a product or service available to consumers. When it comes to assessing the role of qualified granite suppliers in the business of natural stone at the global level, we find supplying agents offer high-quality products from a granite manufacturer at a competitive price tag to granite lovers in the local, national, international market. Suppliers can also sell natural stones to a distributor or retailer for resale. It is also likely that a supplier in business acts as an intermediate between the retailer and manufacturer. A supplier can make a big difference to the supply chain if it is good at communication and maintains stock of sufficient quality.
In terms of business commitments and prospects, the role of a supplier is highly demanding as the supplier functions as a link between several players. Retailers always expect high-quality level from the suppler. In the same manner, manufacturers expect that the supplier would sell a lot of stock. That is why making a perfect balance between a granite retailer and a granite manufacturer is vital for all. Moreover, the supplier must be able to understand the whole scenario and manage relationships in a hassle-free manner. Although the supplier ensures a solution to all issues faced by other parties involved in the supply chain, yet its role also covers the following elements:
Acquiescence with local natural stone industry laws: It is expected that the supplier should be able to abide by all concerned relevant laws and standards set by the national and state government concerning the sale and supply of natural stone products, including child labor and human rights protection.
Impartial transactions from all retailers: A supplier can take things to the next level and match all expectations when it follows the strategy of delivering all retailers equal opportunities who are directly or indirectly associated with it. A supplier should not consider retailers on the basis of easiness, profit maximization, and any other individual preferences.
The best price possible: Suppliers always play a vital role in the price determination of granite products. In a cutthroat competition around, a professional supplier should guarantee its buyers the best and most competitive price. With 100% quality and trust maintenance, the supplier can expect repeat business from its clients in the future.
No conflict of interest for suppliers and supplier management relationship (SRM) are two major aspects that can offer all big or small granite suppliers an edge. Suppliers should avoid having business with parties having a conflict of interest with. On the other hand, the SRM is a process of planning and managing vendor relationships.
Granite colors and products resourced by a qualified granite supplier
It is quite clear that granite suppliers form a business relation with vendors and supply them any granite products or services in and outside a country. Be it Europe, the US, UK, the Middle East, Russia, Australia or any other country on the planet, granite lovers always look for something new and exceptional for giving their residential and commercial premises a new look. Granite comes with loads of features and has lots of applications in all construction projects. Professional people with industrial links simply supply all a big range of colors and products that are demanded globally. Let's move ahead and find major granite color types in the market and what colors can be bought by B2B and B2C buyers in the international market.
Products suppliers can arrange for granite buyers
Some countries are granite producers whereas some of them depend on other countries and certified suppliers to cater to the needs end consumers. Granite is bought not only for the reselling purpose but also for end-users. So, all granite stone needs are not the same. Some buyers can demand a big quantity. Some can ask for a smaller number. Hence, granite suppliers need to arrange granite products to all buyers as per their changing needs. Following are some of the popular stone material types that buyers can have from retail stores in any native country or suppliers from other foreign destinations. These material types include:
Rough and unfinished blocks – Size 310-320 x 155-165 x 160-205 cm and weight 23-29 tons
Finished cutter slabs –180 x 60 cm up in 2 & 3 cm
Finished gangsaw slabs – 260 x 160 cm up in 2 & 3 cm
Finished tiles (rectangular and square) – 30x30cm, 30.5×30.5cm, 30x60cm, 40x40cm, 45x45cm, 60x60cm and 61x61cm
Finished countertops and vanitytops (custom size)
Stone articles (gravestone, decorative stone, monuments)
Granite finishes: Polished, honed, sandblasted, antique (sandblasted + brushed), bush hammered, bush hammered + brushed, leather, tumbled and lepatora
Granite edge finish: Machine cut edges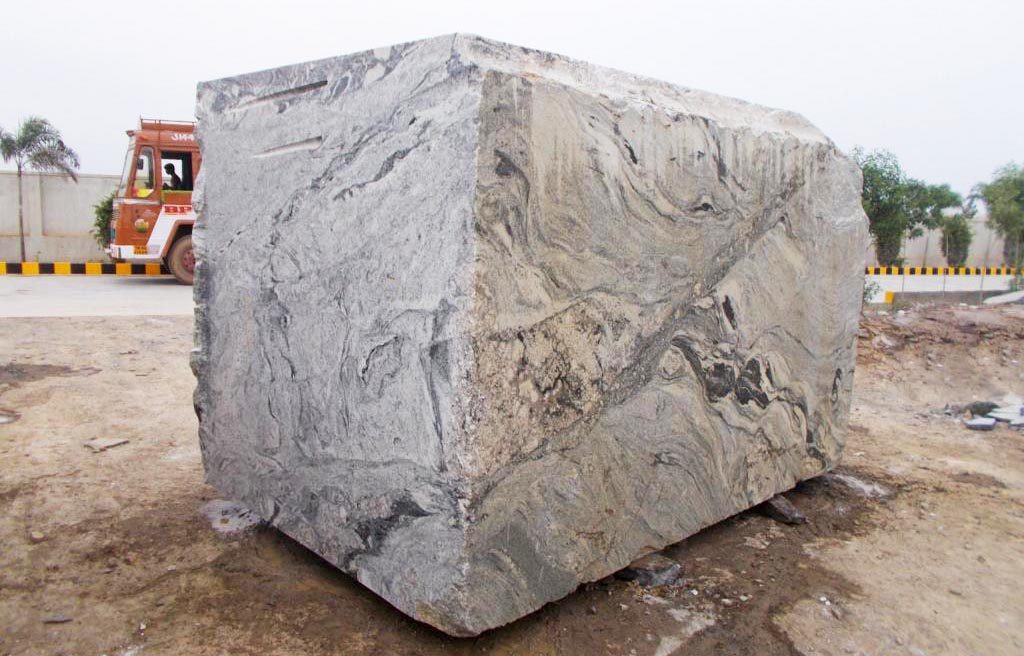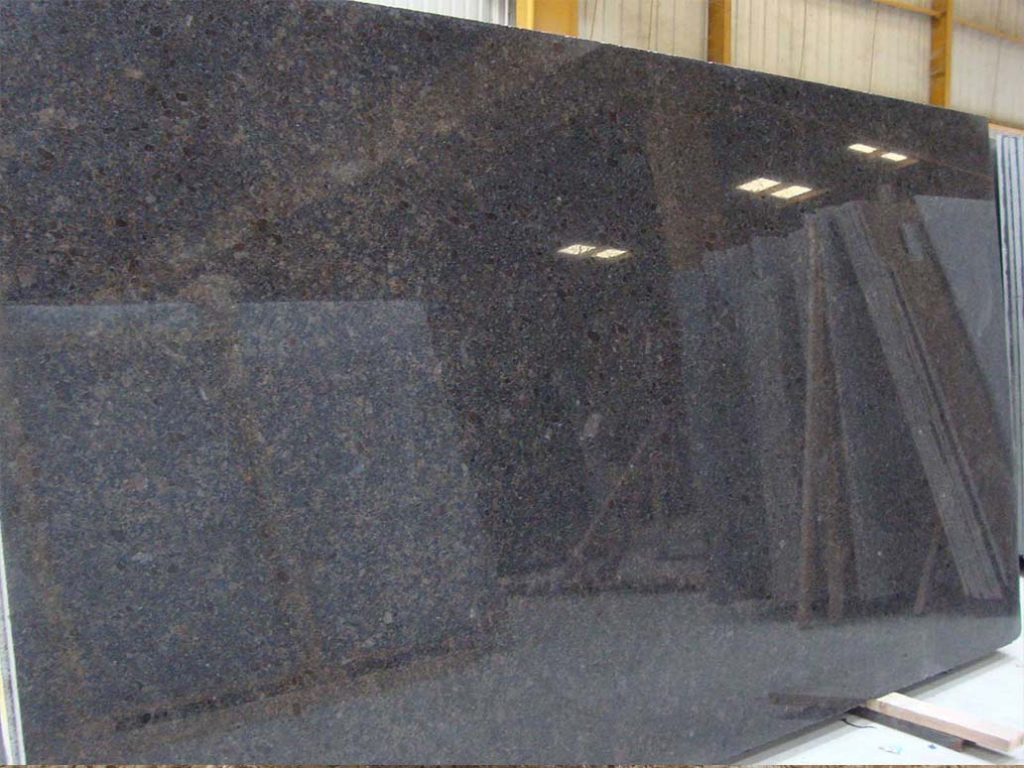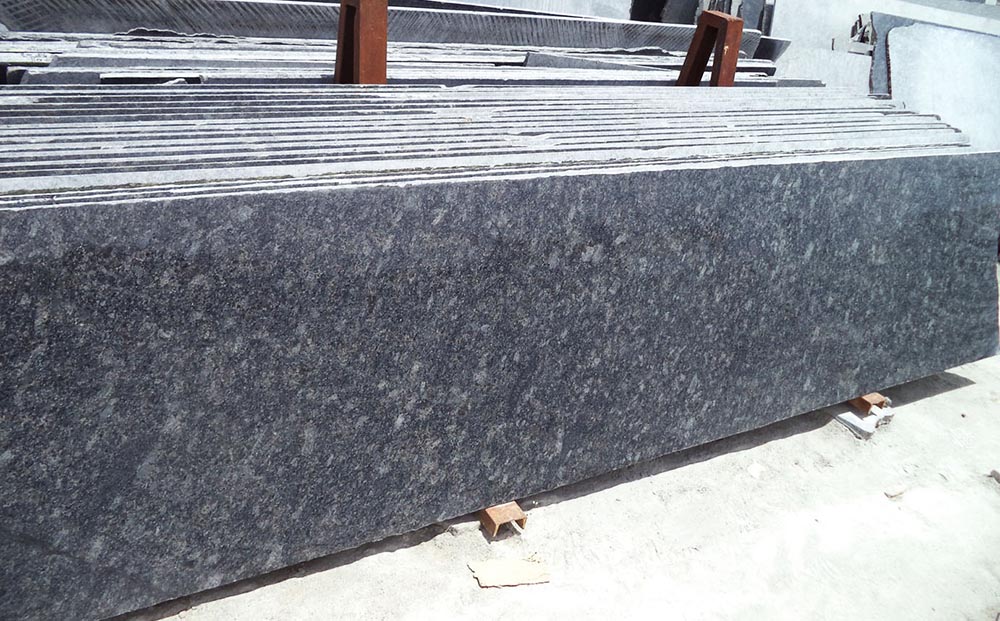 Granite colors widely supplied by professional vendors
There are lots of colors that you can see smeared on natural stones. Granite stone is a natural stone so is its color. Granite colors are not man-made; they are engineered by nature around. There are more than one hundred colors of granite popular in the international market. Some colors are rare and are found within a particular country, like black galaxy and new Kashmir white only in India. Every color has its own value and significance. A supplier should be able to supply all rare and popular color in all parts of the world via shipping. Below-given is a list of the most popular granite colors you can have from a supplier of your choice.

Black granite – Black beauty, absolute black, zebra black, nova black, jet black, black marine, black forest, black peral, and black galaxy
Blue granite – Lavender blue, koliwada blue, tropical blue, imperial blue, blue dunes, topaz blue, and Himalayan blue
Brown granite – Sparkle brown, Indian aurora, Z brown, desert brown, tab brown, ivory brown, and coffer brown
Green granite – French green, surf green, kuppam green, royal green, desert green, apple green, and Hassan green
Grey granite – Jubilee grey, bala flower, steel grey, and Colombo juprana
Red granite – Smoka red, new imperial red, lakha red, Jhansi red, and red multicolor
Pink granite – Strawberry pink, Astoria pink, ghiblee pink, chima pink, and imperial pink
Gold granite – Alaska gold, imperial gold, golden beach, bianco gold, ivory gold, merry gold, desert gold, and colonial gold
White granite – Cappuccino white, monte cristo, thunder white, French white, colonial white, P white, moon white, new kashmir white, imperial white, and viscon white granite stone
Yellow granite – Crystal yellow and Malwada yellow
Supplying agents resolving issues faced by global buyers
There are always some intricacies and unsolved problems that can affect the buying and selling activities. That is why some business deals take a twist due to the lack of proper communication from both sides. Whenever a buyer gets in touch with a seller, it shoots tons of questions to know more about the granite products along with some concrete issues. These questions and issues can be related to quality, price, shipping, packing, delivery, handling, supply, and quantity of the granite stone. For responding to all such questions, there should a 2/7 customer service that can deal with the issues faced by granite buyers. These issues can occur before, during, or after the sale of products.
If a granite supplier offers satisfactory answers to all queries and tries to commit its best, it is likely that it will solve out all issues in a perfect manner. Any qualified granite supplier can't supply a big quantity of stone products from one destination to another one if it fails to respond to all queries raised by the buyer without sticking to restriction of time. The problem-solving ability gives the supplier an edge and creates trust. When things are not sorted out, they are likely to create newer issues that play the role of communication barriers. Things can go ahead when buyers are satisfied and 100% happy with the supplier's response from the other side.
Regatta Granites India is a professional and qualified granite supplier that offers global granite buyers a podium from where a big range of colorful and quality granite products is supplied in more than 60 countries at a highly competitive price tag. The granite company is also a manufacturer and exporter that successfully creates and maintains the customer relationship management process to manage various supplying activities in a perfect manner.