Americans' granite addiction is not a new trend as the natural stone has been in use for centuries in a number of applications. From countertops to vanity tops, from grave marker to fireplace stone, and from floor tiles to wall tiles, granite has become a part and parcel of modern American life. When it comes to top granite works, Mount Rushmore and Vietnam Veteran's Memorial catch all eyes. Nowadays, Indian granite is making its ways into American residential and commercial projects. There are some selective granite colors that are exported to the US due to the rare availability and infatuation of Americans to black and white hues of Indian granite. Let's check out some unique granite colors and sizes, US import data, shipping, and stone cutting utility that urge Americans to go for Indian natural stone product.
Rare and popular granite colors hard to find anywhere else
Without a doubt, India is a big hub of granite blocks, tiles, slabs, and stone articles. Rajasthan, Bangalore, and Chennai are the prime destinations where granite stones are found in bulk. Owing to high and inherent features, Indian natural stone products are in huge demand. In India, global buyers can expect rare and popular Indian granite materials, such as black beauty, absolute black, New Kashmir white, tan brown, multicolor red, steel grey, new lavender blue, and many more.
Popular colors – Black, Blue, Brown, Gold, Green, Grey, Pink, Red, White, and Yellow
Granite Products sizes: Tiles (30 x 30, 60 x 30, 60 x 60 and 60 x 90 cm); cutter slabs 180 x 60 cm up in 2 & 3 cm; gangsaw slabs 260 x 160 cm up in 2 & 3 cm; countertops and vanity tops (custom size)
Import data favors the rising importance of Indian granite
As per data from popular natural stone magazine Stone World, India is the topmost granite supplier to the US after Brazil. In March 2017, granite imports to the US helped India earn 13,252,755 US dollars. The US imported around 18,372 tons of granite from India during this period. Although China. Brazil, Spain, Mexico, and Italy are big players, yet Indian granite offers a competitive edge in terms of quality, cost, and delivery. India has a long list of granite quarries in North and South India. Moreover, a large number of granite factories process rough stones after getting orders from the western world. Easy import and export policies implemented by the state have encouraged both granite buyers and sellers get involved in EXIM of granite products. The housing boom in the US, an impression of luxury, changing globalization, technology, and easy availability and affordability of stone in India indicate the growing use of granite in the United States.
Granite shipping is easier via Indian ports
Lots of granite quarries and granite processing units in India is near shipping ports that make transportation easier and help B2B and B2C buyers get their order delivered on or before time. Apart from these benefits, cost-saving is also a big contributor. Americans can expect high quality stone packing and delivery from Indian granite factories via the following ports:
Gujarat — Kandla Port, Mundra Port, and Pipavav Port
Maharashtra – JNPT (Nhava Sheva) Port
Tamil Nadu – Chennai Port, Kattupalli Port, and Tuticorin Port
Andhra Pradesh – Krishnapatnam Port and Vizag Port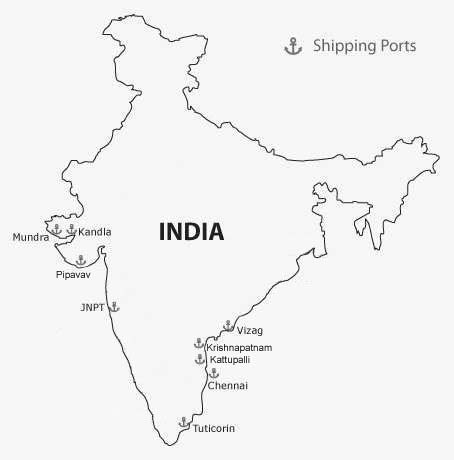 All these ports are known for fast granite delivery and shipping tons of granite stone products in safe and secure containers to major US ports as per changing needs of US granite buyers. American granite buyers can expect delivery of final products at a port of their choice in the US along with major ports at New York, Boston, Baltimore, Los Angeles, Long Beach, New Jersey, Georgia, Seattle-Tacoma, Virginia, Houston, South Carolina, etc.
Granite is easy to cut and shape for multiple projects
What makes granite stone fit for all sorts of construction projects is its ability to get shaped and cut in an easier manner. That is why homeowners and stone cutting experts prefer this stone. It is durable and long-lasting. It looks well on all sorts of floors, walls, counters, and outdoor surfaces. Following are some technical reasons why Americans run after Indian granite stone products extracted from giant quarries and processed at granite processing factories.
Granite countertop edges: Pencil, half-bullnose, full-bullnose, bevel, demi-bullnose, small ogee, large ogee, cove, dupont, chiseled, planter, cove ogee, and mitr
Granite Finishes: Polished, honed, sandblasted, antique (sandblasted + brushed), bush-hammered, bush hammered + brushed, leather, tumbled and lepatora
Edge Finish: Machine cut edges and hand cut edges
In a budget, all American consumers and buyers can expect stylish and trendy granite slabs, tiles, and even blocks in the shape and size of your own preference.
Regatta Granites India is a professional Indian granite supplier, manufacturer, and exporter offering the United States buyers a superb range of colorful granite products for all sorts of commercial and residential construction projects.