In the list of granite colors, a golden-hued blue granite catches all eyes. When it comes to picking up a unique granite variant that looks good in all living spaces, Alaska gold granite coming from South India makes its presence felt. In south India, it is Karnataka where golden granite is quarried and processed. With loads of features and a superb surface, Alaska Gold Granite a.k.a Alaska Giallo Granite is considered an exquisite product with candid traits. The best part of using this stone is that it simply defines the beauty of all floors, walls, countertops, and vanity tops. Read the content ahead and check out what makes Alaska gold granite stone the first choice of all.
An introduction to Alaska Gold Granite
There are lots of granite colors available for B2B and B2C sales in India. But, Alaska gold granite has something unique in the form of its gleaming surface. It is the presence of irregular streaks and patches on the surface of the stone that steals the show. These patches are of light to dark brown, grey, and black shades. The golden yellow backdrop is the USP of the stone. Moreover, the stone also blends well with colorful cabinets in kitchens. The Indian granite market offers standard, commercial, and premium qualities. Indian granite slabs, tiles, and countertops are used for all sorts of residential and commercial projects. Alaska Gold Granite with black-colored patterns in the yellowish backdrop is very attractive. That is why it is highly demanded in the international market. This scratch-proof and durable stone is mid-level expensive. Hence, it is seen as a choice for flooring.
Miens of Alaska Gold Granite
Alaska white granite creates an impression with its unique surface that has a golden and yellow appearance. The following are some unique features of the stone surface:
• Primary color – Golden yellow
• Stone type – Bristly and dark brown monzonite (igneous intrusive rock)
• Variation – High
• Surface description – Streaks and patches in shades of light to dark brown, grey, and black
• Available surface finishes – Polished, honed, brushed, leather, bush-hammered, flamed, and lepatora
• Available edge finishes – Machine-cut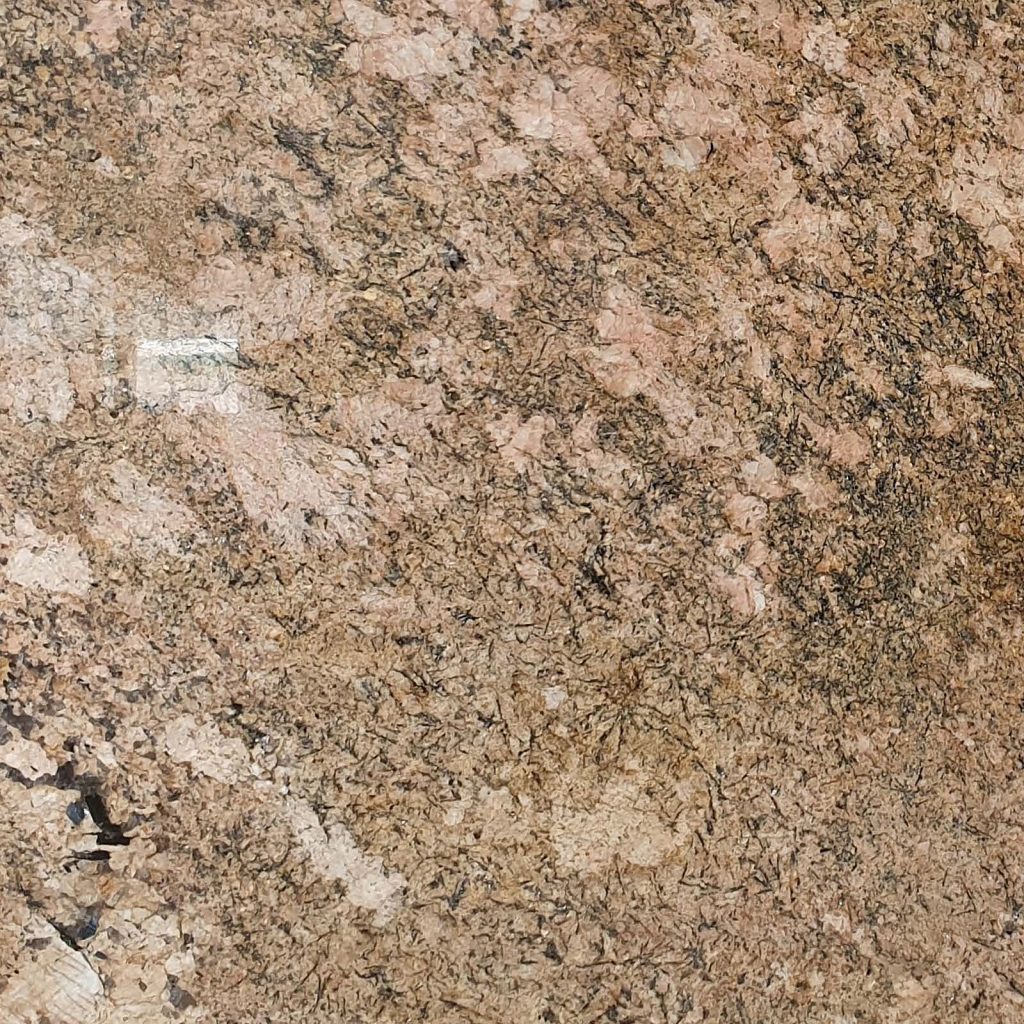 Technical facets of Alaska Gold Granite
Natural stone products come with certain features that make the stone enticing. These features are inherent and vital for making a stone perform and withstand the vagaries of nature. Alaska granite stone is known for its strength, performance, and permanence. When it comes to knowing what makes Alaska gold stone a superb product, the following technical aspects induce a big difference. These include:
• After Freezing – 1810 kg/cm2
• Bulk Density – 2720 kg/m3
• Compressive Strength – 1920 kg/cm2
• Firmness on Moh's Scale – 6
• Water Absorption – 0.15%
Alaska Gold Granite location and forms
India is home to a big assortment of gold granite stone products. Be it North India or South India, granite stone suppliers cater to all business needs of B2B buyers. South Indian granite quarries produce rough stone blocks. It is a granite processing unit that produces ready to use stone products for interior and exterior construction applications.
• Origin of the stone – South India
• Quarry destination of the stone – South India
• Stone processing unit/factory – South India
• Available forms of the stone – Rough blocks, polished tiles, cutter slabs, gangsaw slabs, countertops, stone articles, backsplash, and vanity tops
• Stone recommend for – Commercial and residential projects
Alaska Gold Granite granite sizes and types
All construction needs are not the same, so are the needs of construction projects. That is why granite manufacturers in India produce different granite sizes to fit standard and custom stone needs. From a small size tile to a big size slab, Indian Alaska gold granite suppliers understand and deliver what is demanded by their targeted audience. Have a look at the following popular sizes:
• Countertops and vanity tops – Custom sizes
• Cut to size – On-demand
• Cutter block size – 180x70x60 cm up 240x70x60
• Cutter slabs – 180 x 60 cm up in 2 & 3 cm
• Gangsaw block size – 260x160x100 cm up 280x180x100 and 300x190x120 cm up 300x200x100
• Gangsaw slabs – 260 x 160 cm up in 2 & 3 cm
• Tiles – 30×30, 30×60, and 60×60 cm
There are lots of Alaska Gold Granite quarries in South India that help B2B buyers avail any quantity of granite tiles and slabs in bulk. While buying gold granite from India, B2B buyers should buy quality stone products from a certified Indian granite supplier.