Whenever it comes to finding the most stunning red granites, Alaska Red Granite from India emerges on the top. Boasting grey, white, and black color spots on a light red background, this red Indian granite has become immensely popular all across the world. Due to its sophisticated visual appearance and excellent durability, this Indian granite is one of the widely exported Indian granites.
This granite is also known by several names like Red Alaska Granite, Red Volcano Granite, Exotic Red Granite, Busty Red Granite, and Multi Red Granite. It is primarily used in architectural applications like window sills, flooring, countertops, wall tiles, vanity tops, backsplashes, and others. In addition, its easy usability in both residential and commercial projects is a boon for architects and construction contractors.
Alaska Red Granite's popularity can be understood from the point that it is one of the most widely exported red granites from India. It is exported to the USA, UK, Europe, China, and Australia. This Indian granite can be used in a residential project as a granite countertop or as a worktop in a commercial space. However, it has an inherent capability to transform the look and functionality of any space like no other.
What is Granite?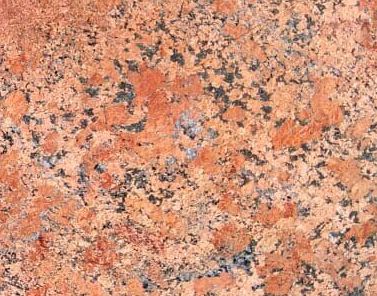 Commonly known as an igneous rock, Granite is a widely used natural stone in the field of architecture and construction.
Numerous people know Indian granite because it is the most common igneous rock found on Earth's surface and because granite is used to build many everyday products. Countertops, floor tiles, paving stone, curbing, stair treads, building veneer, and cemetery monuments are examples of these. Granite is utilized all around us, especially in major contemporary cities.
Granite's massive mineral crystals indicate that it cooled slowly from the molten rock material. That steady cooling has to happen under the Earth's surface and over a lengthy period of time. If these granites are revealed at the surface now, it is because the granite rocks were raised and the overlying strata were eroded.
Alaska Red Granite quarries can be found in the regions near Jaipur, the capital city of Rajasthan. A large number of granite manufacturers get into the manufacturing and extraction of various North Indian granite stones including Alaska Red Granite.
Salient Features of Alaska Red Granite
Highlights a smoother and more equal surface texture
Suitable for both residential and commercial uses
Does not fade when exposed to other factors on a continual basis
Ideal for vanities, backsplashes, tiles, fireplaces, pavement, and monuments
Quarrying of Alaska Red Granite in India
This stunning red granite comes from North India. Its quarries are located in the state of Rajasthan near Jaipur city. These quarries produce high-quality Alaska Red granite in the form of rough granite blocks.
After the red granite blocks are taken out from the quarry, they are handled using heavy machinery and shifted to granite processing complexes. The next level of granite processing is done there. This may involve further cutting of the stone into smaller sizes like slabs and tiles.
Granite Processing Unit
The next stage of the Alaska Red Granite involves cutting big granite blocks into slabs of varying sizes, such as cutter slabs, gangsaw slabs, and others. The main goal of this method is to remove slabs of certain sizes to meet the project's requirements. To carefully process the granite, many sorts of machinery are required. The current wire cutting machine is one such example. The inclusion of contemporary technology has greatly simplified and improved the granite processing sector.
These little slabs and tiles are then employed in various construction projects across the world. Furthermore, they are easy to transport to various locations, which may not be possible with massive stone blocks. Granite manufacturers in India employ a variety of techniques and equipment to obtain the desired size and quality of a stone item.
Finished Material
This is one perspective on granite processing in which the granite stone is treated to attain a certain size and finish. When it comes to carrying it out, the issue of completion becomes vital. Different forms of finishing can be applied on its surface.
The majority of top-rated granite producers and granite exporters in India utilize world-class polishing power to give the stone a specific surface finish. This procedure can be performed at a granite processing facility.
The most widely available sizes of Alaska Red Granite are:
Countertops and vanity tops – Custom sizes
Cutter slabs – 180 x 60 cm up in 2 & 3 cm
Gangsaw slabs – 260 x 160 cm up in 2 & 3 cm
Tiles – 30×30, 30×60, 60×60 cm
Finishes
It is the enchantment of a granite stone's surface polish that draws attention to it. As a result, selecting the proper stone finish to satisfy the aesthetical and practical objectives of a project is critical. The kind and scope of a project define the sort of finish that must be applied. Some of the most regularly used Alaska Red Granite is as follows:
Polished — This is the most popular surface treatment for granite stone. Its major function is to protect the surface from normal scratches and to make the stone simpler to clean.
Honed – This finish is given to the stone surface when a slip-resistant feature, such as flooring or countertops, is required. This style of polish is achieved with specialized machinery.
Leathered — The stone is scuffed using diamond-tipped brushes to achieve this polish. It produces an exceptionally attractive finish with better stain resistance.
Flamed – In this treatment, the stone surface is treated to high heat, resulting in grains and different colors on the surface. It is an outstanding finish designed for specialized applications. Bush-hammered is another common textured finish that is mostly utilized for outdoor applications. This finish is applied with a bush hammer tool.
Installation
With a vivid red color tone, this granite stone has a striking aesthetic appeal that is destined to stay. The most intriguing aspect of this granite is that it may be used in practically any décor situation, including residential, commercial, formal, informal, modern, countryside, rustic, and others.
Alaska Red is a popular granite stone from India that is suitable for both interior and outdoor architectural applications. Its stunning visual appeal makes it an ideal granite choice in nations such as the United States, Europe, Canada, Australia, and the United Arab Emirates. Furthermore, the simple availability of granite blocks, slabs, tiles, and custom-sized items makes India a popular choice among global granite importers.