Black granite offers a perfect amalgamation of iridescent looks and amazing durability. It is widely used across various construction projects to make a powerful statement. Among various black-color granites available today, Black Marine Granite is an excellent granite stone in India for both residential and commercial décor projects.
Diverse applications; one choice: Black Marine Granite
When it comes to choosing the most appealing yet versatile construction material, granite tops the list due to many reasons. It is amazingly hard than other natural stones, scratch-resistant, easy to maintain, and most importantly looks awesome against numerous backdrops. Be it a kitchen, bathroom, flooring, wall claddings, or any other application, granite has been a popular choice among architects for years.
Though granite natural stone comes in a wide range of colors and patterns, black granite has its own charm that makes people prefer it over other choices. For ages, black color has been closely associated with premiumness and exclusivity. Some of the popular black granite stones from India are Nova Black, Black Premium, Black Marquina, Jet Black, Black Galaxy, Absolute Black, Black Marine, Black Pearl, Black Forest, Black Beauty, etc. with such an extended product range available to choose from, it is quite easy to understand the never-ceasing popularity of black granite.
Among various black granite variants, Black Marine Granite is an excellent choice for both residential and commercial construction projects. Its visual pattern includes grey and white veins flowing haphazardly on the black surface. Quarried in the Northern part of India, this black Indian granite comes in standard and custom dimensions depending on the exact needs of the projects.
India is amongst the leading exporter countries of black granite stones in the world. The leading importers of Indian granite are the USA, China, UK, Italy, Belgium, Germany, UAE, Hong Kong, Spain, Taiwan, Netherlands, Canada, Turkey, France, Russia, and CIS countries.
According to geologists, black granite refers to dark-hued igneous rock made up of basalt, diabase, gabbro, diorite, and anorthosite. This is extracted as building stone and sold as black granite. Black granites are composed mainly of intermediary to calcic plagioclase convoyed by one or more widely found dark rock-forming minerals such as pyroxenes, hornblende, and biotite. Due to their relatively high level of iron and magnesium, these rocks are elected as ferromagnesian or mafic. An exclusion is an anorthosite which, though usually dark, consists mostly of calcic plagioclase.
Salient Features of Black Marine Granite
A versatile granite product for diverse applications
Comes in a range of finishes – Brushed, Tumbled, Sandblasted, Flamed, Leather, and Lepatora
Impressive strength and excellent quality structure
Mining of Black Marine Granite in India
As most of the black granite in India is quarried from the Northern part of the country, Black Marine Granite is quarried from the state of Rajasthan in India. Large-size Black Marine granite blocks are excavated from the earth in the form of rough blocks and cut into gangsaw slabs to allow easy transportation of the same to granite processing units that have been located in different parts of the country.
Processing of Black Marine Granite
The process of black marine granite processing commences from quarrying, succeeding by cutting, grinding, epoxy application, and concludes with polishing.Once the granite blocks are transported, they are sliced into slabs, smaller saws may be employed to further modify their size and shape.
Sandblasters and other granite manufacturers use hammers, very sharp carbide-tipped chisels, pneumatic tools, and sandblasting gear to further carve, shape, and outline each discrete monument.
To treat the edges, machines are used and that is why this granite comes in the machine-cut edge.
Finished Material
Black Marine Granite got its name due to its white and grey-colored veins that appear like sea waves to the onlookers. It is also called Black Marina granite. Moreover, its surface adorns any space with a touch of exclusivity and grace. This is what makes it a popular granite variant all across the globe.
Once the factory-level processing of black marine granite is done, it is cut into desired sizes and shapes to meet the varied needs of global B2B buyers.
The most commonly processed sizes of this granite are:
Gangsaw slabs – 260 x 160 cm up in 2 & 3 cm
Cutter slabs – 180 x 60 cm up in 2 & 3 cm
Tiles – 30×30, 30×60, 60×60 cm
Countertops and vanity tops – Custom sizes
However, it is always possible to get custom-sized granite slabs as per the needs.
Finishes
Black Marine Granite slabs and tiles can be treated to obtain a variety of finishes including polished, lepatora, honed, flamed, bush-hammered, brushed, and leather.
Polished – For a smooth and reflective stone surface
Honed – Also called Satin finish, it's good for flooring due to its non-slippery feature
Leathered – To make the stone more elegant and stain resistant
Bush hammered –Best for countertops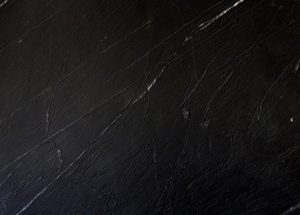 Lepatora –Also called Antique finish, it gives a striking look to the stone surface
Flamed –Makes the stone surface rough and with muted color Leather Finish
Installation
While white granite is the most widely used granite variant today, the use of black granite is equally prevalent. And when it comes to choosing from the best black Indian granites, Black Marine Granite emerges as a strong contender.
Because of its sea wave-like design pattern, it lends an exquisite and dynamic visual and functional depth to any space. 
From pillars to tabletops, countertops, and other applications, black marine granite is one of the finest black granite stones available today.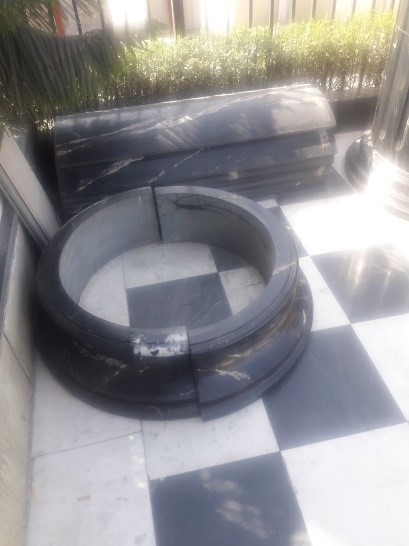 Be it a residential project or a commercial one, black marine granite's strong technical and functional performance is amazingly astounding. This is why it remains a preferred granite choice for modern architecture. It is highly durable, hard, weather-resistant, and most importantly portrays an eye-catching finish to any space.
Being one of the leading granite exporters from India, we, at Regatta Granites India, supply a wide range of high-quality natural stones at the most competitive rates. Our steadfast commitment to delivering world-class products to our clients is driven by a passion to leave a mark in everything we do.