Widely known for its beige and grey-colored pattern, Colombo Juprana Granite is one of the highly exported granite stones from India. Sourced from the Southern part of the Indian subcontinent, this granite comes in diverse sizes, finishes, and patterns. Let's explore more about this Indian granite.
Among various construction materials available today, granite is considered a wonderful construction material that lends some amazing home design opportunities while being superbly hard and reliable. Granite has been used as a building material for centuries. It is one of the primogenital and highly durable construction materials available and tends to outlive the building where it's installed. It has become a foremost choice for today's contemporary residential and commercial structures because of its continuing beauty, great resale value, and because no synthetic material is available yet that can be compared to its stylishness and presentation.
Buildings made of this stone will not denigrate with time and will continuously add value to any property where they are installed. Contrary to synthetics, granite exhibits a surface profundity that appears almost three-dimensional. It has a natural shine that remains missing from other surfaces. Irrespective of its finish, granite creates a quick impression of elegance and is considered a sure plus on any real estate broker's checklist.
Sourced from the Latin term 'Granum' which means a coarse-grained pattern in this eruptive rock, Granite is essentially admired for its supreme hardness and robustness. This is why it is a favorite among architects and builders who considered it a stone for today's construction.
What is Colombo Juprana Granite?
Juprana Colombo granite refers to a pale-yellow, yellowish-golden or pink-yellow migmatite of the Precambrian era. This stone globally may be designated as granite but when it comes to defining the application of the European Standard, it is often termed as a migmatite.
The color and veining of this granite surface differ significantly and a small specimen of Juparana Colombo granite may not be an indicator of the whole granite slab thus its samples must be accepted for big-size projects to ensure that the blocks are all sourced from the same quarry to ensure the best match.
Salient Features of Colombo Juprana Granite
Ideal for both residential and commercial construction projects
Delivers a smoother surface finish
Available in multiple sizes ad finishes
Superb resistance to scratches, weathering, and chemicals
An economical granite stone
Mining of Colombo Juprana Granite in India
Colombo Juprana Granite is extracted in Manapparai, Togalmalai, Western and Eastern Ghats in the state of Tamil Nadu in India. A large number of granite manufacturers and exporters in India provide high-quality Colombo Juprana Granite in various sizes and finishes. No matter what your project specifications are, it is very much likely to get a perfect slab for the same from India.
During the extraction of granite stones from quarries, large size granite blocks are taken out from the granite mines located in different parts of the country. These rough blocks are further alienated into gangsaw slabs trailed by the transportation to diverse granite processing centers placed all across the country.
Processing Unit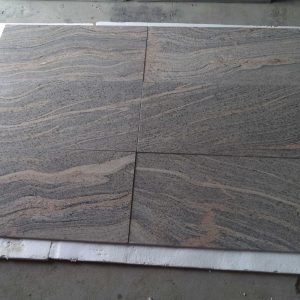 The first and foremost stage of the processing of Colombo Juprana Granite is its quarrying which is thus followed by cutting, grinding, and the use of epoxy and finishes with polishing. These blocks are then moved to the chosen granite processing units where they are further expurgated into gangsaw slabs, cutter slabs, tiles, countertops, vanity tops, and other sizes.
The granite manufacturers & exporters make use of various tools and techniques are used by granite manufacturers in India to smoothen the edge of the stone. The most commonly used ones are hammers, pneumatic tools, carbide-tipped chisels, and sandblasters that help professionals in treating the stone to a level where it can be made application-ready.
Finished Material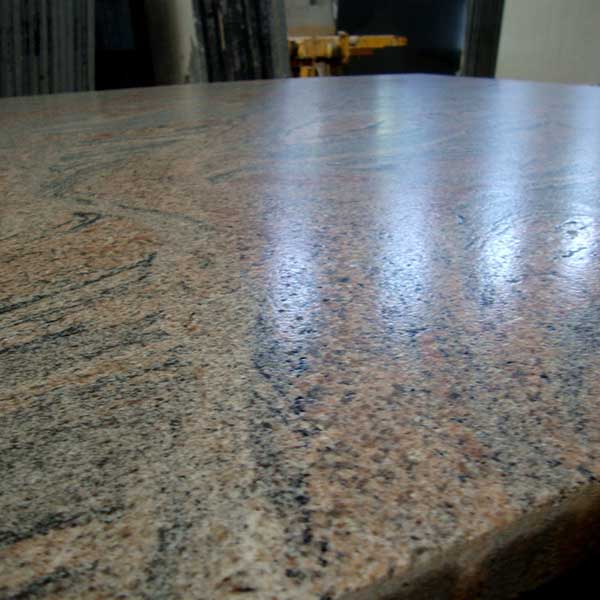 As Colombo Juprana Granite is used for a wide range of construction projects, it is cut into various sizes and shapes to match the specific requirements of a project.
The application of a specific finish is something that lends the desired visual appeal to the granite surface. Some of the commonly applied granite finishes include polished, flamed, bush-hammered, brushed, honed, leathered, and lepatora.
When it comes to sizing of the granite, this granite comes in the following dimensions:
Countertops and vanity tops – Custom sizes
Cutter slabs – 180 x 60 cm up in 2 & 3 cm
Gangsaw slabs – 260 x 160 cm up in 2 & 3 cm
Tiles – 30×30, 30×60, 60×60 cm
Finishes
Alike most other granite stones, Colombo Juprana Granite also comes in a wide range of finishes that can be used to match the individual application of the building projects. Some of the common granite finishes are polished, lepatora, honed, flamed, bush-hammered, brushed, and leather.
Honed – It is known to have excellent slip-resistance quality. This finish is best suited for flooring and kitchen countertops. Moreover, this surface is found to be easy to wipe.
Polished – For a classy and smooth stone surface, polishing is done on the stone surface. This makes it not only easy to clean but also greatly resistant to scratches.
Leathered – This finished is done by brushing the stone using diamond-tipped brushes. It leads to a more stylish finish with better stain resistance qualities.
Flamed – It is achieved by giving extreme heat to the granite surface which makes grains in the stone and distinctive color.
Bush-hammered – A hammer tool is applied to attain this kind of finish. This stone finish is perfect for countertops.
Installation
Quarried from the Southern state of Tamil Nadu, Colombo Juprana Granite is hugely used in all types of construction projects. Some of its applications are prefabricated worktops/countertops, tiles, vanity tops, paving, backsplashes, memorials, and fireplaces. It is the distinctive surface pattern of this granite that makes it a class apart from its counterparts.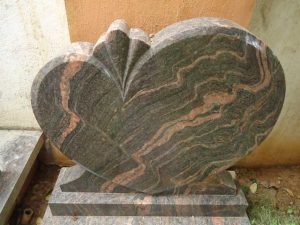 For both commercial and residential construction projects, Colombo Juprana Granite is a leading stone choice among construction contractors, builders, landscapers, construction companies, and others.
If you are looking to get the best quality Colombo Juprana Granite, India could be an excellent source for all types of projects. No matter what is the scale and type of construction project, the granite manufacturers & exporters in India are known to provide the finest quality granite stone to importers worldwide.