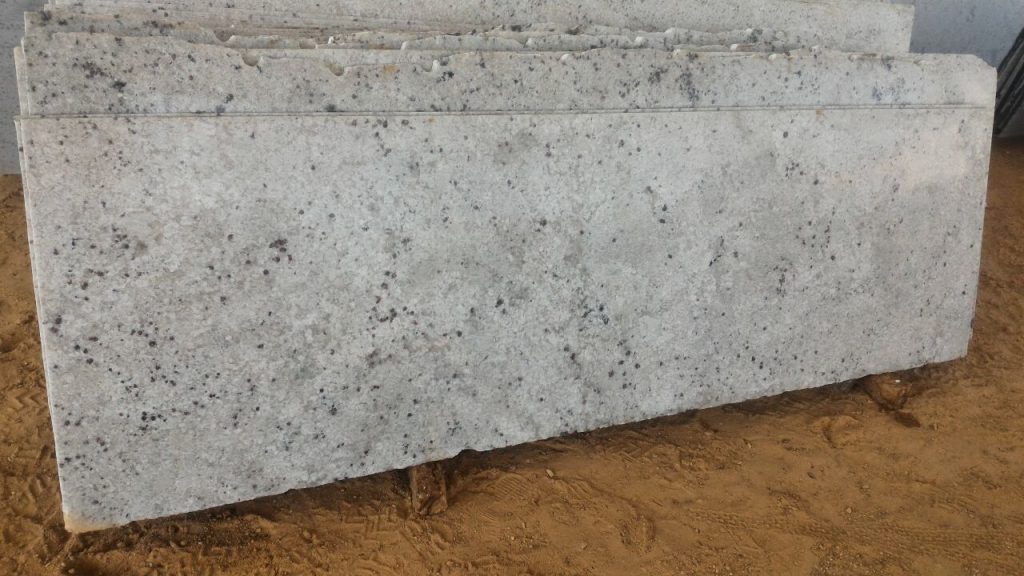 Comes under the category of white granites, Colonial White Granite is a South Indian granite that is quarried in the state of Tamil Nadu. This off-white granite features a creamish-grey colored surface with dark-colored particles scattered all over.
Colonial White Granite is known by several names like Platinum White, Buckingham White, New Imperial White, and Indian Bianco Romano Granite. This Indian granite boasts soft-toned grey and brown spots on a cottony-pale surface background that give it an elegant yet sophisticated visual appeal. Besides its stunning visual characteristics, the natural stone boasts strong functional properties that make it a hot choice in the USA, UK, UAE, Australia, and other countries.
As the application of white granite has increased tremendously over the past several years, the demand for Colonial White Granite has also surged down the line. Colonial White Granite may be termed as a granite but in the field of European field of application, it is largely termed as a granulite. This granite is found to be perfect for both residential and commercial construction applications.
What is Granite?
Granite is a widely popular igneous rock. It takes the shape when the magma lying below the earth's surface gradually crystallizes. Granite is primarily made up of feldspar and quartz with little quantities of amphiboles, mica, and other minerals. It is the composition of these minerals that define the actual color of the granite. Some of the common colors of granite are black, white, grey, pink, red, green, and blue.
Due to its widespread presence, granite is considered the most commonly found igneous rock at earth's surface. This is also one of the reason why granite is a widely used material for countertops, worktops, stair treads, paving stone, flooring, monuments, tiles, and others. In today's fast-paced world, granite emerges as a wonderful natural stone considering its amazing hardness and durability.
As far as Colonial White Granite is concerned, its properties are defined below:
Thermal expansion – 0.0045mm/mcº
Strength after Gelivity – 2600 Kg/cm2
Compressive Strength – 2350 Kg/cm2
Hardness (Moh's Scale) – 5.0
Impact Test-Min Fall Height – 68cm
Specific Gravity – 2.65 Kg/m3
Ultimate Tensile Strength – 274 Kg/cm2
Water Absorption – 0.15%
Despite being a light-colored granite, Colonial White granite emerges as a perfect choice for kitchen countertops all across the world. Its surface can sustain spills of juices, coffee, wine, and fruits. Granite also stands up well against the heat from cooking pans and pots. However, it is recommended to use trivets and hot plates while putting hot pots and pans on the surface.
Salient Features of Colonial White Granite
Carries its own significance with the tag of 'color perfection'
A perfect choice for indoor applications like kitchens
Doesn't' lose its sheen and color on being exposed to daily wear and tear
Widely used in countertops, stairs, walls, backsplashes, and flooring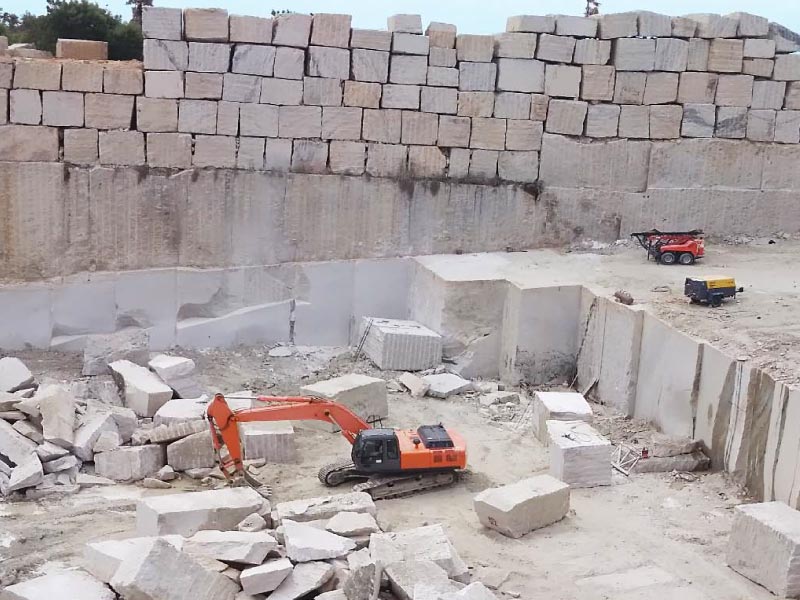 Mining of Colonial White Granite
This South Indian granite comes from the quarries located in the Madurai region in the state of Tamil Nadu. The place is famous for various granite quarries located close to each other.
The granite stone is extracted in the form of big-size blocks that are then moved to dedicated granite stone processing units. The next level of processing involves the cutting of granite blocks into gangsaw slabs, cutter slabs, and tiles to meet the exact requirement of a construction project.
Processing Unit
In this level of granite processing, big-size blocks are cut into gangsaw slabs, cutter slabs, and other custom sizes. The primary objective of this procedure is to get the slabs of precise sizes that are required for an architectural project. Different types of machinery is used to ensure full-fledged processing of granite blocks and slabs. For example, a modern wire cutting machine is used by granite suppliers in India to process the stone.
The most commonly processed sizes of Colonial White Granite are:
Countertops and vanity tops – Custom sizes
Cutter slabs – 180 x 60 cm up in 2 & 3 cm
Gangsaw slabs – 260 x 160 cm up in 2 & 3 cm
Tiles – 30×30, 30×60, 60×60 cm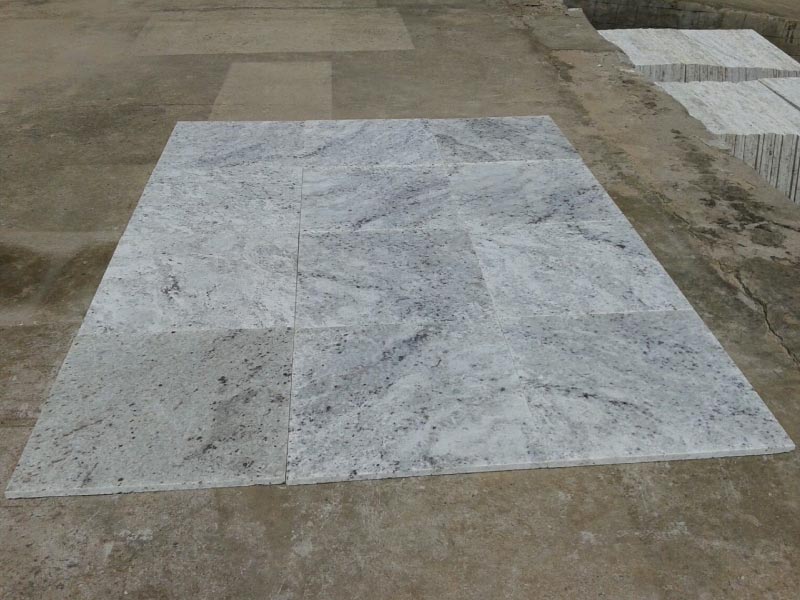 Finished Material
Though granite is a beautiful and durable stone, its surface need to be treated further to achieve a finish given the exact requirement of a project. There are different types of finishes like polished, flamed, honed, leathered, and bush hammered.
Different types of machine and hand-held tools are used to give a particular finish to the granite surface. The type of finish done of the granite surface defines its aesthetical look and functionality.
A majority of leading granite manufacturers and granite exporters in India use advanced polishing machinery to give a specific surface finish to the stone. This can be easily done at a granite processing center.
Installation
Featuring an off-white looks, this granite stone always remains the most preferred choice for countertops and backsplashes. However, it can easily be chosen for other applications. Colonial White Granite has an inherent capability to transform any space with any décor settling like commercial, residential, casual, formal, countryside, contemporary, rustic, and others.
The Conclusion
A perfect natural stone for both external and internal décor applications, Colonial White Granite is widely exported to the USA, UK, Australia, UAE, Germany, and others.