Black granite simply allures everyone with its gleam and perfection. That is why granite is one of the most used construction materials for commercial and residential projects. Aesthetics, unique look, durability, and performance are the keywords that declare why black granite is the first choice of all. When it comes to picking up a particular color from the black color category, Impala black catches all eyes. It is the natural texture and pattern of Impala black granite stone that makes it a clear winner over other black granite colors. Go through the content and check out some interesting facts about this black granite beauty with a difference.
Impala Black Granite: All you need to know about
Impala black is one of the rarest granite colors that stun with solid color patterns. Composed of crystallized minerals and an apparent texture, this stone is suitable for flooring and wall décor. When polished and installed by experts, this stone gives a new meaning to mesmerizing countertops in bath and kitchen spaces. With apparently white dots flecks, this grey and black-colored stone works well in large spaces.
Choosing particular granite colors is finally a matter of individual choice and personal taste.  Your search for a regal black stone with a clear pattern and texture comes to an end when you start analyzing features of this stone. Black granite enthusiasts interested in adding depth and creating a unique look can opt for this granite stone with rich chemical and physical features.
Impala Black Granite: Quick Facts
Real name: Impala Black Granite
Additional names: Indian black granite, Indian Nero impala, Indian black impala, impala gabbro granite, Africa Nero impala granite, and eagle black granite
Color: Black
Destination of origin: South India
Surface finishes: Sandblasted, polished, honed, antique, leather, lepatora, brushed, and bush-hammered
Edge finishes: Machine-cut
Surface description: A unique pattern of black and grey patterns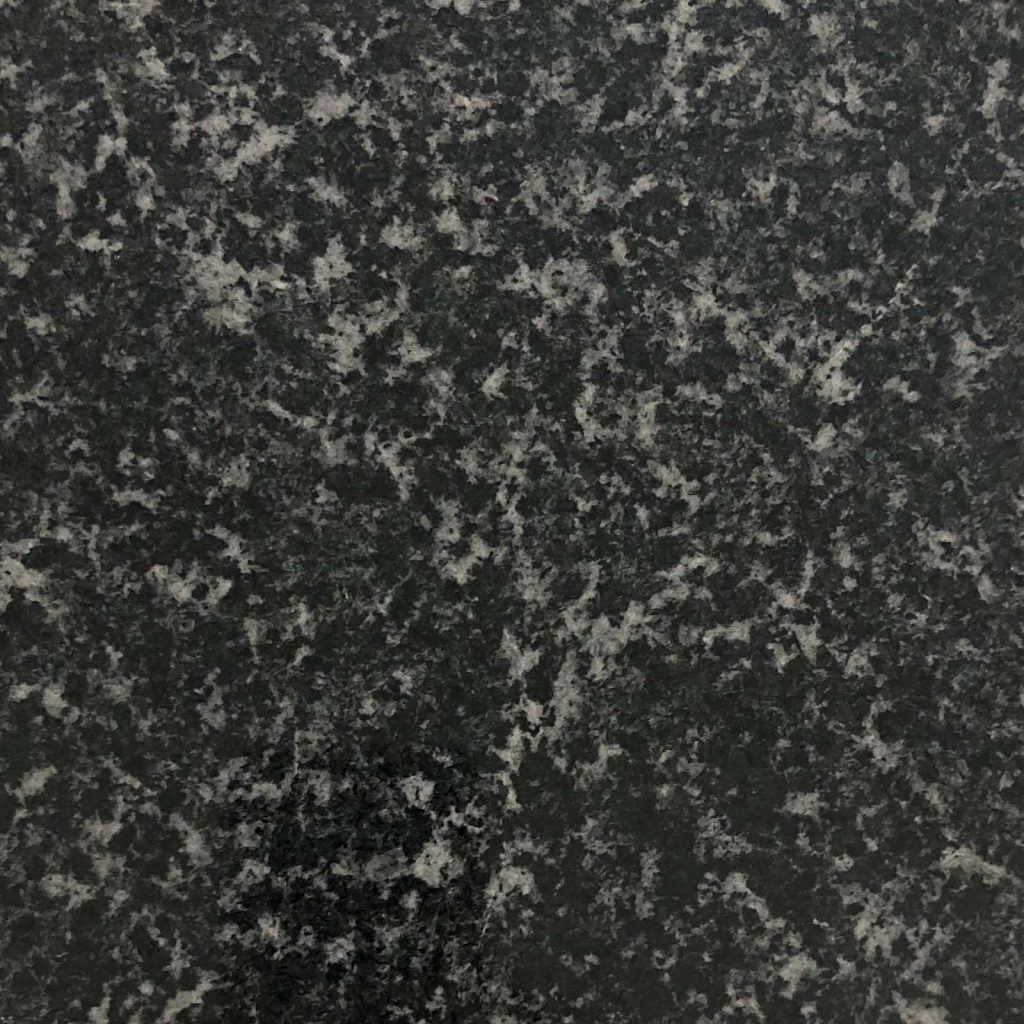 Impala black granite from Indian granite market
Indian granite market is capable of catering to the changing needs of B2B buyers with black granite slabs, tiles, and rough blocks. With features like low porosity, durability, and appeal, this stone product promises a sensational décor.  Impala black delivers exceptional results with it is paired with unique hues such as violet, lavender, grey, smoky, and sky blue. Interestingly, this stone matches well with all other colors in an amicable way.
B2B buyers purchase black granite stone products as per their commercial purposes. There are some granite suppliers in India involved in the processing of granite stones at South Indian granite factories. Some suppliers of stone export granite to the global buyers on the condition of the minimum requirement. Such suppliers exhibit this condition on their website against Impala black granite products. A certified black granite supplier understands the business needs of its targeted audience and offers them candid solutions that solve out all-natural stone issues. If buyers need to assess the stone, the best way to do the same is by going through a certified testing report from qualified testing institutes. 
Impala black granite testing report
Water Absorption: 0.10 %
Compressive Strength: 244.8 – 265.0 MPa
Density: 2930 kg/m3
Flexural Strength: 22.4 MPa
Available black granite products
Countertops and vanity tops in custom sizes
Cutter slabs – 180 x 60 cm up in 2 & 3 cm
Gangsaw slabs – 260 x 160 cm up in 2 & 3 cm
Tiles – 30×30, 30×60, and 60×60 cm
Application area: Countertops, kitchen tops, bars, wall and floor tiles, monuments, stairs, and other design projects
Minimum marble order quantity: One full container load (400 sqm or 27 tonnes for 2 cm and 280 sqm or 27 tonnes for 3 cm thickness)
Globally, the demand for black granite products is huge and the Indian granite market has everything that granite buyers like to find before making a purchasing decision. From quality to competitive prices, the Indian granite market gives all impala black granite buyers a competitive edge.
Buyers, get answers to your queries before making any decision. It will help you go in the right direction.