Popular for its unbiased tone and elusive looks, Platinum White Granite is a leading white Indian granite that brings a calming effect to the surroundings. Available in multiple sizes and finishes, this Indian granite can be feasibly used on kitchen countertops, tabletops, wall cladding, and elevator panels. 
The use of stones in construction is nothing new as people have been using them for years to adorn their places. Whenever it comes to adding a touch of grandeur to an area, there is nothing more prominent option than natural stones. This might be the reason why you will find the use of natural stones in all world-renowned structures like the Taj Mahal, the Colosseum, Stonehenge, The Great Pyramid, Casa Mila, and lot others. Some popular natural stones for construction are granite, marble, limestone, stay, and quartzite. 
Emerged from the Latin word 'Granum' which refers to the coarse-grained pattern in this igneous rock, Granite is primarily known for its unmatched hardness and durability. This is what makes it a favorite among architects and builders who considered it an ideal construction stone.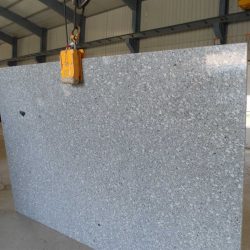 What is Platinum White Granite?
A popular Indian granite, P White Granite is found in the northern part of the country.  This granite variant is primarily known for its warm and subtle design pattern that looks classy in any environment.
P White Granite's pepper kind of design structure makes it perfect for flooring and wall cladding. Moreover, it comes in various sizes and thicknesses which means it is easy to get the right size stone quickly and affordably. 
Salient Features of Indian P White Granite
·       A great natural stone for flooring, artifacts, and wall cladding
·       Resistant towards stain, heat, and scratches
·       Perfect for high-traffic areas
·       Exhibit a perfect amalgamation of style and sophistication
·       Availability in different sizes and finishes 
Mining of Platinum White Granite in India
P White granite is quarried from the northern region of the country. There are several granite manufactures and suppliers in India who provide the best quality granite for various construction projects worldwide.
In a granite quarry, large size granite blocks are extracted from the granite mines. These rough blocks are further divided into gangsaw slabs followed by the transportation to various granite processing units located in various parts of India. 
Processing Unit
The first step in P White Granite processing is its quarrying which is trailed by its cutting, grinding, application of epoxy and finishes with polishing. These blocks are then transported to the designated granite processing units where they are further cut into gangsaw slabs, cutter slabs, tiles, and other sizes.
Different types of tools and techniques are used by granite manufacturers in India to refine the edge of the granite stone. Some of them are hammers, carbide-tipped chisels, pneumatic tools, and sandblasters that help granite processing experts in processing the stone to a stage where it can be made ready for usage.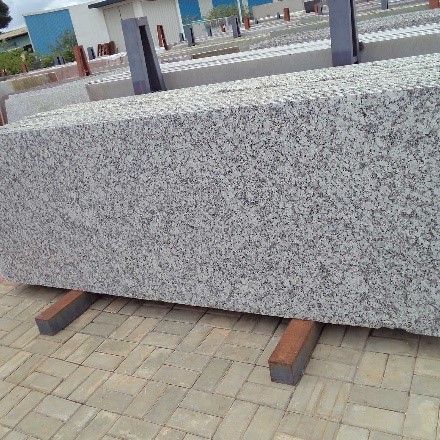 Finished Material
Due to its use in diverse construction applications, P White is primarily cut into different sizes to meet the stone-related needs of various construction projects.
However, it is the application of polish that influences the final look of the Platinum White Granite. Some of the popular stone finishes are polished, flamed, bush-hammered, brushed, lepatora, honed, and leathered. 
In regard to sizes, this granite comes in the following dimensions:
Countertops and vanity tops – Custom sizes
Cutter slabs – 180 x 60 cm up in 2 & 3 cm
Gangsaw slabs – 260 x 160 cm up in 2 & 3 cm
Tiles – 30×30, 30×60, 60×60 cm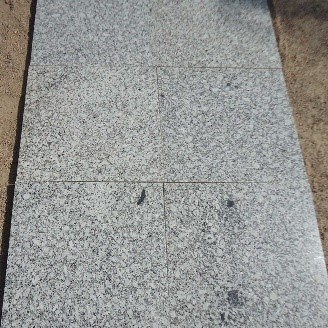 Finishes
P White Granite comes in multiple finishes just like any other granite stone. It is basically the nature of the stone application that decides which finish is required. Some of its popular finishes are polished, lepatora, honed, flamed, bush-hammered, brushed, and leather.
Honed – Known for its slip-resistance quality, this finish is good for flooring and countertops. Moreover, it is easy to clean as well.
Polished – For a refined and smooth stone surface that is not easy to clean but also resistant to scratches.
Leathered – This finished is achieved by brushing the stone with diamond-tipped brushes. It results in a more elegant finish with more stain resistance.
Flamed – It is done by applying extreme heat to the granite surface which causes grains in the stone and unique color.
Bush-hammered – A hammer tool is used to achieve this unique finish. This stone finish is ideal for countertops. 
Installation
Quarried in North India, Platinum White Granite is widely used for both commercial and residential construction applications. Some of its applications are countertops, flooring, mosaic, wall cladding, wall capping, fountains, window sills, and others. Due to its high level of brightness, as compared to other granites, it is widely for budget flooring. 
When cut to the desired size and polished professionally, this white granite stone tends to grab the eyeballs of everyone around. Be it a kitchen countertop, wall cladding, tabletop, or elevator panel, Platinum White Granite has a unique visual appeal that is way beyond its counterparts. For both commercial and residential construction applications, P White granite is always a winning choice.