One of the foremost reasons behind the popularity of granite is its color diversity and easy maintenance. Be it the USA, Europe, Australia, Middle East, or any other part of the world, the use of granite is very prevalent in the different areas of a home. Though granite can be sourced from various parts of the world, Indian granite has its own visual and functional appeal which makes it a great choice for modern architecture. Among various granite stones available today, River Gold Granite is a popular granite that is exported to many countries.
Over the years, Indian granite has gained immense popularity in the field of modern architecture. Due to its numerous varieties, extended range of colors, enhanced durability, easy maintenance, and beautiful patterns, granite sourced from the Indian continent is found to be functionally more powerful.
River Gold Granite may be found in practically every form of stone product, whether it's a countertop, tile, slabs, or any other stone product. Many Indian granite exporters and suppliers have in-house stone treatment facilities, allowing them to offer high-quality granite stones to customers all over the world.
What is Granite?
Granite is made up of primarily two elements – feldspar and quartz. Granite takes shape when thick magma cools down gradually and turns itself into crystals before reaching the Earth's surface.
Granite is an extremely resilient rock and weathers slowly to result in thin soils with very large boulders coming out – with typical tors developing the hilltops. It takes hundreds of thousands of years for this magma to cool down and turn itself into granite. The formation of granite is done under extreme heat and pressure and this is what makes granite highly resistant to scratches and other elements.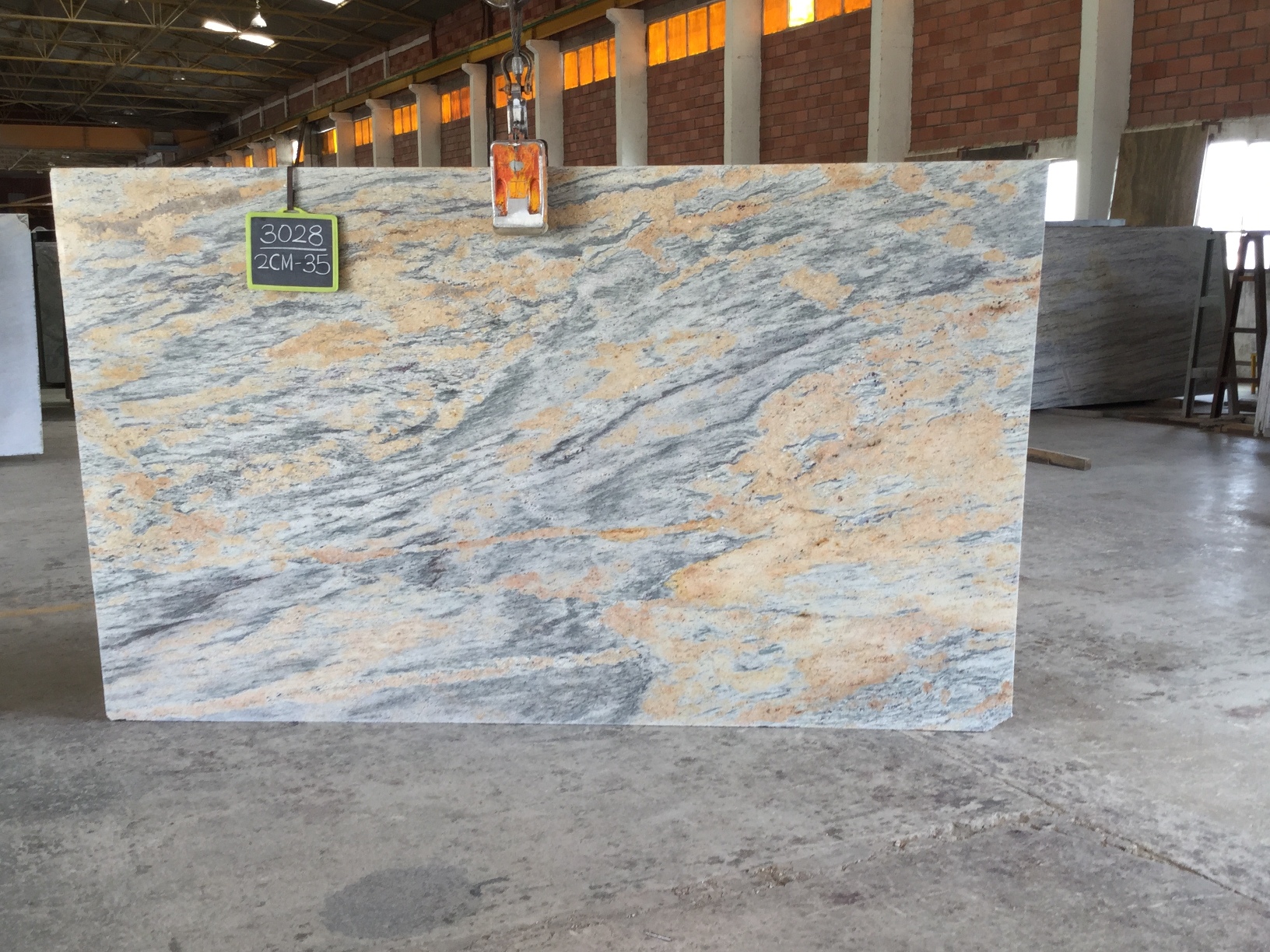 The granite is known as an Igneous Rock, which is derived from the Latin word "Ignis," which means "fire." Granite is composed of numerous minerals, the most important of which are quartz, feldspar, and mica.
The majority of River Gold Granite quarries are in the southern state of Andhra Pradesh, mainly in the Vizag or Vishakapatnam area. These granite reserves meet both local and worldwide demand for this golden granite.
This Indian granite has a vibrant golden beige color tone with noticeable tiny golden veins going across it. This overall aesthetic context gives the stone a rich appearance. River Gold Granite blends well with practically any sort of décor thanks to its distinct surface pattern.
Salient Features of River Gold Granite
Offers unmatched levels of premiumness
A perfect granite for both indoor and outdoor architectural applications
Superb weather-resistance
Available in the form of countertops, vanity tops, cutter slabs, and tiles
Mining of River Gold Granite in India
River Gold Granite is mined in India from the Vizag region of the state of Andhra Pradesh. These places have multiple granite quarries that generate this naturally gorgeous granite. The granite is removed as rough granite blocks here.
The raw stones are transferred from the quarry to specialist granite processing facilities where they are processed at various stages before application. Granite slabs are chopped and polished at the next step of processing.
Processing Unit
Because these rough blocks cannot be employed immediately in an application, they must be sliced into smaller sizes before they can be used. Gangsaw slabs, tiles, cutter slabs, countertops, vanity tops, and other granite sizes are the most often processed. A certain granite is further treated given the actual nature of the application.
River Gold Granite is most typically available in the following sizes:
Cutter slabs – 180 x 60 cm up in 2 & 3 cm
Gangsaw slabs – 260 x 160 cm up in 2 & 3 cm
Tiles – 30×30, 30×60, 60×60 cm
Countertops and vanity tops – Custom sizes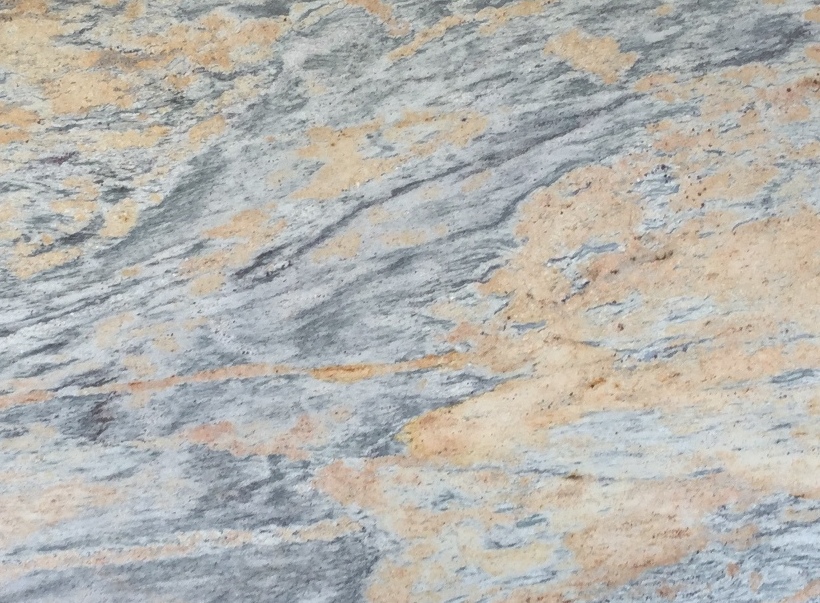 Finished Material
After the River Gold Granite has been precisely cut, the following step is to treat the stone surface in order to get the required polish. The surface finish chosen is determined by the specific use for which the stone is intended. The margins of this astonishing granite are machine-cut.
Furthermore, a well-polished stone is aesthetically pleasing and lasts longer. The most prevalent River Gold Granite finishes are:
Polished
Bush-hammered
Lepatora
Leathered
Brushed
Flamed
The Bottom Line
River Gold Granite is often used in both interior and outdoor architecture projects due to its premium aesthetic attributes. The overall décor of the area is enhanced by a royal multi-color backdrop with uniformly distributed little golden veins. This Indian granite is quite popular in nations such as the United States, the United Kingdom, Australia, Germany, and others.
Because Indian granite is noted for its exceptional quality in comparison to other granite stones, India has emerged as a prominent exporter of River Gold Granite and other granite stones to other areas of the world.