Global brown granite buyers rush to India to get timely and proper assistance from Indian brown granite suppliers for having high quality tan brown products extracted from Indian granite quarries in South India.
Tan brown granite quarries produce rough and unfinished granite blocks that are split into tiles and slabs at Indian natural stone processing factories. This stone product is one of the most popular granite varieties in India as well as the rest of the world owing to its unique features. It is also known by other names like Chestnut Brown, Copper Antique, and Tan Brown Blue. With this content, all readers will be able to know more about the stone, its utility in kitchen, and the scenario of stone availability in India.
An introduction to tan brown granite
Being one of the most prevalent granite variations, this stone product stuns all stone buyers with its pattern of black, brown, and dark red. It is nothing but the unique mineral composition of the stone that makes it an excellent choice for all applications. It is easy to find tan brown granite installed as kitchen countertops, bathroom vanities, and fireplace and tub surround. This stone comes in various forms such as blocks, slabs, tiles, countertops, vanity tops, and other articles. Buyers can easily buy this tan brown granite stone product from Indian granite exporters and suppliers. Following are some of the points that introduce the stone to all granite lovers.
Country of origin: South India, India
Alternative names: Chestnut brown, copper antique, and tan brown blue
Color: Brown with black gray flecks; chocolate brown flower patterns
Texture: Grayish background with chocolate brown specks
Applications: Flooring, wall cladding, bathroom, and kitchen
Inherent features: Durability, aesthetic appeal, and looks (multicolor flecks)
Tan brown granite stone and kitchen ambiance
A tan brown granite kitchen candidly looks mesmerizing. Be it the floor of kitchen or the countertop, a kitchen ambiance looks dull until it has tan brown stone installed. Every kitchen has some wooden cabinets, backsplashes, islands, sinks, and countertops that should match well with the to-be-installed granite stone.
The brown and red colors of this stone will certainly match well with the beauty of dark cherry wooden cabinets. The same goes well with breakfast bar stools. For having a great visual appearance, it is vital that you go for light backsplash and stainless steel appliances that look functional with tan brown hue.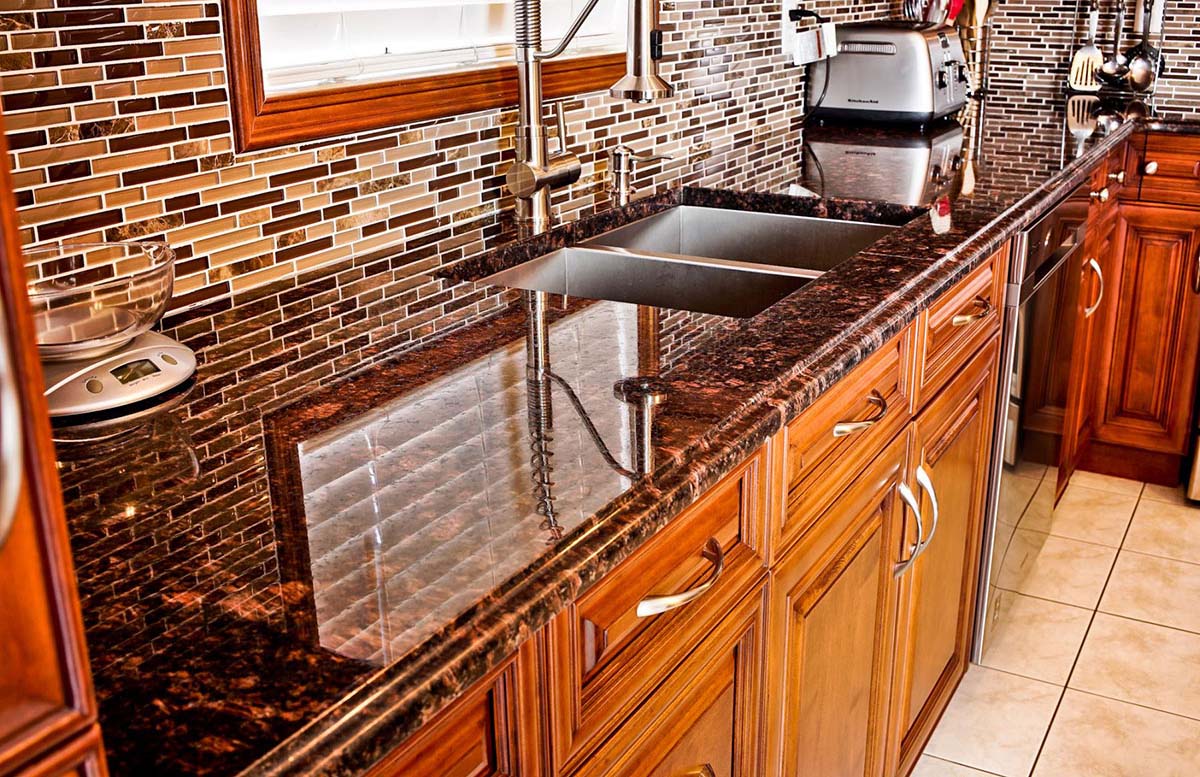 When you need to know how brown granite stone product works well inside a spacious kitchen, this natural stone simply increases the visual appeal. Interestingly, the stone combines perfectly with the supporting kitchen elements in order to form a warm and inviting gathering place. Thanks to the flecks of black, dark brown, and grey tones that create a magic environment with a light brown surface. That is why the stone is ideal for all interior applications.
What tan brown granite buyers get from Indian stone suppliers?
It is quite clear that India is the hub of granite materials and the whole world is rushing to this nation to have high-quality natural stones at a competitive price tag. Indian exporters distribute granite to all B2B and B2C buyers in bulk. So, check out what Indian brown granite stone suppliers have in their bags to cater to global granite supply needs.  
Available Tan Brown Granite Products:
Tiles – 30x30cm, 30.5×30.5cm, 30x60cm, 40x40cm, 45x45cm, 60x60cm and 61x61cm
Gangsaw slabs – 260 x 160 cm up in 2 & 3 cm
Cutter slabs – 180 x 60 cm up in 2 & 3 cm
Countertops and vanity tops – on demand
Available Tan Brown Granite Finishes with machine cut edges
Tan brown leather finish
Tan brown polish finish
Tan brown flamed finish
Tan brown lepathora finish
Tan brown leather finish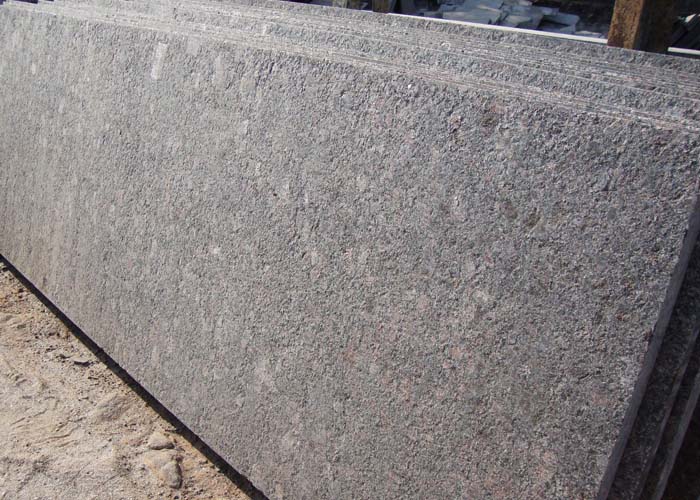 Whether you opt for tan brown granite countertops, tiles, or vanity tops, you can have all of them delivered at your indigenous ports in above-mentioned options.
Regatta Granites India is a qualified supplier, manufacturer, wholesaler, distributor, and exporter of granite products, including tan brown. The leading granite company in India supplies a wide variety of stone products to global buyers in all corners of the world.