Also known by the name of White Thunder Granite, Thunder White Granite is one of the popular granite stones all across the world, especially in the United States and the United Kingdom. This natural stone features subtle greys and garnets dispersed across its white base. It is sturdier, versatile, beautiful, and most importantly gels feasibly with the nearby surroundings astoundingly.
For many years, granite stone has been an essential part of the architecture & construction sector. As compared to other options like marble, concrete, and mosaic, granite boasts a uniform and upscale look and feel to any surface, whether residential or commercial. This might be the reason why the use of granite stone is quite common among architects, builders, construction contractors, and homeowners.
Granite is mainly preferred for its unmatched prettiness, natural glow, and high level of durability. Though there are different types of granite varieties available to choose from, Thunder White Granite is one leading Indian natural stone that has been admired worldwide.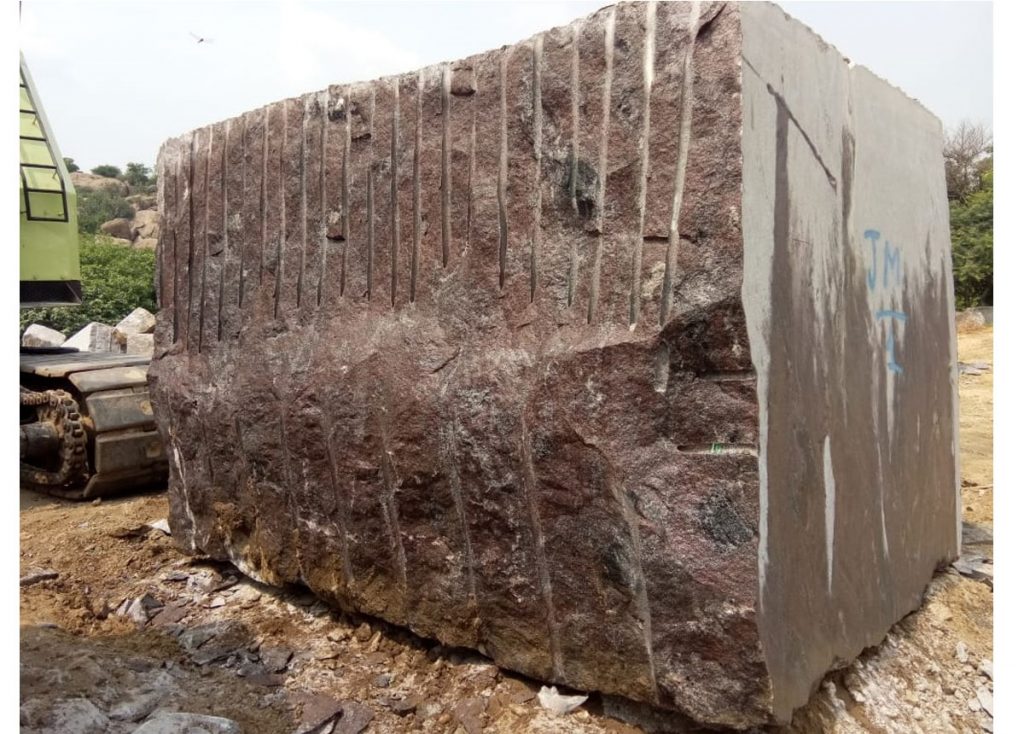 What is Granite?
Granite is a naturally emerging rock that takes shape beneath the Earth's surface under high temperature and pressure over millions of years. This stone is primarily made up of feldspar, quartz, and mica. It is also known as an Igneous Rock which is derived from a Latin term referring to fire.
Here it is important to note that the formation of granite takes place over millions of years beneath the Earth's crust. These years of under-crust activities play a role in giving granite a wide range of colors, surface textures, and design patterns.
Thunder White Granite is mainly sourced from the Vizag region in South India. It is a fine-grained, almost white granulite of the Precambrian times often with grey lines and burgundy garnets. India is known to be a popular country to source high-quality Thunder White Granite at the most competitive rates.
Salient Features of Thunder White Granite
Highlight a smoother and even surface texture
Ideal for both residential and commercial applications
Doesn't lose its color on continuous exposure to other elements
A perfect choice for vanities, backsplashes, tiles, fireplaces, paving, and monuments
Mining of Thunder White Granite in India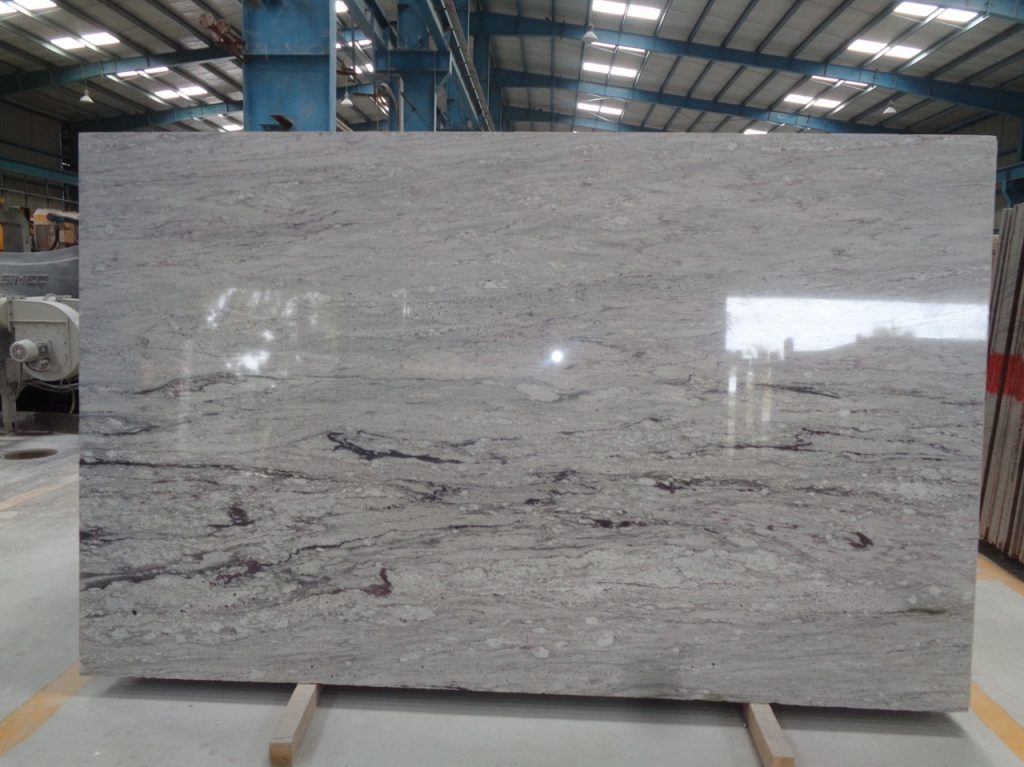 This off-white-colored South Indian granite is quarried near the Vizag region in the state of Andhra Pradesh. There are lots of granite quarries located in the region from where big-size granite blocks are extracted.
Once extracted from the quarry, these granite blocks are then moved to granite processing units where next-level processing of the stone is done using a variety of machines. From here, different types of granite blocks, slabs, and tiles are sent to local and international granite buyers.
Processing Unit
The next level of granite stone process is done by cutting large-size granite blocks into slabs of differing sizes like cutter slabs, gangsaw slabs, and others. The main objective of this process is to extract the slabs of specific sizes to match the needs of the project. There are different types of machines are used to process the granite precisely. One such example is the modern wire cutting machine. The incorporation of newer technologies has brought a lot of ease and precision to the granite processing industry.
These small size slabs and tiles are further used in various construction projects worldwide. Moreover, they are easy to carry to different places which may not be feasible with large stone blocks. There are different varieties of tools and equipment used by granite manufacturers in India to achieve a stone piece in the desired size and finish.
Finished Material
This is one viewpoint of granite processing where the granite stone is treated to achieve a particular size and finish. And when it comes to performing it, the importance of finishing becomes critical. There are various types of finishing that can be carried out on the granite surface.
Most top-rated granite manufacturers and granite exporters in India use world-class polishing power to lend a specific surface finish to the stone. This process can be carried out at a granite processing center.
The most commonly prepared sizes of Thunder White Granite are:
Countertops and vanity tops – Custom sizes
Cutter slabs – 180 x 60 cm up in 2 & 3 cm
Gangsaw slabs – 260 x 160 cm up in 2 & 3 cm
Tiles – 30×30, 30×60, 60×60 cm
Finishes
It is the magic of the surface finish of a granite stone that makes it appealing for the onlookers. Therefore, it is necessary to choose the right stone finish to meet the aesthetical and functional needs of a project. The type and scope of a project determine the exact type of finish that needs to be done. Below are some of the most commonly applied on Thunder White Granite:
Polished – It is the most widely preferred surface finish on a granite stone. Its primary purpose task is to safeguard the surface from regular scratches and make the stone easier to clean.
Honed – The finish is applied to the stone surface when the application needs a slip-resistance feature like flooring or countertops. Specialized machines are used to attain this type of finish.
Leathered – This finish is performed by scrubbing the stone with diamond-tipped brushes. It results in an extremely stylish finish with improved stain resistance properties.
Flamed – Under this finish, the stone surface is exposed to high temperature which causes grains and unique colors on the surface. It is an exquisite finish that is done for special applications.
Bush-hammered – It is another popular textured finish and is used mainly for outdoor applications. A bush hammer tool is used to apply this finish.
Installation
Boasting a close white hue, Thunder White Granite stone has an inspiring color texture that is sure to create that magic. The most interesting part of this granite is that it can complement almost every décor setting – residential, commercial, formal, casual, contemporary, countryside, rustic, and others.
An ideal choice for both indoor and outdoor architectural applications, Thunder White is a widely exported granite stone from India. Its amazing visual appeal makes it a perfect granite choice in countries like the US, Europe, Canada, Australia, and UAE. Moreover, the easy availability of granite blocks, slabs, tiles, and custom-sized products makes India a hot choice among granite importers worldwide.