When it comes to completing indoor and outdoor flooring, granite stone makes a big difference to the overall look and appeal of the surrounding ambiance. Among all available natural stone products, granite gets an edge with its chemical and physical properties. Steel grey granite is a unique stone for giving a new meaning to domestic and commercial floors. This content puts a light upon the ideal and excellent use of steel grey granite tiles through some explicit images of granite installation. The content also shares the tale of a Spanish house showing perfection of an outdoor floor.
Case study of a steel grey granite flooring project
This success story presented through a case study is related to granite floor and wall tiles made of steel grey granite stone. These tiles were manufactured and supplied by Regatta Granites India (RGI) to one of its Spanish clientele. The case study shows how the granite stone supplier helped the client get the stone of his choice from India. In addition, the company helped the client overcome all challenges and deliver the right stone tiles in the right time. Last year, the company got an order where client focused on the three big needs in response to the steel grey granite project in Spain. These include:
• Steel grey flooring tiles
• Steel grey wall cladding tiles
• Flamed, brushed, and honed finish
• Border tiles in black
• Top-quality with different sizes
The preference of the client was the availability of top-quality material in bulk. Moreover, specific polishes for wall and floor tiles were also a part of client's needs. Delivery of tiles on the time was also a big challenge. The 20-year-old Indian granite company sent samples to the client and started production at its South Indian granite factory after getting approval from the client.
From cutting granite blocks to polishing tiles and from packing tiles to checking stone quality, the company kept the clients updated on all. The company finally gave the client high-quality steel grey granite at factory prices in the following choices:
• Steel grey granite tiles (120x60x5cm) in flamed and brushed finish
• Steel grey step size (240x40x8cm)
• Absolute Black Border stone (30x120x5cm) in a Honed Finish
• Steel Grey Granite Tiles (60x40xm) in a Flamed Finish
• Steel Grey Granite Stone (40x30x3cm)
Have a look at the images shown below related to outdoor flooring project. This is how RGI met the expectations of the client and overcome all hurdles in a professional way.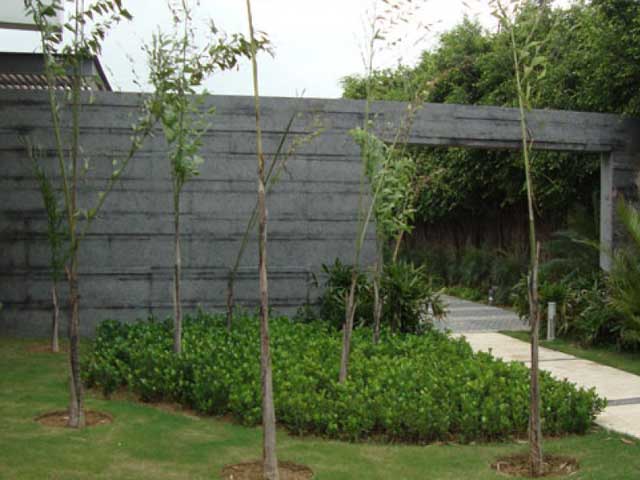 Steel grey granite – All you need to know about
When it comes to ensuring the availability of steel grey granite stone in bulk, India emerges as a popular granite hub. It is the place where one can ensure premium, commercial, and standard quality granite for B2B and B2C selling. Steel grey granite with a superb surface is seen as one of the top selling stone products. Famous for catering to the changing needs of B2B granite buyers, Indian granite suppliers offer quality stone in all parts of the world. The following is a brief description of steel grey granite stone that is easily available in India. It includes:
• Tile types: Granite flooring tiles
• Color: Grey
• Material origin: South India
• Additional name: Silver Pearl Granite, Silver Grey Granite, Steal Grey Granite, and Steel Gray Granite
• Surface description: A beautiful mix of light and dark grey shades settled over the surface
• Standard tile size: 30×30, 30×60, and 60×60 cm
• Thickness: 1-2 cm
• Custom tile size: As per B2B buyers' preference
• Finish: Polished, lepatora, honed, flamed, bush-hammered, brushed, and leather
• Edge: Machine-cut edges
There is a big difference between B2B and B2C selling. B2B buyers understand it better. That is why they always buy stone in bulk. In the Indian granite market, all B2B buyers get standard and custom-sized grey granite stone options in the form of vanity tops, countertops, tiles, gangsaw slabs, and cutter slabs. Buyers can also take an advantage by buying granite stone from an ETI and ISO- certified granite exporter, supplier, and manufacturer. The best part of buying granite from India is getting top quality products at competitive prices for steel grey granite projects.
If buyers need steel grey granite tiles that we discussed above, they can get quality granite products in any part of the world.