In any commercial project, the role of flooring is paramount. The reasons are quite clear – high footfall, more wear and tear, high maintenance, and others. For any builder or construction contractor, it is necessary to choose the right flooring material so as to lend both beauty and functionality to the floor. This is where granite emerges as the foremost choice of builders. Not only this natural stone looks awesome, it also outperforms others in terms of beauty and durability.
Though there are different types of granite stones available in the market that vary in their color and designs, Indian granite is found to be extremely durable as compared to others. This is one of the many reasons why the demand for high-quality Indian granite stones has been increasing day by day. Being one of the hardest natural stones available today, granite always remains the most preferred material of choice among construction contractors, builders, architects, and homeowners.
What is Granite?
Granite is known to
be a natural stone that is as long-standing as the earth. Granite is an igneous rock and made up of molten magma, the molten rock found the center of the earth. Granite is formed when magma cools slowly under high pressure and temperature. The chemical configuration of granite is quite identical to that of lava. However, granite exhibits extreme hardness and thickness to the point that it has been hardened beneath the earth's surface under heavy pressure.
From a design viewpoint, granite is a reverie. A wide range of colors and an amazing availability of diverse patterns offer numerous decor possibilities. And the options are recurrently increasing as more nations and regions around the world start to discover their exclusive geology to introduce new granites to market.
Qualities That Make Indian Granite A Great Choice For Commercial Flooring
Performance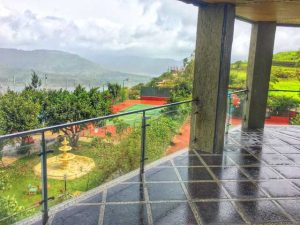 Granite is considered a highly versatile stone and can be used across walls, floors, and other areas of a building. This helps construction contractors to lend an integrated and seamless décor to space without facing supply issues. As compared to marble and other options, granite exhibits a natural sheen and welcoming appeal that is pleasing to the eyes of the visitors. Be it a shopping mall, district center, commercial complex, hospitals, schools, or offices, granite always attracts visitors.
Durability
As commercial floors are meant to encounter high wear and tear, they should be sturdy enough to withstand heavy footfall. Fortunately, granite, being a hard natural stone is able to overcome all such issues feasibly.
Moreover, granite is scratch-resistant and showcases excellent resistance to weathering elements. This makes granite a versatile choice for commercial flooring applications.
Aesthetics
Among all the factors, this aspect is always highlighted in granite flooring. Use it anywhere like floors, walls, countertops, tabletops, vanity tops, or anywhere else, Indian granite lends an unmatched visual appeal to the overall décor of the space. Moreover, the presence of a variety of colors and design patterns makes granite the most sought-after flooring material in commercial construction projects.
Variety
Another plus of choosing granite for commercial construction projects is the variety of stones available from Indian granite suppliers. From white to black, brown, green, grey, and numerous others, there are almost endless choices available in the market.
Besides color, granite can be obtained in different finishes like lepatora, bush-hammered, polished, honed, flamed, and leathered. It simply means that you can install granite not only on floors but in other areas too by choosing the most appropriate finish for that region.
Top Indian Granites for Commercial Flooring Applications
Baltic Brown Granite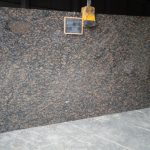 Quarried from South India, baltic brown granite is known by several other names like Granit Baltic Braun, Baltic Brown YD Granite, Baltic Brown V Granite, Baltik Braun Granite, Baltic Brown Luumaki Granite, Baltic Brown D Granite, Brown Baltic Granite, and Bruno Baltico Granite.
The brown color granite exhibits an exclusive combination of black and brown with tiny grey and tan-hued flecks. An ideal choice for both indoor and outdoor applications, this granite can be obtained from many granite exporters from India. From a functionality perspective, this granite exhibits superb resistance to wear and tear which makes it a perfect option for commercial applications.
Hassan Green Granite
Highlighting a consistent color tone extended all across the surface, Hassan Green Granite is another great granite from India. Being one of the sturdiest stones, this green granite is durable, weather-resistant, and visually appealing.
The granite is hard wearing and is ideal for use application high traffic areas of the building, and areas heavily prone to stains. Hassan Green granite's characteristic look and amazing durability are the most popular flooring material available today.
Kashmir White Granite
The next is the list is Kashmir White Granite. Mined in South India, this white color granite is one of the widely used materials for flooring in both residential and commercial projects. No matter where you use it, it always leaves the visitors stunned due to its classic visual appeal.
The loveliness, resistance, toughness, and adaptability make it a great choice for construction and decoration. It spruces up the natural look of the space and helps blend indoor and outdoor regions. Kashmir White Granite is preferred for a range of applications like washrooms, floorings, corridors, and living rooms.  
Here are a few examples of granite flooring: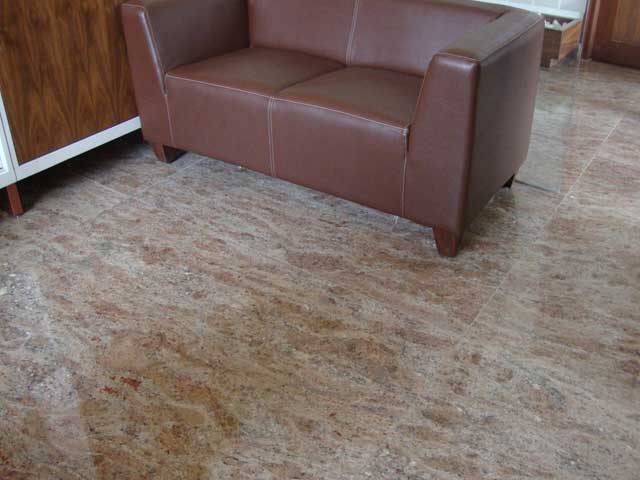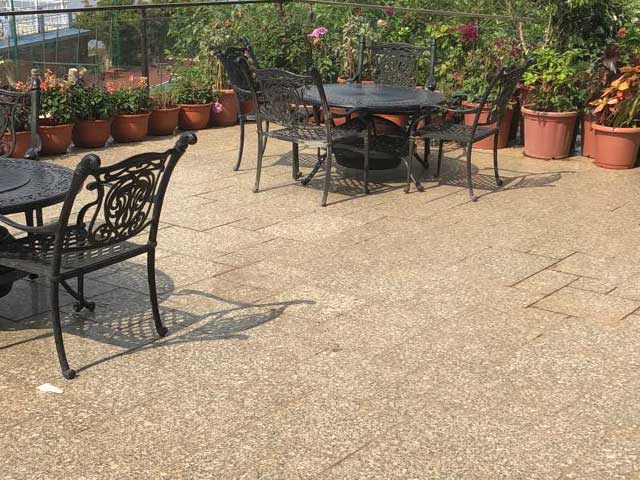 For ages, granite has been used worldwide to décor up space from residential to commercial. Thanks to its innate beauty, extreme durability, unmatched weather-resistance and ability to overcome regular wear and tear, the natural stone outperforms all other options like marble, vitrified tiles remarkably.
Be it regular wear & tear, heavy usage, weathering, stains, and other adverse elements, granite stone is found to perform exceptionally well against them. This might be the most prominent reason why it is widely preferred by homeowners, architects, construction contractors, builders, landscapers, and others.