Keeping your bathroom organized and modern matters the most, especially when you have to stay up to date with trendy designs. To bring freshness and style to your existing bathroom, simple renovations will make things happen in your favor. Here, choosing the right granite vanity tops is essential to keep a bath functional. Every day, new bath designs and trends hit the competitive market. Hence, all homeowners need to have a close look at what is happening around in terms of new arrivals and changes. It also easy to make small changes to an existing vanity area. Go through the following content and check what new granite vanity trends are for bathroom enthusiasts.  
Granite vanity top trends for a dramatic role
For a large number of people, a bathroom is a simple area where you spend a few minutes. For people with a luxurious taste, a bathroom is a perfect place that plays a dramatic role in the beauty and perfection of a complete home. That is why choosing the right granite vanity top is a big practical choice for bathrooms. Home designers understand the real need for changing the taste of homeowners. Granite is a superb natural stone with beautiful veins, specks, waves, and swirls on its surface. Colorful granite vanity tops are capable of lending a luxurious look to any bathroom space.
Granite easily resists stains and is not affected by water and heat damage. With loads of features and benefits, a granite vanity top adds value to a home. Being a durable stone, granite is demanded by a large number of people for bringing style and grace to interior spaces. The benefits of having a granite vanity top include easy maintenance, resistance to extreme weather, strong, durable, and versatile in functionality. Let's move ahead and check out what you can do with a vanity top to make a bathroom look stylish.

Black and white granite: A deadly combination
In the list of off-white colors, black color catches all eyes as it easily matches the tone and hue of bathroom walls and floors. Moreover, its' mingling with light and dark-colored cabinets is quite practical. On the other hand, it is a white color that is preferred by all homeowners due to its soothing appearance and enticing style. Both black and white hues have their own persona. Just imagine! What happens when both black and white colors work together? A white colored granite vanity top against black backsplashes or a black color backsplash vanity top against white surroundings: Which one suits you the best?
Granite vanity tops vs engineered stone vanity tops
The story of man versus nature is very old. Granite quarries produce natural stone developed inside mountains after thousands of years. On the other hand, engineered stone hardly takes a few days to get a particular color, design, pattern, and shape. This explanation is enough to say which stone product is good for your bathroom. When we talk about granite vanity tops, it means a greener building material that produces lower carbon emissions. On the other hand, an engineered stone produces higher carbon emissions and is not eco-friendly. Granite vanity tops are durable and strong. The only thing that keeps you away from granite stone is its cost. When you buy granite from certified Indian granite suppliers, you are supposed to get high-quality vanitytops at competitive prices.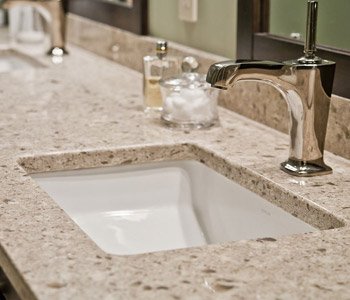 Space friendly granite stone for bathrooms
All bathroom spaces are not the same. It happens due to the need for architecture and the availability of specific areas for making a bathroom. Choosing a particular bathroom vanity top depends upon the space available inside the bathroom. For a powder room or a small-size bathroom, you need to choose a particular size that is less intrusive. For such a space, a 30-inch bathroom countertop will fit the most. Contrary to it, a master bathroom needs something different. Here, a larger granite vanity top with larger sinks gives homeowners an edge. Also, a granite size should be chosen as per personal preferences for storage.
Interesting finishes for looks and functionality 
There are lots of vanity top finishes that homeowners prefer as per their individual needs. Polished stone is widely popular in granite stones as a symbol of luxury and elegance for any sort of bathroom. Choosing the right finish ensures freedom from unwanted scratches and water seepage. If you look at the visual side of any finished stone, you will find that granite finish simply improves the aesthetics. These days, polished stones are not welcomed in bathrooms as they exhibit scratches easily. If you are looking for something interesting, a matte finish can do wonders as it is capable of hiding the scratches covertly. Another superb option for functional bathroom granite vanity tops is the leather finish. The best part of this finish is that it is good at hiding fingerprints.
All these new trends are being adopted by bathroom designers and homeowners. Buyers should understand that bathroom vanity tops are made customized as per the needs of end-users. That is why a qualified Indian granite supplier offers B2B custom-size vanity top products to buyers in bulk.
With certified granite suppliers and exporters, it is quite easy to get high quality and trendy granite products at a competitive price tag.