Multiple granite colors, especially brown granite, are a superb option for having a contemporary architecture at construction projects. Thanks to the unmatched physical properties of brown granite such as stain-proof, pill-proof and anti-weather. Brown granite countertops of different sizes are a good choice for rustic style kitchens. It is nothing but the veined surface of the stone that offers warm feeling and matches well with wooden crafts around with its brown shade. When we talk about a rustic style kitchen, we simply concentrate on a neutral palette, natural materials, and a worn/weathered feel. Read the content and find out what are options for having a rustic style kitchen in sync with brown granite countertop products. Let's move ahead and find out what rustic style kitchens are popular and which stone types match these styles.
Brown granite countertop options for rustic style kitchen
Being strong and long-lasting, granite countertops need minimum maintenance as they are durable for all sorts of kitchen works, from placing hot dishes and heavy appliances to cutting vegetables. The high strength and melting point of the stone make the stone scratch-free and easy to clean. Moreover, brown granite is less expensive than other natural stone types. When it comes to having a natural stone product in a kitchen that looks natural, brown granite countertops make a big difference in the kitchen with its natural earthly tones. The most important features of a modern and rustic kitchen include:
Raw wood – It brings nature inside your kitchen with wood covering ceilings, organic wooden accents, wooden flooring, and wooden cabinets.
Natural stone – Custom-sized brown granite countertops in interesting hues and tones with superb veins, dots, and speckles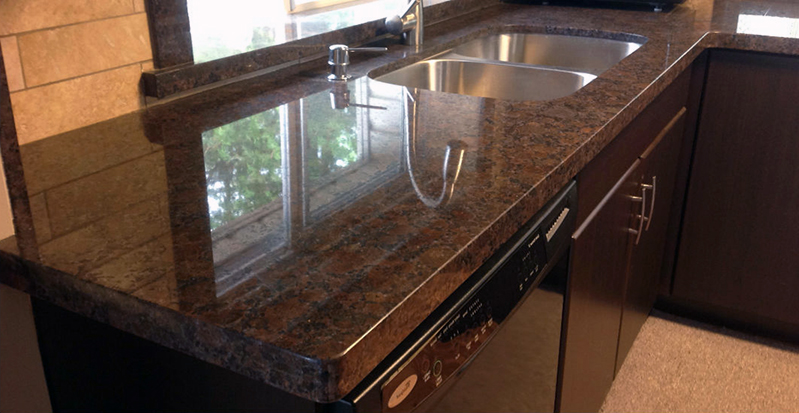 Whether you choose a galley kitchen, island kitchen, l-shaped kitchen, peninsula kitchen, two island kitchen, and u-shaped kitchen, a perfect amalgamation of brown granite countertops and raw wooden work in the kitchen takes things to the next level. Tan brown granite countertop over copper-hued cabinets; Z brown granite with rugged metals and organic wooden accents, and white cabinets, beaded inset cabinets, white cabinets, red backsplash, and desert brown granite countertops are some inspirational kitchen architectural elements that upgrade a new and an existing kitchen perfectly.
Where to buy brown granite countertops?
There are lots of dark and light brown granite colors available in all parts of the world. With hundreds of granite quarries, the Indian granite market caters to the changing needs of B2B buyers. South and North Indian granite quarries produce brown granite rough and unfinished blocks in bulk. After quarrying, these blocks are taken to processing units for cutting them into slabs and tiles of different sizes. Granite factories produce customized and standard size countertops for kitchen, bath, and other purposes. Kitchen countertops are made customized matching the needs of space and comfort level. These days, rustic style countertops are used to get a vivid appearance and genuine style. South and north Indian granite factories, brown granite suppliers, manufacturers, exporters, wholesalers, and dealers help B2B buyers get their choice granite countertops in a brown hue at competitive prices.
Brown granite options for countertops in India
Tan brown granite and Indian Aurora granite  
Classic paradise granite and Z brown granite  
Desert brown granite and Ivory brown granite  
Bash paradise granite and Coffee brown granite
B2B buyers can easily buy custom size rustic-styled kitchens online. Online buying is quite easy for buyers. All they have to do is to visit the website of an ISO-qualified brown granite exporter and choose the product of their choice. Once convinced with the product range and other quality factors, buyers can place an online order by filling their genuine requirements through a stone inquiry form. Once buyers fill a form, they are contacted by the customer care executive. They can help buyers know what granite stone colors suit kitchen ambiance as per the needs of wooden cabinets, wooden ceiling, wooden floor, windows, walls, backsplashes, and sinks through proper images of successful projects.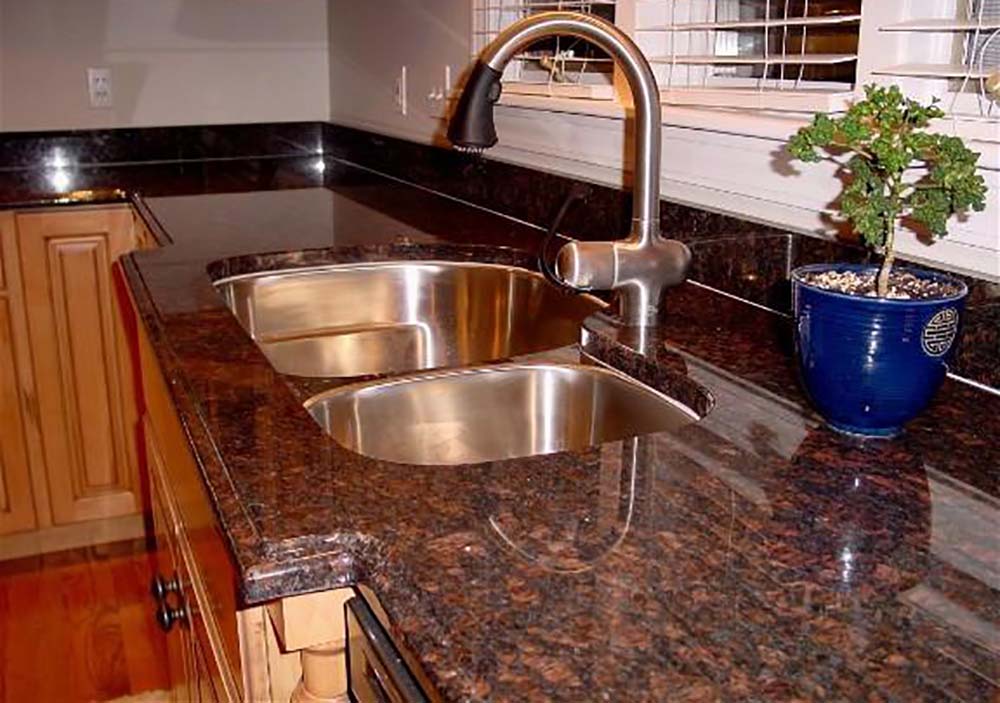 When it comes to buying brown granite countertops from a natural stone supplier, make sure the supplier offers its granite products made as per the quality of international markets. Also, ensure that its supplies are good for making top-class and rustic-style kitchen countertops in brown hues and tones. Buying from the best means quality, quantity, relationship, and timely delivery of natural stone products to international ports.