Fully owned by the 20-year-old granite supplier Regatta Granites India is a brand dedicated to the company's line of business, which solely deals in the manufacture and export of granite from India.
Just like its parent company, the granite supplier has managed to establish its name in the natural stone industry as a leading and trustworthy granite exporter from India.
No doubt, the national and international certifications held by Regatta Universal Exports have remarkably assisted Regatta Granites India to build rapport with its international customers and contributed to its market reputation on the whole.
The certifications acquired by the company directs it to conform to specific standards and meet set requirements for one or more of its business-related activities, including but not restricted to procurement and processing of granite, quality inspection, packaging and export of finished granite products.
These certifications have not only helped Regatta Granites India to optimize its manufacturing process and business operations, but scaled up the production too along with integration of best industry practices into the system. Thankfully, such reforms have also brought a couple of advantages to granite importers too in multiple ways.
Certifications and their Advantages
Discussed below are the certifications owned by granite supplier Regatta along with their benefits to both the company and granite buyers:
Ethical Base Code (ETI) Certificate of Compliance
This has been awarded to Regatta Universal Exports by International Certifications Limited. The certificate assures buyers that granite has been ethically sourced and processed at Regatta, and that the company conforms to national standards with respect to all of its business activities.
The company complies with the following rules set under ETI:
Employment is chosen freely; no bonded, involuntary prison or forced labor.
Right to collective bargaining and freedom of association are considered
Working conditions are hygienic and safe
No involvement of child labor; any one below 18 years of age are not employed at night
Living wages are paid as per industry benchmarks and/or national legal standards
Working hours comply with the national laws
Regular employment is offered
No inhumane or harsh treatment is practiced
No discrimination on the basis of caste, sex, nationality, age, disability and more in relation to compensation, hiring, training, retirement and promotion is practiced
ISO 9001:2015 Quality Management Certificate (QMS)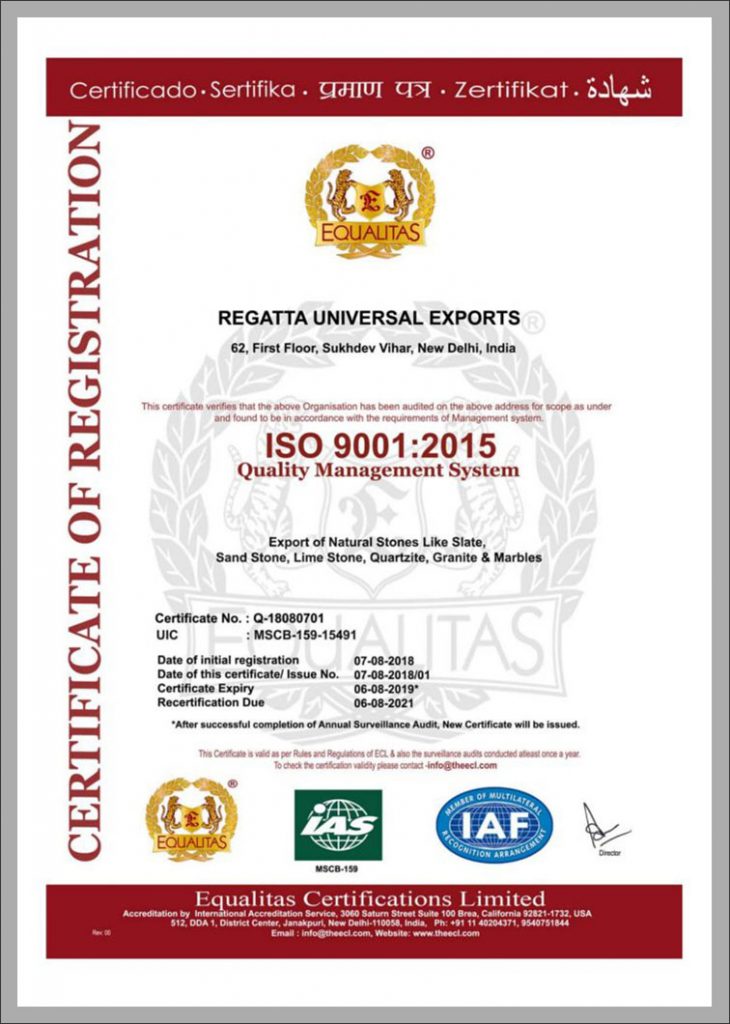 This certificate has been given by Equalitas Certifications Limited after successful Surveillance Audit. The benefits of ISO 9001 certificate are as follows:
Improved credibility and market image of the company
Increased level of customer satisfaction
Improved process integration
Implementation of evidence-based decision making within the organization
Integration of incessant improvement culture
Improved employee engagement
Certificate of Compliance (CE) Certification Mark for EU Compliance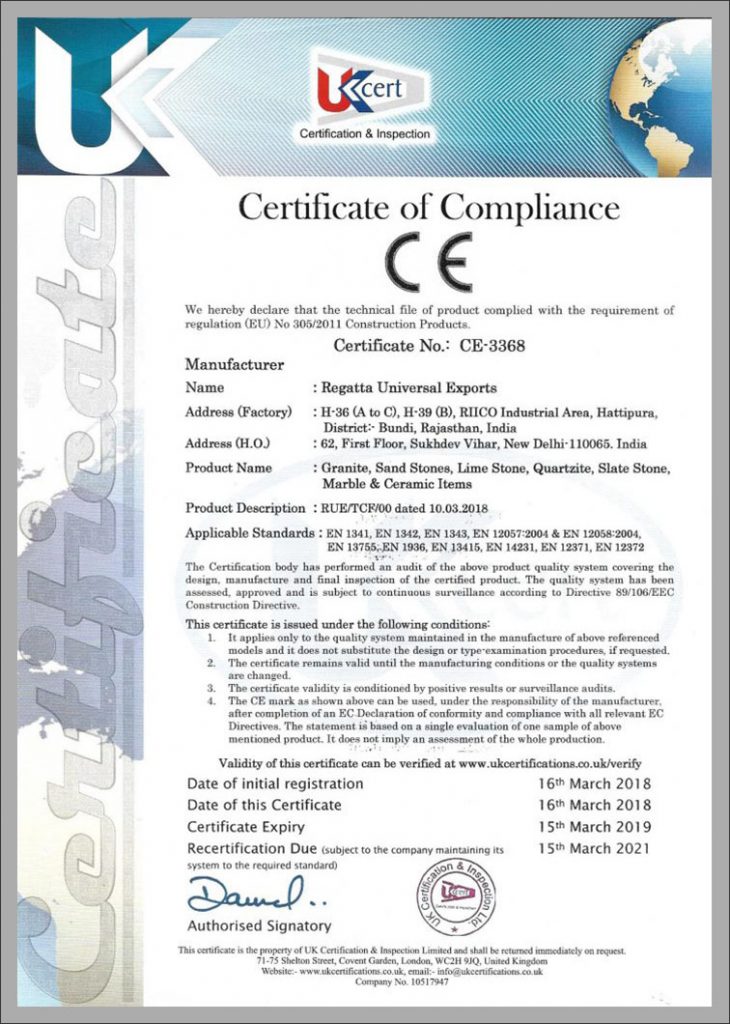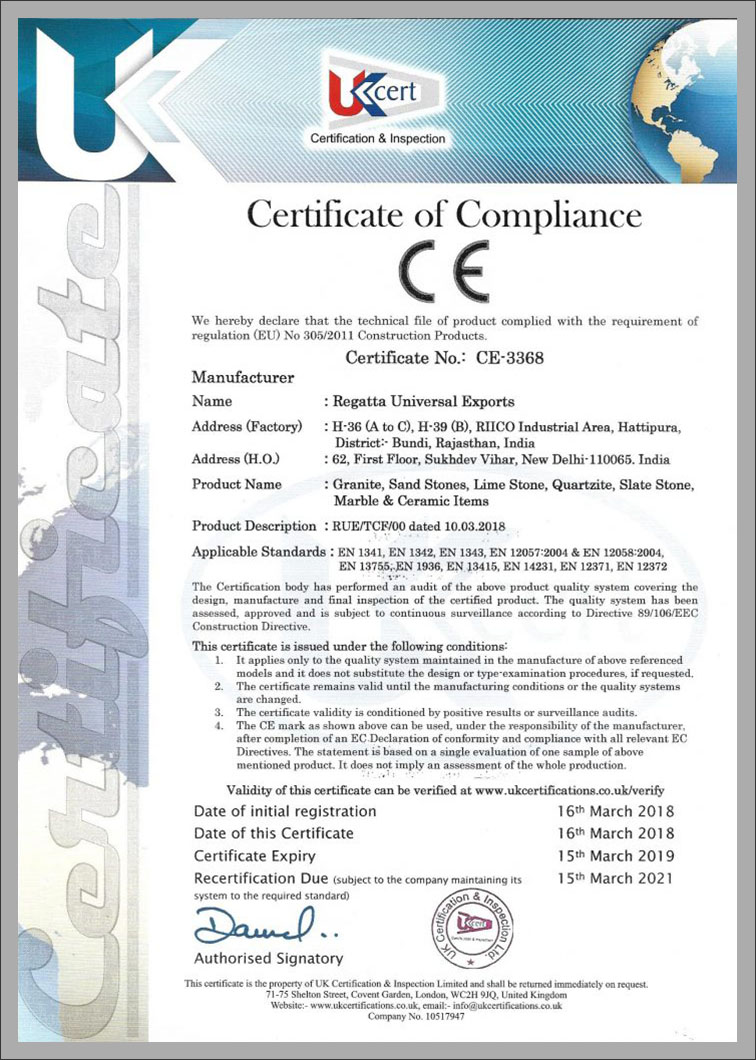 This certificate has been awarded by UK Certification and Inspection Limited since construction products (here, natural stones) manufactured by Regatta complies with the requirements of EU regulations. It allows the company to freely offer its product, i.e., natural stones like granite across the 30 countries within the European Economic Area (EEA).
While Regatta as a granite manufacturer and exporter is benefited in that it can sell its products in EEA without restriction, granite importers and end-users of our construction products can be assured that the products have met all the health, safety and environmental protection guidelines laid by EU before reaching them.
Export House Certificate
The One Star Export House Certificate has been given to Regatta Universal Exports by the Directorate General of Foreign Trade of the Ministry of Commerce and Industry of the Government of India.
This certificate confirms that the company fulfills all the provisions of the Indian Govt.'s Foreign Trade Policies. It is important for granite importers to know the certificate is provided by a government agency, which makes Regatta a genuine granite exporter from India.
Not only international granite customers can freely rely on us for granite import to their respective countries, but expect safe and timely deliveries of granite.
To know more about our products, quick quotes and guaranteed best price, click here.
Conclusion:
Apart from the certificates mentioned above, Regatta Granites India personally takes utmost care to ensure a delightful customer experience. Our existing customers from different parts of the world are always there to vouch for our consistency in delivering quality granite to them for so many years.