Our motto is to supply good quality Indian granite at reasonable price to our customers and extend prompt and efficient services and attention.
Mr. Sundeep Gandotra
(Director, Regatta Granites India)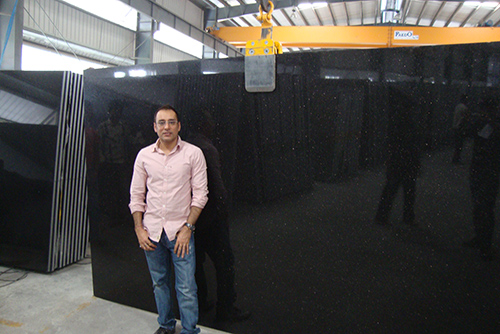 Over the years, Regatta has come a long way; from its initial setup way back in the year 2000, development, expansion, and modernization till today's reality, one of the top-notch granite manufacturers & exporters in India. It is the combined efforts of all teams, not limited to sales, production, and marketing. Their efforts ensure that all stages of granite manufacturing, quality control, packaging, and delivery are handled efficiently and effectively.
We primarily export granite, marble, sandstone, and other natural stones. We process these stones in multiple finishes in our two state-of-the-art manufacturing units in Bundi (Rajasthan) and Prakasam (Andhra Pradesh). Our factories in North India and South India help us process all types of granite in the most exemplary way for our buyers.
Our USP is our professionalism and the vast range of granite stones in a multitude of granite finishes that we export. The buyer always comes first for us. A team of talented and experienced staff is always there to assist me.
We are highly committed to sourcing and exporting superior-quality Indian granite at affordable prices. Our factory is near stone quarries and fortunately, on the way to Mundra Port and other ports, so we enjoy the advantage of low transportation costs for getting raw material to our factory and sending finished goods to the port for shipment.
As transportation cost is a big component of the free-on-board (FOB) cost, we do all types of granite processing in our factory. Due to these two factors, our prices are very competitive and the quality of the finished stone is high. We are ISO certified and take corporate responsibility seriously. We feel that a business should be more responsible for giving back to society rather than just taking from it. Our customer base includes some big names in the industry as well as small players, but we pay equal respect and attention to all.
At Regatta, we aim to continually improve our offerings. We know that learning is a continuous process. So, we keep on learning and translating our newly gained knowledge in the form of newer granite stones in different colors and sizes at regular intervals.
During the course of our journey of nearly 25 years, we have faced many ups and downs, but nothing diverted us from our path. Instead, we took every problem as a challenge and learned a new lesson while overcoming the same. Every difficulty that we have come across was transformed into an opportunity by our dedicated staff, which eventually helped us to position ourserlves as an industry expert.