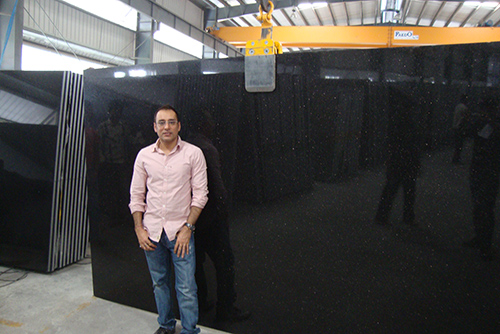 Mr. Sundeep Gandotra – Director, Regatta Granites India
Our motto is to supply good quality Indian granite at reasonable prices to our customers and extend prompt and efficient service & attention
The USP of our company is the large choice of colors we offer in the north and south Indian granites. Also, we offer a large range of products like gang saw slabs, cutter slabs, tiles, project order requirements, and granite tombstones. Along with this, we offer a wide range of finishes, polished, honed, flamed, flamed + brushed, leather finish, lepathora finish and so on.
A question always asked me is why Regatta does not have a factory and how are we able to compete on pricing with manufacturers. I reply below.
The range of granite products includes gangsaw slabs, smaller cutter slabs, tiles, project orders (customized sizes & finishes) and monuments. Each product requires an entirely different factory set up (machinery, labor, management, quality control). If we set up a gangsaw factory then we are restricted to only exporting this particular product. But this is not that we want to do. We get many inquiries and requirements for other granite products as well and we supply to all requirements.
Production of granite is a large involved operation that requires a huge financial investment & other resources in factory, staff, management & machinery. It is not possible to set up a factory for each granite product and manage it successfully. People who do not plan well end up having sick units on their hands.
Also, different granites are available in different areas. Generally, the units that are close to quarries have the most competitive pricing and access to good quality rough material. So if we set up a gangsaw unit in one area we would be restricted to processing the 2-3 colors available in that area and will be deprived of competitive pricing for other colors. The same is the situation for other granite products.
So if we set up a factory we are restricted to one granite product (gangsaw slabs or cutter slabs or tiles etc.) and to a few colors. This does not benefit us or our clients in any way.
Regarding pricing which is the biggest concern of every customer, we are able to source rough blocks at a cheaper price than the factory due to our relations with quarries over many years. The quality inspectors who are on our payroll ensure good quality and availability of quantity. Besides we have a flat profit percentage of 10% in all pricing (big or small orders don't matter). So we are able to ensure a cheaper price than any manufacturing unit.
It is our experience with so many factories that are highly unorganized. It is 70-80% probability that the factory will not complete the order on time or will not supply the right quality.
To run a successful factory one needs not only machinery but people resources and qualified managers. Most factories don't invest in it and the owners themselves are highly unprofessional. Despite so much development access to the internet 80% of factories don't 'care' about quality or delivery. They are able to quote low prices but without proper quality and timely delivery, the low price is no use to a customer.
So for a small fee of 10%, we ensure that we place an order with the right factory and follow it up rigorously with them to ensure the right quantity and quality is produced. We have quality inspectors who have experience of 15 years or more in quality control and sourcing.
Indian granite industry is highly unorganized. A few large manufacturers are very busy with orders so not only are their prices high they are not able to give close attention to order performance of each customer. So the smaller & medium sized customers often get neglected. Regatta Exports has good management infrastructure with qualified and experienced managers to handle pricing, sourcing, order follow up and quality control. So for a small fee of 10% we are able to offer peace of mind to our customers.
I am personally involved in customer service. I am always accessible by phone +91-9910066990, email (info@regattaexports.com) skype (sundeepgandotra) or WhatsApp to all our customers should they have any queries regarding pricing and products.