Black color looks gorgeous, royal, and impressive. When it comes to buying slabs and tiles to paint a commercial or domestic space with a very consistent color and texture, Absolute Black granite catches all eyes. Natural stone experts recommend this stone for internal and external uses suited to your individual interest. This stone is the first choice of rich people for crafting beautiful granite countertops, outdoor cladding, floors, and architectural features. Available in all popular sizes, Absolute Black granite slab delivers a new meaning to the presentation of countertops, vanity tops, steps and risers, basins, and other interior products.
Absolute Black granite: Making way to your living space with candid features
Granite is a strong, functional, and beautiful stone. The long-lasting feature of the stone makes it a unanimous choice for garnering any individual space. Absolute Black Granite is known by different names in the natural stone industry, such as Jet black, Nero black, Nero absolute, telephone black,  Indian super black, chamrajnagar black,  Belfast black, Khammam black, Nero Zimbabwe, Shanxi black, z black granite, and hosure black granite.
Applications – Good for residential and commercial uses in walls, countertops, flooring, monuments, countertops, mosaic, fountains, wall capping, stairs, window sills, and pool, this stone is ideal for exterior usage. Absolute Black granite also works well in freezing climate.
Material type – Granite
Primary Color – Black
Chemical composition by weight percentage: MgO-0.71%; FeO-1.68%; Na2O-3.69%; Al2O3-14.42% (alumina); CaO-1.82%; Fe2O3-1.22%; K2O-4.12%; MnO-0.05%; P2O5-0.12%; SiO2-72.04% (silica), and TiO2-0.30%.
Country of origin – South India
Industry Names – Jet Black, Jet Blacky, Nero Absolute, or Telephone Black
Variations – Low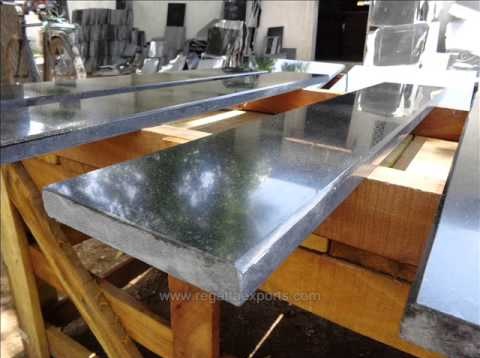 Absolute Black granite slabs and tiles
People prefer granite for commercial and domestic construction due to its appearance, quality, look, finishes, applications, size, and thickness. As far as the aspects of overload, traffic, and fitting of the stone on a particular space are concentred, the size, thickness, and physicomechanical properties of absolute black granite slabs and tiles matter the most. These days, honed and polished stones are highly demanded. In the economic sense, Indian granite slabs of big sizes are little more expensive. Interestingly, they are the first choice of granite dealers and architects from the Western world. Basically, you will find black tiles and slabs in the following dimensions:
Absolute black granite slab (gangsaw): 260 x 160 cm up in 2 & 3 cm.
Absolute black granite slab (cutter): 180 x 60 cm up in 2 & 3 cm.
Absolute Black granite tiles: In all popular sizes.
Available finishes: Polished, honed, sandblasted, antique (sandblasted + brushed), bush hammered, bush hammered + brushed, leather finish, tumbled and
Physico-mechanical properties
Apparent density: 2960 – 3010 kgr/m3
Open porosity: 4 % vol.
Water absorption: 0.02 – 0.06 % wt.
Flexural strength: 16 – 21 MPa
Compressive strength: 225 – 250 MPa
Resistance to fixings: 1900 – 2100 N
Absolute Black granite functionality status via technical performance specs
The value and utility of any Absolute Black granite stone are measured on the basis of how it performs in long term. So, the rating of granite abrasion, absorption, and sensitivity need to be checked. You can know more about a slab or tile with a lab report issued by granite manufacturers and suppliers. Check out the following rating aspects for technical performance specifications of the stone:
Abrasion resistance (Rating- Medium)
Abrasion resistance of Absolute Black granite shows its potential to resist surface wear. On the Mohs scale, the black stone is rated as a 3.5-6.5. The high scratching resistance of this stone over other stones with a low abrasion resistance rating that makes it completely useful for flooring and countertop options.
Absorption (Rating- Moderate)
Absorption of Absolute Black granite is known as the relative porosity of a material. In terms of absorption ability, this stone shows low to moderate absorption rate. That is why you need to seal this material properly prior to use. To keep this stone look new, you have to wipe up spills from the surface at once. Remember that the stone is vulnerable to highly-pigmented liquids and oils.
Acid sensitivity (Rating- Minimal)
The acid sensitivity of Absolute Black granite is the probability of a stone material reacting to acidic liquids and foods. As far as this stone is concerned, black granite is concerned it is minimally responsive to acids. Moreover, the stone doesn't lose surface shine and acid etch on being exposed to acidic liquids.
Regatta Granites India, one of the popular Indian Absolute Black granite suppliers, manufacturers, and exporters, delivers high-quality granite stone globally in different finishes, sizes, and patterns at competitive prices.