Topping the list of off-white colors, elegant and authoritative black color marks the absence of hues. In the list of black granite, black forest granite stone matters the most with its high variance and bold patterns smeared on the surface top. Know all aspects of the stone product with reference to its marketing scenario in India.
The black color that symbolizes action and emotions has been a great choice of granite stone lovers who prefer to boost the aesthetics of their living premises. With the capacity of enduring freezing temperatures, black forest granite stone is considered superb for a number of interior projects, like countertops, backsplash, stairs, walls, and floors. With snow-white swirls and stripes, this beautiful black granite from South India can easily boost the aesthetics of any interior or exterior. Quarried from south Indian granite quarries, black forest granite is a highly-variational and durable stone with loads of unique features. Available in various finishes and sizes, this stone is highly recommended for all sorts of interior and exterior projects. With this content, all black granite enthusiasts and buyers will know more about many dimensions of the stone and marketing aspects concerned with it.  
Black forest granite – All you need to know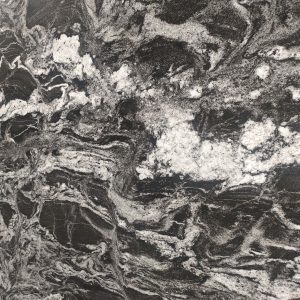 Being a famous black-hued stone, exquisite black forest granite is ideal for accomplishing commercial and residential projects. The elegant use of natural stone products, such as slabs, tiles, and countertops for kitchen and baths impart a new look to all walls and floors. When it comes to having something unique in off-white hues, the black forest granite stone product steals the show with an exclusive surface wearing snow-white swirls and stripes. Check out the following aspects of the stone:
Quick facts on black forest granite
Real name: Black forest granite
Additional Names: Nero Foresto Granite, Scorpio Black Granite, Silver Paradiso Granite, Forest Black Granite, Lava Vechia Granite
Color: Grey or gray
Destination of origin: South India
Finishing Surface: Polished, lepatora, honed, sandblasted, antique (sandblasted + brushed), bush hammered, bush hammered + brushed, and leather finish
Recommended Usage: Commercial and domestic structures
Black forest granite technical specifications:
Thermal expansion – 0.0045mm/mcº
Strength after Gelivity – 2696 Kg/cm2
Compressive Strength – 2777 Kg/cm2
Hardness (Moh's Scale) – 6.5
Impact Test-Min Fall Height – 68 cm
Specific Gravity – 2960 Kg/m3
Tensile Strength – 274 Kg/cm2
Water Absorption – 0.04%
Black forest granite marketing prospects for B2B buyers
There are lots of granite hubs in the world. India also plays a vital role in catering to the needs of global B2B buyers with a wide range of colorful granite products. With many black forest stone quarries in South India, the granite hub produces, exports, and supplies big quantity as per changing needs of global B2B buyers. With black forest granite tiles, gangsaw slabs, blocks, cutter slabs, monumental stone, counters, and vanity tops processed at South Indian factories, all black granite manufacturers match global standards and overcome changing demands amicably. Commercial buyers can opt for the premium and standard quality Indian black forest granite online and offline. With certified Indian granite players, all buyers can get the best and customized solutions at competitive prices. In addition, a customer-oriented service can resolve all issues in a proper manner. Expect the following granite product sizes from India:
Granite countertops sizes – On demand
Granite slab sizes – Gangsaw slabs 260 x 160 cm up in 2 & 3 cm and cutter slabs 180 x 60 cm up in 2 & 3 cm
Granite tile sizes – 30 x 30, 60 x 30, 60 x 60 and 60 x 90 cm with width thickness 2 cm, 3 cm, 4 cm, 5 cm or 6 cm.
Granite vanity tops sizes – On demand

Unfinished black forest granite blocks sizes

 – 300 x 155 x 160 cm and weight 23 tons; 320 x 130 x 190 cm and weight 23-24 tons; 310 x 140 x 205 cm and weight 27-28 tons, and 320 x 165 x 185 cm and weight 29 tons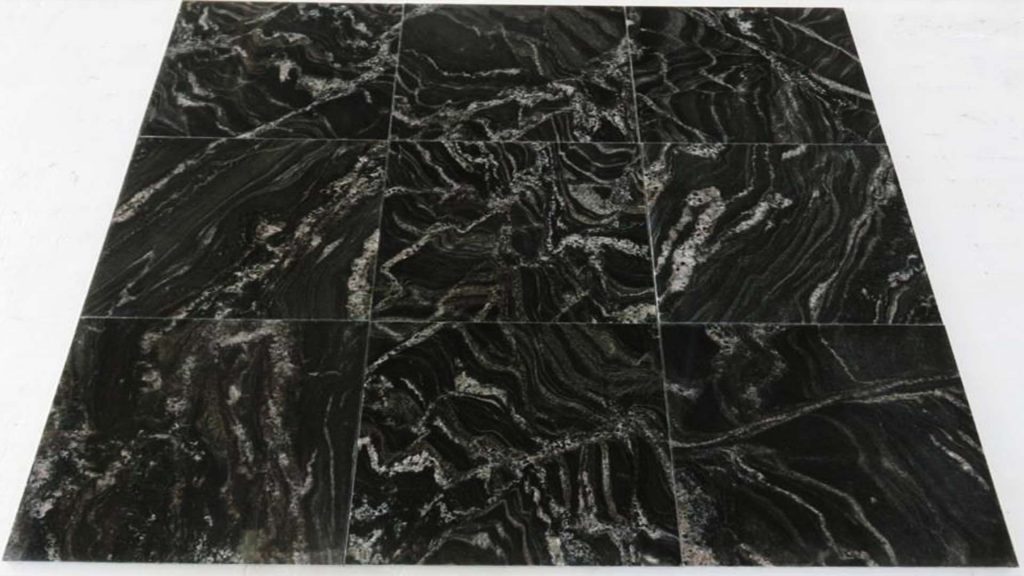 Although these sizes are easy to avail but custom-sized granite products can be demanded by B2B buyers after sharing actual requirements with the online seller. By opting for a stone quote online, buyers can get detailed information about the product.
Regatta Granites India is an ISO-certified black granite exporter, supplier, and manufacturer offering a big range of black granite products processed at its granite factory in South India. The 20-year-old company offers black forest granite stone with high variation and bold patterns.