Whenever it comes to choosing the most royal color tones in architecture, black emerges on top. Even in our daily life chores, we prefer to use black color due to its tendency to create a magical appeal. And, in regard to architecture, black granite always remains the most stunning choice among architects. There are different types of black granite available in the market which means they have a choice to choose from a plethora of options.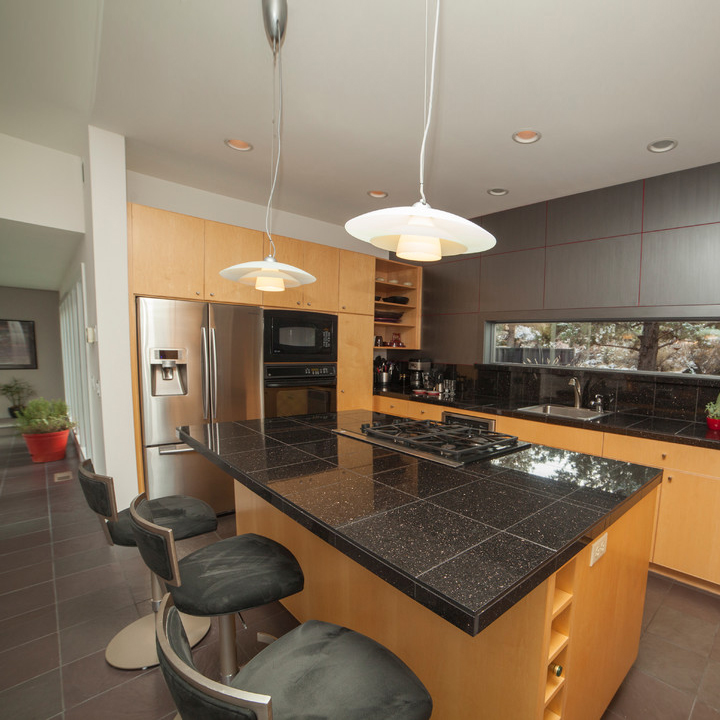 In terms of colors, black color carries a unique visual appeal and exemplifies royalty and premiumness in any space. This is why black granite countertops are found to be very common in modern architecture. Some of the premium black granite stones are black galaxy granite, absolute black granite, black marine granite, black forest granite, black beauty granite, and others. Among them, black galaxy granite is kept on the top position due to its sparkling design. The surface of black galaxy granite boasts small-sized white and golden speckles
The overall look and feel of this premium black Indian granite give a royal appeal to any space, be it a kitchen, floor, walls, or anything else. However, the most prevalently chosen element is the black galaxy granite countertop. Let's get to know more about this premium Indian granite.
Other Names of Black Galaxy Granite
Gold Star Galaxy Granite
Nero Galaxy Granite
Nero Star Galaxi Granite
Black Galaxi Granite
Black Star Granite
Galaxi Black Granite
Galaxy Gold Granite
Nero Star Galaxy Granite
Star Galaxi Granite
Origin of Black Galaxy Granite
The Ongole region of South India is the source of black galaxy granite, a stone material that belongs to the gabbro family. On Moh's scale of hardness, granite is classified at 4.5, which is thought to be a moderately hard substance. Although there are tougher building materials, such as quartz, granite is strong enough to survive the majority of everyday use.
The surface texture of this Indian granite may be a deep black, a greenish-black tint, or partially white. Some stones of inferior grade may boast lines spread all over them. The metallic specks in black galaxy granite, which are brought on by the presence of bronzite, make it beautiful and distinctive. It can be found in several different grades, including:
Massive grain
finely grained
Finely ground
The size of the specks determines these grades. Large grain is generally more expensive and rare, but it is also more widely desired. The most typical applications for black galaxy granite are floors, stairways, and countertops.
Durability
Though all granite stones are known to be more durable than marble, it is a big plus that makes black galaxy granite countertops so popular among architects and homeowners. This black stone is less prone to breaking or chipping when coming in contact with sharp or heavy objects.
So, once installed, black galaxy granite countertops tend to go well for years without requiring any major repair or maintenance.
Maintenance
In the world of natural stone, Black Galaxy granite is peculiar in that it doesn't require sealing. It is highly thick and barely absorbs any moisture. A sealer placed on the surface will not be absorbed and may result in streaking or a hazy appearance. Spills need to be cleaned up as quickly as possible even if they don't necessarily absorb and stain right away.
If at all possible, avoid spilling acidic beverages on the surface since they can harm the stone. Although there are specialty cleaners available, a warm, soapy cloth or sponge should work just fine most of the time.
If the granite features a polished finish, a polish can be applied at home to preserve the material's appearance and shine. To prevent harming the quality of the stone or surface, it is probably advisable to have a professional refinish the surface if another form of finish (honed, leathered, etc.) was applied.
Quality
If you are looking to import black galaxy granite countertops, quality is one thing you must look at. Mainly the quality defects present in this black granite are determined as uneven lines, color patches, and streaks on the surface. For this, different granite of granite have been defined below:
Grade A – no presence of lines
Grade B – 1 or 2 black streaks
Grade C – over two black lines
Grade D – several white and black streaks
The Conclusion
Now, when it comes to getting premium quality black galaxy granite countertops, there are many granite exporters and suppliers in India that provide unmatched quality products to granite importers worldwide. Make sure you check all the quality parameters before buying the granite from India to avoid any disappointment later.