Granite in itself is quite a popular material for interior as well as exterior construction and architectural designing material across the globe; especially granite from India. However, there are a few granite variants from India that are even more popular from other granite varieties and are being highly used for interior applications, usually in the form of granite slabs and tiles by many interior designers and homeowners. One such variant is Black Galaxy Granite, which is internationally known for its exceptional quality and stately looks.
We at Regatta Granites India are a leading supplier and exporter of Black Galaxy granite and export this black granite in different sizes, shapes, designs, and finishes as per the requirement and choice of customers. With Regatta Granites India, you can be assured of high product quality, competitive granite prices, on-time delivery as well as safe packing and transportation. Our highly satisfied international customer base is sheer proof of our dedication and customer-oriented approach.
Impressive black galaxy granite in superb shades
Known by other popular names like Star Galaxy, Ongole Galaxy, and Galaxy granite, this black natural stone is quarried from South India. This beautiful black granite is characterized by a completely black background with golden speckles sparsely scattered all over its surface that add to its beauty. The golden flecks on its surface are primarily because of impunities in the form of ferrous-bound Bronzite. On the Mohs scale, it holds a rating of 4.5 and hence, has moderate hardness. Depending on the size of golden speckles, Black Galaxy granite is classified into three major categories:
Black Galaxy granite with large speckles
Black Galaxy granite with medium speckles
Black Galaxy granite with small speckles
Black galaxy granite quarries are mostly concentrated in the Chimmakurthi region of Ongole District in the India state of Andhra Pradesh. As of 2016, there were nearly 45 Black Galaxy granite quarries in the region. Extended over an area of approximately 160 hectares, these quarries don't use scientific methods of extraction with major focus on extracting the maximum amount of black granite. Nevertheless, these black granite quarries are fairly mechanized and presently utilize all the latest machinery for black granite extraction. Nearly 10 years ago, European granite suppliers used to buy huge granite blocks and got them processed in their own counties. However, the introduction of the latest technologies and tools in the Indian granite industry in the past few years led to the processing of granite in Indian granite factories only. This, in turn, allowed large-scale production of black granite slabs and tiles and Europeans are now seemed to be more interested in buying the same only. While almost all large Black Galaxy Granite blocks are processed domestically, around 30-40% of small blocks of this black granite are exported to China; where they are highly popular.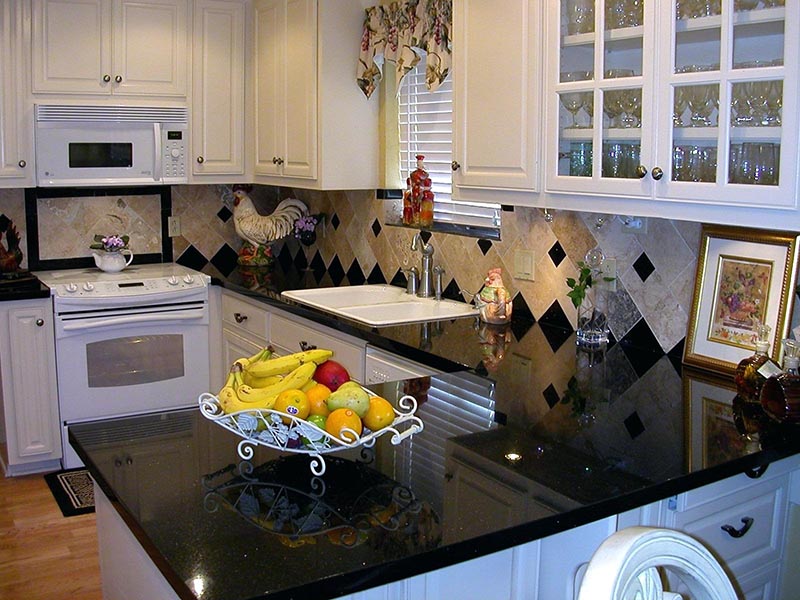 As stated above, granite is quite a versatile stone and used for a variety of installation inside homes and offices. Be it flooring, kitchen/bathroom countertops, and backsplashes, or accent walls; granite is sure to bring some sort of natural grace to the space of its installation. The dramatic effect created by granite is simply spellbinding and when it comes to Black Galaxy granite, this effect becomes more pronounced; in fact multiple times.
One additional advantage of Black Galaxy granite – also a major cause of its global popularity – is its ability to harmoniously blend with any decor; be it contemporary or classic. On top of this, this black stone goes well with different shades or color combination schemes of different décors. So, no matter what color(s) you are choosing for other components of your kitchen, bathroom or living room decor; Black Galaxy granite always gives you ample of opportunities to creatively bring out the desired effect without compromising an inch on style and design.
Since Star Galaxy is one of the most expensive of all granite varieties, it becomes really important to take good care of it, especially when installed in highly functional areas of homes like bathrooms and kitchens as countertops. It is a general suggestion to use only a soft mop to remove dirt, and a mild soap solution and a soft cotton cloth to wipe off spills and stains from the granite surface. Whether it is a commercially available cleaner or sealer, it is suggested to go only granite-friendly versions of such chemical stuff, so as to preserve the integrity of this black galaxy granite natural stone.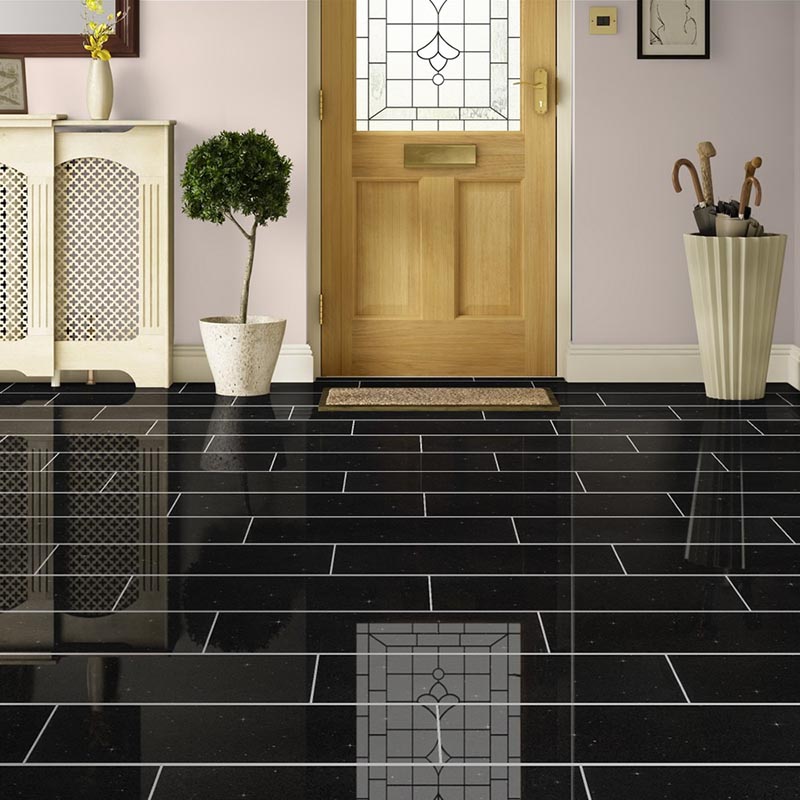 Black Galaxy granite and in general, all granite variants are very strong and durable. If properly cared and periodically maintained, granite can last for decades and maintain its glossy and new looks for a longer duration. It is for these reasons granite is regarded as an important architectural element that has the potential to significantly raise the value of a property and brings huge returns upon sale.