A large number of construction projects demand granite stone for accomplishing indoor and outdoor flooring works in all parts of the world. Granite has an amazing look and gleaming surface. Thanks to its chemical and physical properties. Tan brown granite is such a perfect option for installing indoor and outdoor floors. It looks natural and matches well with the surrounding environment. With this content, granite enthusiasts will know about the perfect, optimum use of tan brown granite tiles through some tile installation images. The below-mentioned content tells the story of an Indian hotel where a tan brown granite project made a big difference to the existence of an outdoor floor.
Success story – Tan brown granite flooring project in a hotel
This case study is concerned with granite flooring tiles manufactured and supplied by Regatta Granites India (RGI) to its Indian client. It exhibits how RGI preferred the actual needs of client, overcame challenges, and delivered exactly what the client demanded. Primarily, there were three big needs of the client concerning tan brown granite project in India.  
Tan brown flooring tiles
Laptora or caressed finish
Crystal yellow granite inserts
The laptora finish is also known as caressed finish with an elegant and rugged surface. It is almost like the leathered finish with some added shine to it. The finish helped in sealing the pores of the stone so that moisture can't penetrate the surface.
The client asked for high-quality brown granite material in bulk to complete outdoor flooring project. Moreover, a specific polish and some inserts different than the color of tiles were also the part of client's preference.
Delivery of a big stock of granite tiles in the least amount of tiles was also a big challenge that RGI accepted. The client demanded samples and regular reports of the production status at the RGI granite factory.
The 20-year-old granite company started working on the project without wasting any time. The company brought tan brown granite blocks of high-quality from a giant South Indian granite quarry. At the factory, granite experts cut blocks into slabs and tiles. All tiles were processed with laptora finish. Finally, the company gave its client high-quality stone products at competitive prices in the following options:
Tan brown granite tiles (18×18 inch) in lapotra finish
Crystal yellow stone insert (18×4 inch)
Below given are some of the images of the outdoor flooring project that the client shared with us. These images tell the success story of RGI's efforts to overcome the expectations of its esteemed client.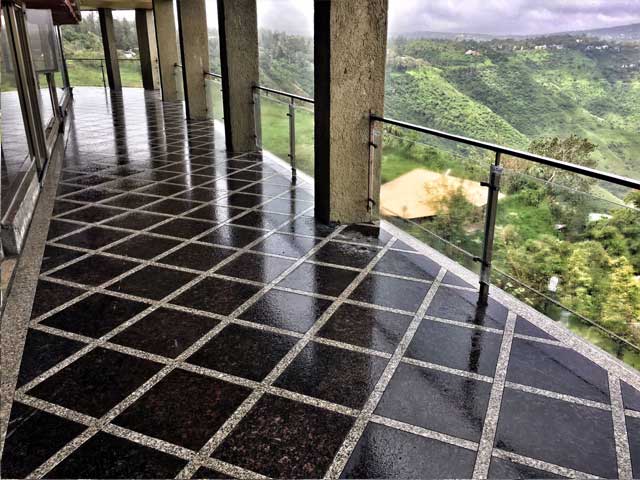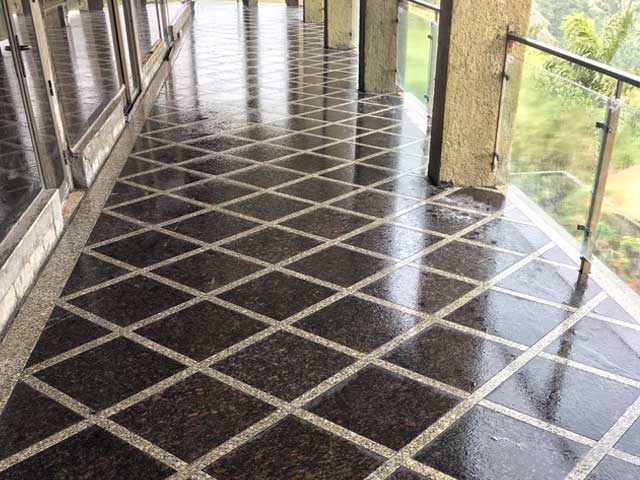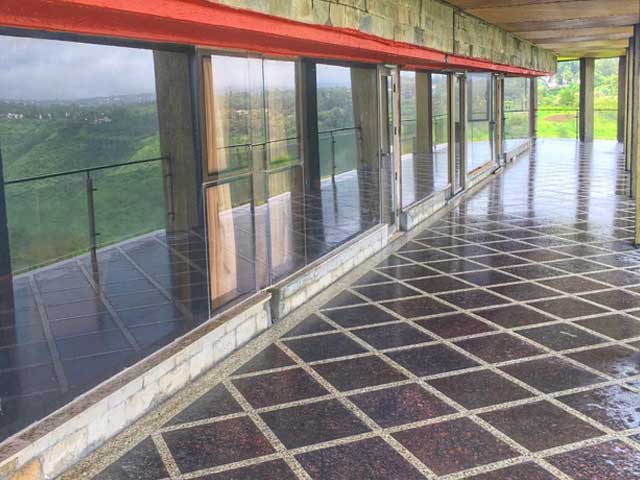 Tan brown granite status for outdoor flooring project in India
India is a popular granite hub that offers premium, commercial, and standard quality granite stone to B2B and B2C clients at the global level. In the list of brown granite, tan brown granite is one of the most selling stone products. Indian granite suppliers with their own granite processing units know how to cater to the changing needs of targeted audience professionally. This is a brief description of tan brown granite stone with reference to tan brown granite project available in India.
Tile types: Granite flooring tiles
Color: Brown
Material origin: South India
Additional name: English Brown Granit, Tan Braun Granite, Dark Tan Granite, Tan Brown Blue Granite, or Brown Tan Granit
Surface description: A unique brown backdrop with flecks of black, dark brown, and grey tones
Standard tile size: 60×90, 60×60, 60×30 and 30×30 cm with thickness 2.5 cm
Custom tile size: As per changing needs of B2B buyers
Finish: Laptora
Edge: Machine-cut edges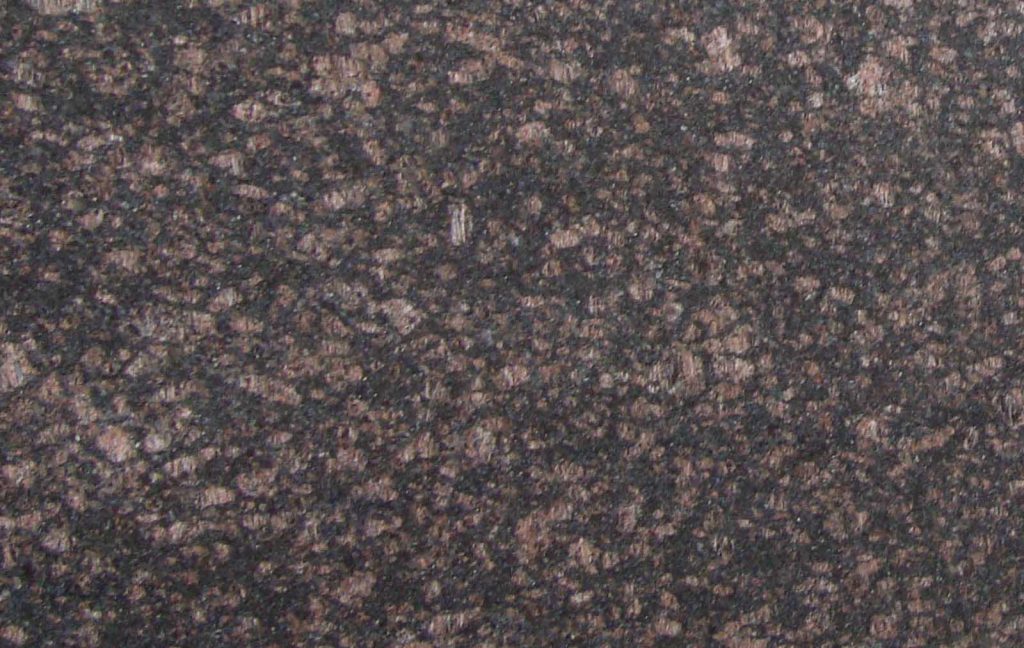 B2B buyers understand the benefits of buying a full container load. Generally, some granite suppliers don't accept an order that demands something less than one full container load. B2B buyers can opt for standard and custom-sized tiles, gangsaw slabs, cutter slabs, vanity tops, and countertops. Interestingly, an ETI and ISO-qualified certified granite exporter, manufacturer, and supplier can help global B2B buyers buy a big variety of superb quality brown granite for tan brown granite projects at competitive prices.
Certified granite buyers deliver quality granite products not only in India but also in other prominent countries across the globe.