Blog
Choosing A Backsplash with Granite Countertops
November 7, 2023 admin
Are you indulged into finalizing a backsplash for a granite countertop? Should I just focus on color? Or, should I concentrate on just the granite and create backsplash with remaining pieces? There could be hundreds of questions that need to be answered when choosing a backsplash for granite countertops. Let's delve deeper in this topic and find out more about the same below.
What does a backsplash mean?
To put it simply, a backsplash is a panel that is placed behind a cooker or sink to shield the surrounding walls from harm. Backsplashes are used to prevent spills of oil, water, stains, and other crud that might leave messes and stains on the walls. Additionally, they keep insects out of your food by keeping them from burrowing through the wall to reach your stove or sink.
A backsplash is the key accent item in a space in terms of aesthetics. It may improve a countertop, offer empty space for distinct separation, be a colourful focal point in the area, or add a small pop of colour to create an atmosphere, depending on the colour, style, or design. The backsplash is a very changeable area seen in kitchens and bathrooms.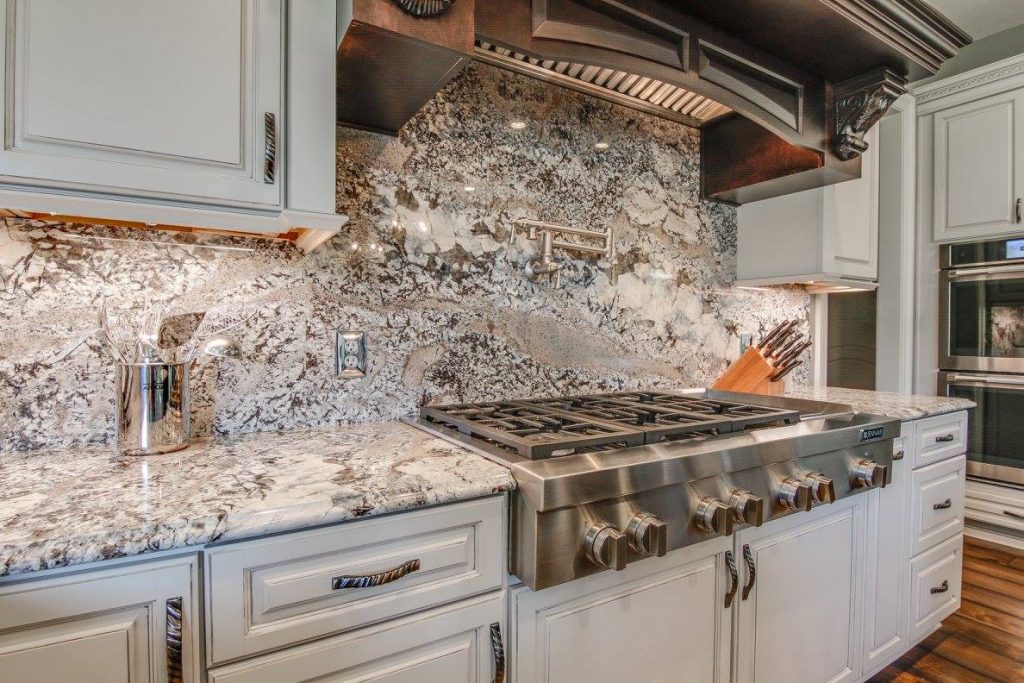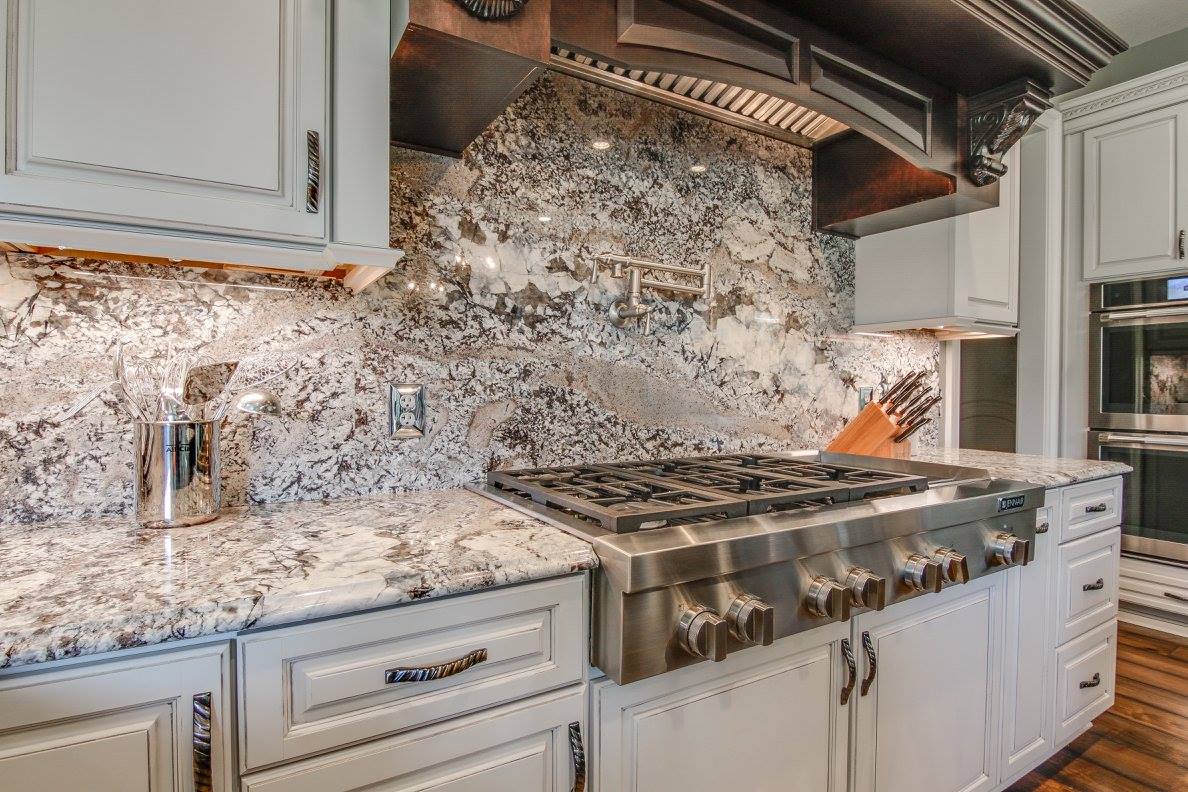 While selecting a backsplash is crucial, the granite countertops should truly be your first priority. The choice of backsplash for your house will be largely influenced by this stone.
One of our most beloved and well-liked stones that we provide is granite. Their extensive colour selection, exceptional robustness, and steady dependability make them suitable for every type of house.
Choosing The Right Granite Stone
At a time when there are different types of granite stones available in the industry, granite importers and construction companies have the option to choose from various colors in granite.
Add Your Tooltip Text Here
1. White Granite
White granite differs from marble in that it is not a pure white stone with subtle veining. Granite white stone is a white stone with a vibrant variety of veins, layers, and speckles that combine to produce stunning shapes that resemble natural rock. White granite usually never overwhelms the senses or your eyes with vivid colors; instead, it gently draws your attention to the many patterns that appear after you get focussed.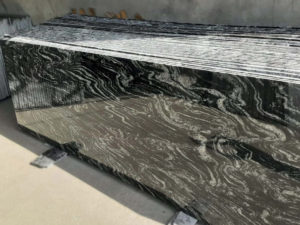 Add Your Tooltip Text Here
2. Black Granite
Black granite stones' empty, black base colouring with tiny, interlocking speckles and patterns will draw your eye and pique your creativity. Even though the colors and tints of each black stone vary, they all provide the impression of depth and proximity, leaving the observer to question which layer is more visible. Maybe the black is attempting to absorb the riot of colors into itself, or maybe the white, beige, and blues are trying to pierce through the dark foundation stone. Anybody who can see the black granite stone may hypnotise you into believing it is alive and moving in either scenario.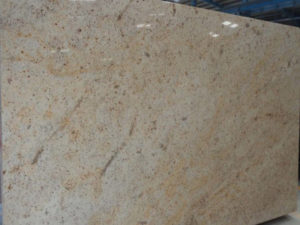 Add Your Tooltip Text Here
3. Beige Granite
Beige granite is the ideal option if you want to give your house a cosy, natural, and warm atmosphere. Though it lacks the strength of black granite, beige granite nevertheless has a pleasing colour that evokes feelings of cosiness and affection. Beige is a popular colour choice in spas and relaxation areas since it naturally appeals to those who wish to feel at ease and at ease. Beige granite, with its soft hues that permeate the stone, will always provide you a creative and secure space to visit.
Add Your Tooltip Text Here
4. Grey Granite
With the trend in interior design towards grey or concrete-looking stones for an urban appearance, grey granite stones have become more and more popular. Grey granite has the sophisticated ability to blend the black and white features of granite together, while not being a uniform grey stone. Because of its numerous veins and swirls, grey granite may give the impression that it is moving. It also lets you draw your own patterns in the speckles to spark your creativity.
since it naturally appeals to those who wish to feel at ease and at ease. Beige granite, with its soft hues that permeate the stone, will always provide you a creative and secure space to visit.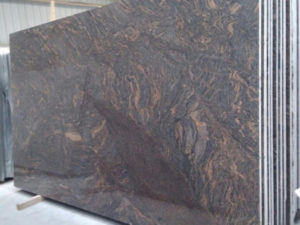 Add Your Tooltip Text Here
5. Exotic Granite
Although granite stones in the colors black, white, grey, and beige are all beautiful and great choices, there are always more exotic designs available for those with genuinely unique and fascinating personalities. These hues seize the attention of your audience right away and arouse emotions that bubble up to the surface. Every square inch of the slab of blue and red stones is so full of vibrant veins and tones that it might be a magnificent piece of art.
There are several techniques you may employ to choose a backsplash that complements your selected granite countertops or worktops.
Same Material
The simplest choice is to use the same material for both your backsplash and granite countertop. Say, for example, that you chose Indian White granite for your counter. After that, you would also use Indian White granite for your backsplash. Using the same material for the countertop and backsplash is as easy as it gets.
Similar Colors
Combining colors that go well together may always result in a beautiful new layout and design. For a pleasing variation, consider selecting several shades of like colors for each stone type rather than utilising just one type for everything. Colors come in a variety of colors, patterns, and designs, so combining them can be a lot of fun and give your kitchen or bathroom a distinctive look.
Different Colors
Contrasting hues create a beautiful visual effect, especially in spaces where simple spacing separation is desired. Despite being at opposing extremities of the colour spectrum, complementary colors like red and blue or black and white are frequently used together because they each draw attention to the granite countertops.
Decorative Tiles
One benefit of backsplashes is that they may be readily customized with less expensive tiles. Installing tiles is a simple task, and they may be customised to suit any desired style or hand painted. Subway lines, squares, mosaic fragments, rectangles, hexagons, diagonals and many more shapes may be created using tiles.
Other Stones
Don't believe that your backsplash options have to be limited to granite or tiles. Slate, marble, quartz, quartzite, and other stones are excellent choices for backsplash materials. Each of the options has moderate to outstanding durability and may be used as your backsplash. Ask the builder to see if they can obtain you another stone to provide some variation if you would want to integrate another stone.
Add Your Tooltip Text Here
The Conclusion
Taking it piece by piece, matching a backsplash with granite countertops is not as hard as you would think. Examine each piece separately to determine what you want and whether it speaks to you, rather than taking a broad view of it. Initially, focus on the counters. After that, decide if you want a backsplash that looks comparable. To determine whether a space seems like what you desire, check up various rooms online and use visualizers. Continue exploring if not. You are designing your own space, so take your time and make sure it feels the way you want it to.