Every concrete structure comes with walls around. A functional wall makes a concrete structure stand tall and look beautiful when it is decorated with colorful natural stone products. These days, granite is being used as a décor material for various residential and commercial construction projects in all corners of the world. With changing home designing trends, home designers are welcoming large granite slabs (gangsaw and cutter) for covering a full wall.
Like floor, countertops, and vanity tops, the wall of the house also needs a makeover. Basically, tiles are used to cover the wall and protect it from the vagaries of nature. A full wall covered with colorful granite slabs look stylish and add more beauty to space around. With this content, you will read more about some interesting granite stone colors that not only fit well with large slabs but also add more charm to your domestic settings.  
Decorating a large wall with granite at home
Being the top natural stone choice for homeowners, granite is an essential material for countertops, backsplashes, and vanity tops. As far as the natural stone wall is concerned, granite walls are simply a massive addition in a home. Stone walls made of tiles or slabs make a substantial visual impact in the house. If you are unable to make a decision and are swinging between installing a granite slab or granite tile for living room, shower, and kitchen walls, check out the following reasons. These include high-quality looks, easy to maintain, and durable surface.
The shower wall, living room wall, and kitchen wall are three different settings where granite stone can make a big difference with many different patterns and colors. Strongest interior walls that are tough against water and moisture. Water, stain, and scratch resisting features make a large granite slab perfect choice for interior walls. Both marble tiles and slabs are good for wall décor. But, always stick to the newest trends.
Top granite colors for larger kitchen walls
Domestic kitchens are specific areas where people spend most of their time while preparing food. That is why this space should be comfortable and stylish. In the kitchen, walls can be garnered with a variety of backsplashes. These days, homeowners welcome full-height slab backsplashes to their kitchens for bringing a bolder and sophisticated look. The most common size of granite slab or backsplash for covering kitchen walls includes Ceiling-height backsplash (18-inch); customized size (6-8 inch); full-height slab backsplash covering the whole wall area between the cabinetry and countertop; and half-height backsplash (18-inch). Big size slabs of white and black colors are superb for a complete kitchen.
Top granite colors for bathroom walls
A bathroom is a space where water and moisture live together. The presence of these two foes of walls makes the bathroom walls prone to water damage. Using full-sized granite slab sizes helps homeowners get rid of the issue of moistening walls.
Big-sized bathrooms can be garnered with gangsaw slabs. On the other hand, cutter size granite slabs are good for small-sized bathrooms. Generally, cutter slabs of 180×60 up in 2 & 3 cm are most useful for bathrooms. There lots of colors that can be used in bathrooms. Red and green hues can make a difference in the beauty of bathroom walls.
Apple green granite, lakha red granite, royal green granite, and multiple color large granite slabs can be used for garnering walls. 
                                     Image credit: Google Images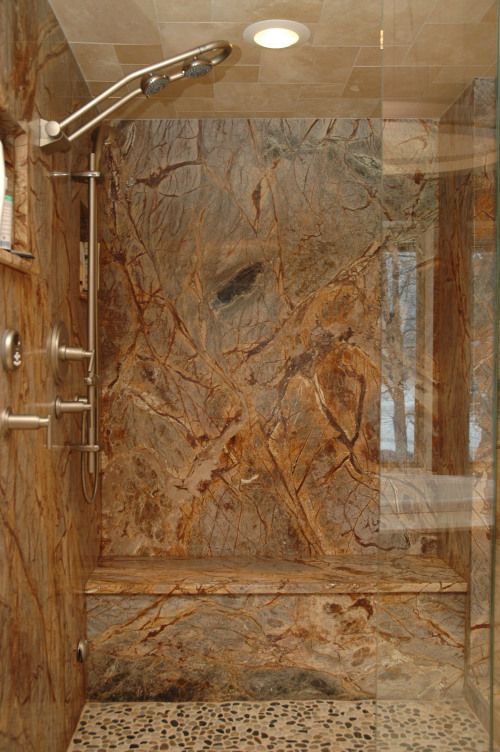 Top granite colors for living room walls
Like the kitchen and bathroom, the living room also matters the most. It is the place where you rest and welcome guests. This living area is wider than the area of the kitchen and bathroom.
That is why homeowners have better opportunities to bring more vividness and style to their living space. Larger living rooms can be garnered with gangsaw slabs of 260 x 160 cm up in 2 & 3 cm. In terms of color selection, blue and gold can give you an edge.
All mentioned-above granite full walls slabs can be purchased from the Indian granite market where certified granite suppliers cater to the changing needs of B2B buyers professionally. Indian granite exporters offer quality large granite slabs for full wall in a variety of finishes, including brushed, polished, flamed, lepatora, leather, honed, and bush-hammered.
You can also take help from granite experts to know more about the selection of the right stone types for your domestic walls.