Do you know about mitered edge countertop?
September 15, 2023 admin
It is already known that granite is one of the popular materials for countertop preparation. The best thing about granite countertops is that one can choose from different types of edges to meet both the visual and functional requirements of a construction project. Though it may not matter a lot to most contractors, technically, the chosen edge plays a vital role in the overall results. Some of the popular countertop edges are bull nosed, bevelled, ogee, and waterfall. But, there is another widely chosen countertop edge these days which is mitered.
If you don't know about this, you can get to know it right here in this post.
A mitered edge can be defined as a scenario when two edges intersect each other at 45-degree angles in order to get a 90-degree edge. With thae seam located at the corner, a seamless illusion of a horizontal countertop spilling over onto the vertical bordering surface is created.
Why Mitered Edge is so Popular?
Tables, countertops, and waterfall panels make a statement in the design by seeming contemporary and opulent. The typical person's eyes are pulled to the elegant detail as soon as they enter a space with mitered worktops. One of the most popular kitchen upgrade components is mitered counters.
Edges play a significant role in kitchen design, and customers have always preferred the "Flat Edge" aesthetic over other edging styles. Since the material thickness is no longer a visible barrier to attractiveness, mitered edges offer the same style but with an improved appearance. It may offer a rich, opulent design that can match and style cabinets for a contemporary appearance and feel.
Right Thickness For Mitered Edge
Your kitchen's design should take into account the thickness of your granite countertops. The optimal thickness for the majority of home kitchens is 2″. The vertical portion, often known as the "drop" or "apron," conceals a substance known as substrate that supports the countertop and elevates the height of the tops—an essential ergonomic factor. If the mitre were not "built up," it would obstruct doors, drawers, and even the opening of a dishwasher if it were to "lip-over" the face of the cabinets.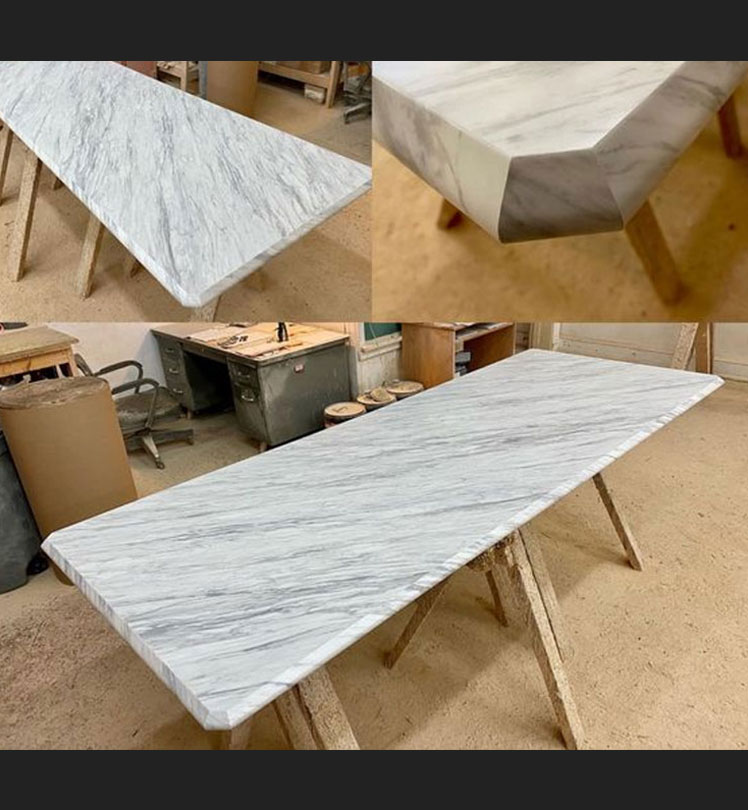 What is a Laminated Edge?
Specific sorts of edges known as laminate edges combine two different countertop edges. Whatever you wish can be one of these. For instance, if I want bullnose and straight edges, Marble.com may mix both for me to get a round-straight edge that combines the best features of each!
If you have a budget for your home remodelling, laminate edging is not the best option because it may be very expensive to install. The mitered edge, however, might be a wonderful fit if you have additional money to spend and want to splurge because it appears opulent and substantial, two features that affluent homeowners prefer to highlight for their kitchens.
Advantages of Mitered Edge Granite Countertops
Luxury Design: Mitered edges are regarded as an exquisite and opulent enhancement to the countertop, giving you plenty of homeowner friends to boast to.
Mitered edges, which combine two pieces at a 45-degree angle, can give the appearance that a countertop is much thicker than it actually is.
Focal Point: When seen, mitered edges have a unique form and distinct cut that make them easy to detect. They add character to the countertop and offer you and your visitors something to think about while examining it.
Variable Stone Options: There are a variety of stones that may be used for mitered countertops, including marble, quartz, granite, quartzite, and more.
Seamless: Mitered edges are practically seamless, so you won't be able to see the seams where they were fused to the countertop unless you are paying close attention or using a magnifying glass.
Disadvantages of Mitered Edge
Expensive: Mitered edges are more expensive to install than common edges since they count as a laminate or premium edge. A mitered edge will become quite expensive if not budgeted for properly due to the precise equipment needed in cutting it, the type of stone being used, and the amount that needs to be placed.
Mitered edges feature two parts that are bonded together, making them heavier than standard or premium edges. This increases the countertop's weight and may put strain on the cabinets just below. The mitered edge may harm the cabinets if the edge or cabinets are not adequately strengthened.
Sharp Edge: Mitered edges do not have "sharp" edges; nonetheless, the corner of the countertop comes to a point, which might be hazardous when small children are around or when clothing is hanging loosely.
You now have a good understanding of practically all there is to know about mitered edges. Although I wouldn't call you an expert just yet, you have enough knowledge to decide for yourself whether a mitered edge is the best option for you. The benefits far outweigh the drawbacks, but you should constantly be aware of your financial status. Do what you can, and if you're ready to get started, contact us to set up an appointment so we can discuss upgrading your countertops.