Granite Factory in India for Zero-defect Products
Welcome to Regatta Granites factory that processes rough blocks extracted from different South India quarries. Here, at our granite factory in India, we process premium quality granite products, such as slabs, articles, and tiles. We comprehend the significance of the right size and pattern of granite for our global customers as per their changing needs. That is why we give importance to the concept of the customer first. From granite extracting to loading, from cleaning to cutting, from drying to polishing, and from packing to quality inspection, we give priority to all international guidelines and standards in a fair manner.
Our state-of-the-art manufacturing unit has all the latest machinery that enables us to meet the exact needs of clients be it edge-cutting, polishing, calibration, or anything else. At Regatta Granites India, our first and foremost objective is to deliver 100% satisfaction to our clients. Below are some pics from our granite factory in South India.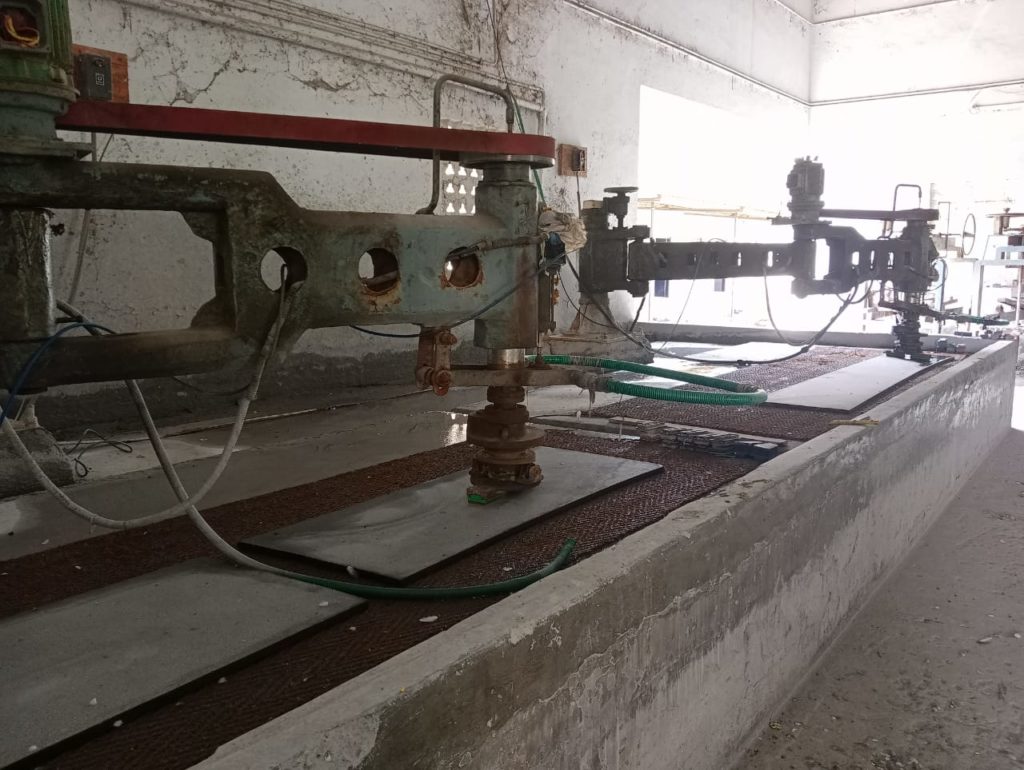 Our processes for quality granite production
We promise you global clientele zero-defect granite products, produced at our granite factory in India. We leave no stone unturned to resolve major and minor customer issues in a hassle-free manner. At our Hosur plant, we exercise the following processes to give you the best decor and construction material:
Calibrating, cutting, honing, finishing and tumbling of granite slabs and tiles at manufacturing unit with modern tools.
Protecting granites from chipping, scratches, and damage during packing, loading, and unloading with quality wooden crates, corrugated boxes, and waterproof plastic.
Regular quality inspection, rigorous checks, and strict monitoring of granite products as per international standards.
Safe and secure delivery of packed granite products using an effective shipping procedure and proper documentation.
Striking features of Regatta Granites factory
We make use of advanced technologies and employ state-of-the-art machinery and equipment to cut, shape and design granite slabs and tiles in all sizes, thickness, and finishes. We own one of up-to-date granite factory in India that use modern machines, like honing machine, calibration machine, cutting machine, and tumbling machine. With 24/7 availability of sufficient backup power supply for incessant manufacturing, we ensure flawless production of granite products and articles. Various candid features of our Hosur plant are as follows:
A variety of finishes and patterns of granite
Catering of all customer needs
Global eco-friendly practices
Manufacturing and timely delivery of granite products
Production of slabs, tiles, and stone articles
Quality, precision, and professionalism
Stocks of finest quality stone products
Strict quality control at all stages
Transparent communication
Unbiased dedication and safety
Usage of cutting-edge technology
Use of the latest equipment & machinery
Whether you are searching for granite price in India at factory rate or granite factories near Hosur, we offer you quality products. We ensure timely and flawless delivery of granites in more than 50 countries through top Indian ports in Andhra Pradesh, Gujarat, Maharashtra, and Tamil Nadu. We extend a helping hand to all builders, professional architects, re-sellers, and individuals with high-quality finished products. Our wide array of granite materials in numerous shades, shapes, sizes, and patterns ensure that you would get any quantity of granite sitting at home. We have successfully completed many projects in these countries: Germany, Hungary, Italy, Australia, Austria, Egypt, France, Qatar, the UK, Mexico, New Zealand, and the USA.
Location — Granite factory in India
Regatta Granites India
Survey No. 196 and Plot No. 52 & 53, 
Gundlapalli Growth Center, Maddipadu,
Prakasam, Andhra Pradesh, 523211, INDIA