Kitchen and bath countertops have been around us for many decades. Nowadays, homeowners like colorful countertop options for having the benefits of sanitary and durability. It is the perennial appeal of granite that makes the natural stone product the first choice of all. Beige, cream, ivory, white, grey, and brown are the top among neutral colors that always catch all eyes. With this content, all readers will know about why the clients of granite countertop designers and dealers prioritize neutral colors for bath and kitchen countertops. Also, know what the most popular granite countertop colors are available for B2B granite color buying in India.
A close look at countertop color preferences
According to a new survey by Kitchen & Bath Design News, "As both a kitchen design staple and a multifunctional surface that aids in a wide variety of tasks, countertops are a critical element in the kitchen. Prized for their beauty, durability, and sanitary benefits, today's hot surfaces are an essential element to the kitchen. Material wise, quartz is leading the way, while neutral colors with movement and texture remain on trend. However, that doesn't mean there isn't plenty of demand for bold, statement-making colors as well."
Kitchen & Bath Design News (KBDN) organized a survey that had polled about 175 kitchen and bath dealers and designers. The focus of the survey was related to knowing about trending countertop colors and materials. It was also associated with the benefits that clients like to get from their choice kitchen countertops. The survey shows that neutral countertop colors are here to stay and countertop materials like quartz, quartzite, and granite are liked by all. 
When it comes to having the most popular granite countertop colors, white color makes a big difference. This color also continues to be the top choice among the clients of B2B granite designers and dealers. After white color, a bunch of cream, grey, black, and brown colors is seeing an upsurging demand for kitchen countertops. As far as the countertop color preferences are concerned, the survey indicates that white, black, cream and grey are the colors that homeowners like to welcome to their kitchen and bath space. Primarily, there are two families of neutral colors:
Black, white, and gray colors – These are made of every other color mixed in equal proportions perfectly.
Earth tone colors – Colors like tans, beiges, off whites, and grays that mix well with most everything around.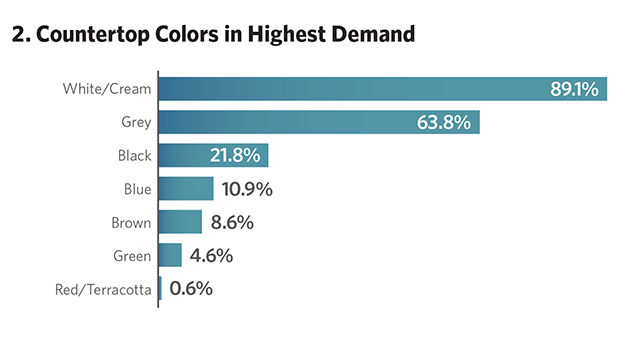 Granite countertop color options available in India for B2B buyers
Apart from while color choices, other factors also help homeowners get a functional and performing countertop product. People also get stuck in between a shiny countertop surface or a matte countertop surface when it comes to choosing a countertop based on granite finishes. Surfaces with superb texture, patterns, and movement attract homeowners the most. There is also a huge demand for outdoor-friendly surfaces that can face the vagaries of nature. In addition to the element of finish, color, texture, and design, it is the feature of aesthetic benefits that no buyer likes to lose.
There is no dearth of traditional and modern colors for countertops, yet the most popular granite countertop colors, especially neutral colors, make their presence felt. The following are some of the selective neutral granite colors that all B2B buyers can buy from Indian granite suppliers and manufacturers in India.
White granite colors – New Kashmir white, Colonial white, New ivory white, Titanium white, Alaska white, P White, Viscon white, Moon white, and Imperial white granite
Grey granite colors – Jubilee grey granite, Bala flower granite, Steel grey granite, and Colombo juprana granite
Black granite colors – Black galaxy, Black pearl, Absolute black, Black beauty, Black forest, Black marine, Jet black, Black premium, and Zebra black granite
Brown granite colors – Tan brown, Sparkle brown, Desert brown, Z brown, Ivory brown, and Coffee brown granite
With a leading granite supplier and manufacturer in India, all B2B buyers can have the finest quality granite products in popular granite colors procured from Indian granite quarries. Whether you opt for a large kitchen island, two-tiered island, or countertop with a half-bullnose edge, the Indian granite industry is ready to cater to all B2b buying needs.
To sum up, the Indian granite market is the right answer to the search of most popular granite countertop colors.