With active ground and underground quarrying operations in Northern and Southern areas, granite quarries in India produce top quality stone products. Indian granite manufacturers extract various colorful granite blocks, using modern natural stone quarrying processes and techniques. Find here what Indian granite quarries have in their bags for natural stone aficionados.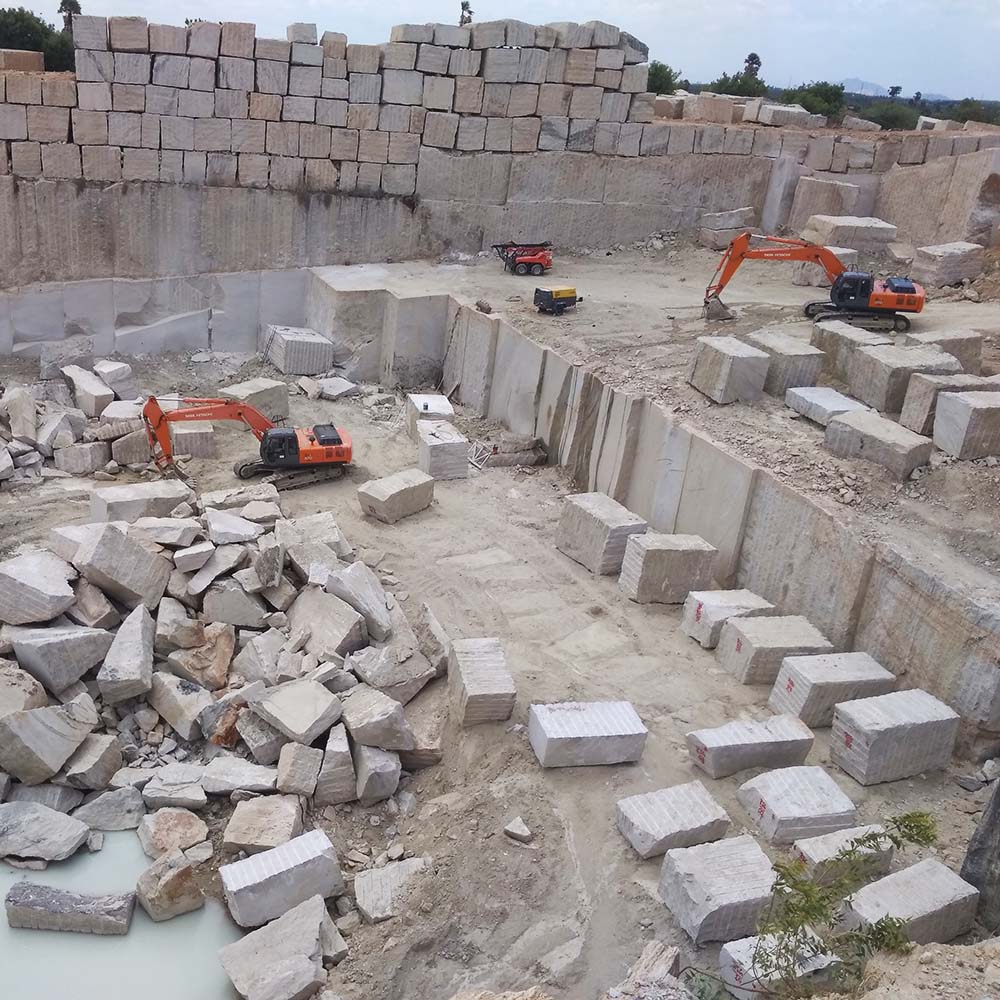 Generally, an open-cast mine is known as a quarry where natural stone blocks are extracted from giant rocks using various stone quarrying techniques and processes. The quarry is the prime destination where the stone quarrying process passes through multiple stages. On-ground quarrying, underground quarrying, and underwater quarrying are three major quarrying surfaces. There are lots of granite quarries in India that produce big and unfinished blocks for commercial purposes. When it comes to having high-quality granite stone products, a granite quarry India gives all B2B and B2C buyers an edge. India caters to the needs of all residential and commercial construction projects at the global level. With this content, you will be able to know more about the granite quarrying process, tools, destinations, and details of granite blocks extracted in India.
Popular granite quarry destinations across India
Undoubtedly, India is a granite hub that caters to the needs of granite dealers, suppliers, and exporters in a professional manner. With the help of modern quarrying tools, including saws, splitters, and explosive charges, granite extraction experts split stone from mammoth rocks. Once blocks are separated from rocks, they are sent to granite factories and processing units for further treatment. At a broader level, you can divide Indian quarrying destinations in North and South India. From Sivakashi to Chamrajnagar and from Ongole to Madurai, there is a long list of quarries that produce high-quality stone products for residential and commercial purposes. Let's have a look at two big categories of granite destinations in India with states and places involved in the quarrying of granite blocks.
North India and South India granite – Jharkhand, Chhattisgarh, Rajasthan, Odisha, Tamil Nadu (Chennai), Karnataka (Bangalore), Telangana, and Andhra Pradesh
The interesting aspect of Indian granite quarries is that they are located in areas nearby ports and stone processing factories. It makes things happen in favor of both granite buyers and suppliers. With ports like Kandla, Mundra, Tuticorin, JNPT, and Vizag, Indian granite is easily transported from India to all parts of the world. Indian granite industry caters to the needs of all buyers with block products (direct from the quarry) and finished products (direct from the factory). As far as granite quarries are concerned, Chennai and Bangalore are the most pivotal destinations that supply granite stone products in a big number. 
8-step granite quarrying process in India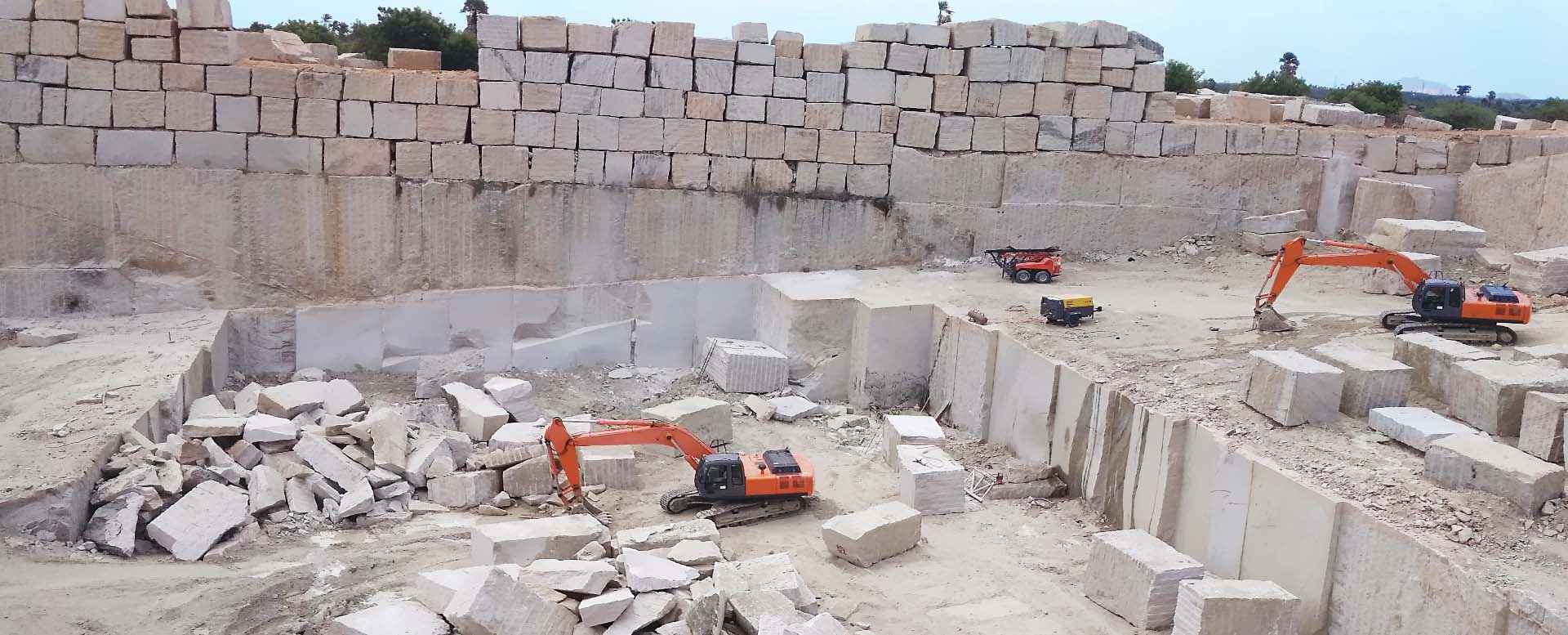 Quarrying is more commonly referred to as extraction through which granite blocks are removed from disinterred geologic deposits. On the basis of density, fracturing/bedding planes, and depth of deposit, quarry engineers use different techniques to quarry the stone blocks. From the drilling of holes to cutting the stone out of the deposit, there are lots of activities that are exercised during a quarrying operation in a quarry.  Following is a list of some of the common activities involved in the quarrying of granite stone. It includes:
Create a mine plan and map; coordinate the activity on site.
Remove the top layer (overburden) of the material.
Drill holes, insert explosives, and blast rock face to loosen material.
Transport materials for loading and hauling processes.
Process materials using crushing and screening technologies.
Adding extra value to processed materials using additional processing technologies.
Transport finished products to B2B customers.
Creation of sustainable solutions that positively impact people's lives.
This 8-step approach to the granite extraction process in India shows how granite manufacturers take out big stones from quarries and take them to factories for further processing.
Prospects of granite quarries in India
It is a common fact that India has one of the best granite stocks in the world. Having more than 110 tints, India occupies over 20 percent of the total granite reserves globally. Granite stone in India is a superb building construction material that is known for its durability, quality, and elegance. That is why this quarry-extracted stone is in high demand. Fully operational Indian quarries are known for producing some rare colors of granite available only in India. Black galaxy, black beauty, and new Kashmir white stone are some rare hues sold by Indian granite suppliers. Maximum stone types have been named after the place from where granite is extracted. On the basis of unique and popular granite hues in India, one can divide granite stone into two big categories: North and South Indian granite.
North India granite – Apple green, bala flower, chima pink, copper silk, lakha red, rosy pink, royal green, ruby red, and S P red granite products
South India granite – Black galaxy, Hassan green, Himalayan blue, Imperial white, Indian Juprana, ivory brown, lavender blue, new Kashmir white, red multicolor, tan brown, steel grey, and viscon white granite products
Indian granite or India granit or Indian granit is highly demanded in all parts of the world owing to its' superb physical and chemical properties. Granite suppliers in South India and North India come out with the best granite supply and export solutions for global B2B and B2C buyers. Also, consider these following valuable aspects of stones produced by different granite quarries scattered across India.
Popular color: White, green, black, grey, and red granite blocks
Shape: Rectangular
Usage/application: Cutting into slabs and tiles
Status: Wet and dry
Popular sizes: Size 300-320 x 155-205 x 160-205 cm and weight 23-29 tons
Qualified granite supplier Regatta Granites India provides a fine range of granite products in various shapes, sizes, and quantities. The ISO-certified company sells granite products directly from its stone processing units in South India. Having more than 100 granite colors, the company tries its best to overcome all expectations with the best-in-class customer service.