"Granite is a highly popular natural stone
product known for its durability, strength,
and heat-resistant ability."
A large number of construction projects are accomplished with the usage of this natural stone product. When you need to add more gleam and perfection to driveway, kitchen, kitchen counters, wardrobes, flooring, steps, and countertops, granite simply commits innovative surface solutions to any project. Granite slabs in the form of gangsaw and cutter slabs are used in big projects associated with interior decoration and exterior architecture. India is a granite hub for global buyers who are interested in buying a variety of granite colors and texture. Experienced granite slabs suppliers cater to all needs of B2B and B2C buyers. Let's go through the content to find out what sort of projects can be done with granite and what solutions are possible with Indian granite slabs manufacturers.
Indian granite slabs for construction and décor projects
Residential and commercial projects require natural stones in a big quantity. B2B buyers need granite slabs in bulk for resale. It is known that B2C buyers prefer to have slabs in a smaller quantity to match their individual needs. Both can contact Indian suppliers for fulfilling their specific needs. Granite slabs can be used for making superb surfaces of countertops, floors, and driveway. In low and high traffic areas, slab products are good for flooring projects. Rough granite is not used regularly. That is why finished surfaces impress all. On the basis of a few granite slab shades, it is easy to classify various applications of décor and construction projects:
Flamed or brushed granite surface: External flooring, sidewalks, curb stones, decks, pavements, and garden benches
Honed slab surface: High traffic indoor/outdoor commercial flooring, wash-rooms, and side walks
Polished slab surface: High/low traffic indoor flooring, wall cladding, vanity tops, decorative items, and counter tops
State-of-the-art surface solutions from Indian granite slabs manufacturers
A slab surface looks extremely stunning when it is well finished by granite engineers at modern granite processing units. Using a number of modern machines and equipment, granite factories produce superb surfaces that satisfy the beauty and aesthetic needs of buyers. Indian granite slabs manufacturers understand the utility and value of quality. Consequently, they stick to quality factors at all stages of granite production. As far as the question of the availability of Indian granite slabs are concerned, large granite slabs can be easily bought in the following popular colors:
White and blue granite slabs
Brown and green granite slabs
Gold and grey granite slabs
Yellow and pink granite slabs
Black and red granite slabs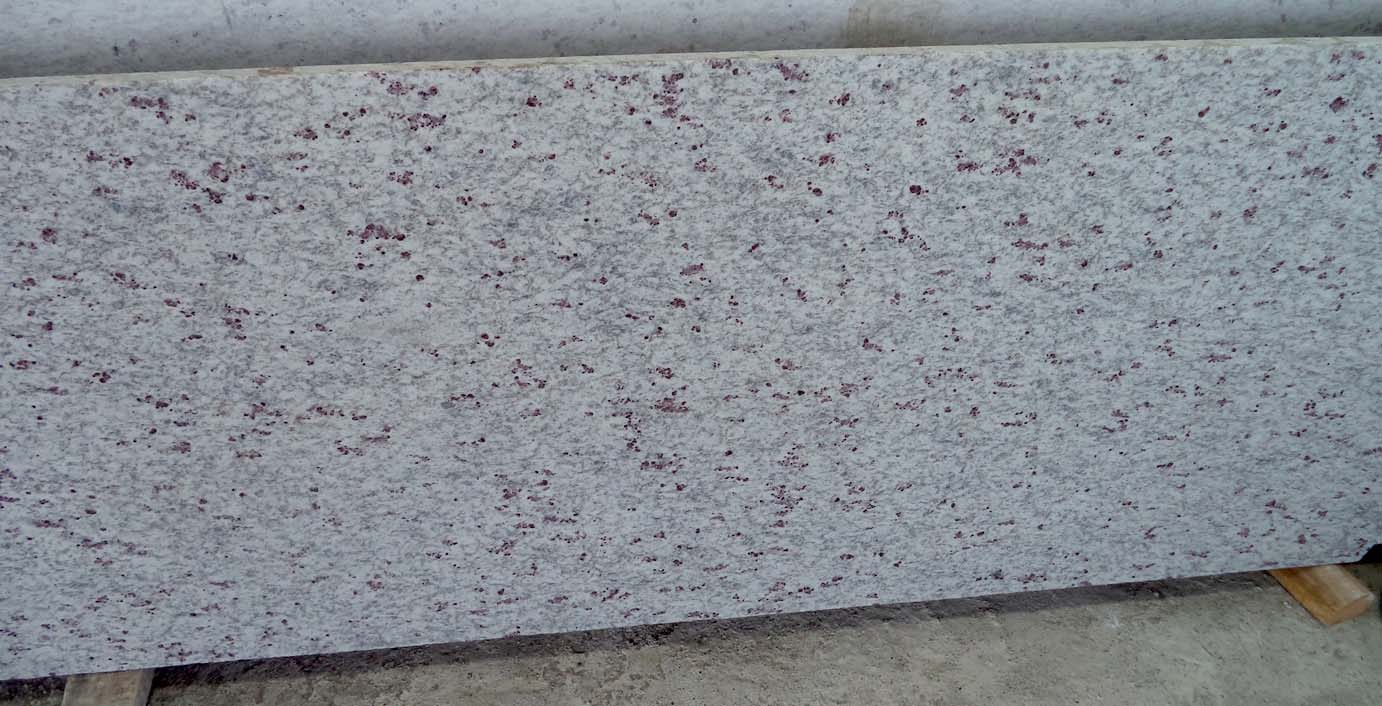 Below-mentioned is popular sizes and finishes of granite cutter and gang saw slabs that buyers can purchase online. Just consider the right size and finish of granite stone that matches well with the need of surface solutions. Apart from standard sizes, buyers can also opt for custom sizes. At a broader level, the following aspects of the stone product matter the most:
Granite gang saw size:  260 x 160 cm up in 2 & 3 cm
Cutting granite slabs size: 180 x 60 cm up in 2 & 3 cm
Granite slab finishes: Polished, honed, sandblasted, antique (sandblasted + brushed), bush-hammered, bush hammered + brushed, leather, tumbled and lepatora
Granite edge finish: Machine cut edges
Regatta Granites India is a professional, experienced granite company dealing in the selling and supply of cutter and gangsaw slabs of high quality. The company delivers gang saw granite products from India at an affordable price tag.