Before reaching construction sites, a granite product passes through various phases and faces lots of stone processing stages to get into a particular shape and size. From rough block extraction to block selection and from block cutting at the factory to polishing, there are several granite stone production phases that enable a rough-looking stone into a masterpiece. Technical expertise, craftsmanship, quality inspection, and mechanical excellence make a granite stone product fit for multiple construction projects. It is nothing but the quality elements that make the stone free from all defects and useful for all sorts of residential and commercial needs. With this content, the readers will be able to understand the granite production activities from roughness to smoothness.
Granite stone at quarries in the form of blocks
India is a land of ample granite reserves and also the biggest granite producer. There are a lot of granite quarries in South and North India where granite stone is quarried and produced in bulk to meet the global granite demand. Extraction is commonly referred to as quarrying. It is simply a process of removing stone blocks or pieces from giant size rocks or unearthed geologic deposits. There are lots of quarrying techniques and steps used in the extracting of granite and selecting the right block. These include:
Gaining access to the granite deposit
Removing the layer of earth, vegetation, and rock
The drilling of holes along the perimeter of the bench
Cutting the stone out of the deposit using diamond-wired saws
Splitting the stone using hydraulic splitters or small explosive charges
Using heavy equipment to lift the granite bench
Transferring split blocks to inspection areas for size and quality specifications
It is vital to get a block that has the right size for commercial purposes. A team of experienced personnel and granite experts evaluate the block for cracks, color patterns, fissures, and other variations. A strict evaluation done by experts, at the granite production level, helps buyers select the most premium blocks.
Granite product quality control at granite factories
With activities like block cutting, grinding, epoxy application, and polishing, granite factories in India focus on the exact needs of customers interested in buying standard or custom size granite products. It is nothing but quality control measures that make all stone products fit for use. When it comes to assessing the pattern and look of the granite, all you need to do is to check out the following things, including the color of the granite, the finishing of the slab by hand or machine, the hardness of the slabs, and edge cuts on granite slabs. Checking the quality of granite slabs is easy as its assessment is not restricted to experts only. Simply stick to the following options:
Check impurities such as fissures, cracks
Check line, speckles, and patches
Check stone polish with a gloss meter
Check properly trimmed edges
Check slab size (Length, width, and thickness)
Check slab thickness variation
Check uniformity of the material
Note that – The gloss should be more than 85 to get perfect shine.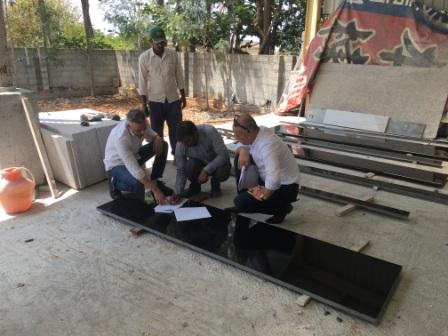 No matter you are looking for commercial, standard, and premium choice granite quality, quality inspectors at granite factories ensure all granite products are strictly consistent in terms of size, color, finish, and other specifications. Indian granite manufacturers, generally, opt for ISO 9000 standards at their factory locations. There are some field tests related to granite production that help all granite buyers understand the concept of granite quality. These include:
Checking granite quality
Checking of hardness by pressing the stone with some hard object.
Granite size and tolerance – Not exceed 1mm in length and breadth
Granite slab size – Square, rectangular, or as per consumer need
Granite thickness tolerance – Not exceed 15% of the actual thickness
Minimum slab thickness – 15 to 20 mm
One face properly polished and edges are straight with machine or hand cutting.
The perfect diagonal of granite stone slabs
Scratch test with a coin to judge polishing quality
The slab should be uniform in color, homogeneous crystalline texture, and thickness.
The top layer is uniform and straight and is free from cracks, broken edges, holes, and cavities
The above-mentioned are field tests done to find out the granite quality. When it comes to having the approval of granite slab or tiles, the material should be evaluated through laboratory tests conducted under expert supervision in the laboratory. Apart from field tests, some laboratory tests help you understand the quality and status of the granite stone of your choice. Lab tests help you know the durability, porosity, strength, and water absorption capacity of the stone. These tests also let you find out the technical specifications of the stone of your preference.
Packing and Delivery of final products
After quarrying and factory activities, it is the final stage of granite production. Once the stone is ready and well-processed, it is time to pack the stone and delivery it to the nearest ports. This last activity starts with the inspection of the cargo packing condition. It is known that granite stone product is heavy cargo. Moreover, it is prone to damage during transportation. Hence, it is mandatory to focus on the packing condition. The following are some important activities ensuring the to-be-delivered product will reach safely to the doorstep of buyers. These include:
Cargo packing condition
Checking of packing material
Assessing packing quality
Checking packing mark
Checking the strength of the packing crate
Loading packed crates in containers
Shifting containers to nearest ports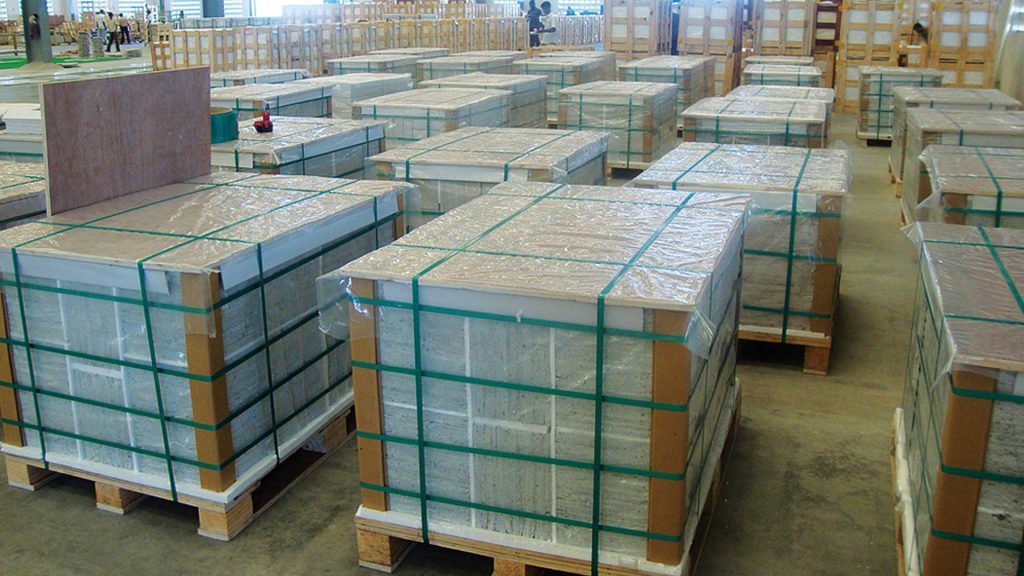 These three phases are a part and parcel of granite production or journey from raw material to a well-finished product. B2B buyers need to contact certified Indian granite manufacture and exporter of a wide range of granite products in various colors, finishes, and sizes. As far as the cost of the stone is concerned, granite suppliers in India give buyers a competitive edge by selling stone products at factory prices.