A kitchen countertop always plays an indispensable part in making a kitchen luxurious, efficient, and functional. That is why the countertop material you choose should be a faultless choice and be picked from the most sought after types of granite countertops. You can choose a particular type of countertop product on the basis of color, edges, material, and grading.
It is hard to imagine a kitchen without a countertop, especially in the modern world. A fully-functional countertop makes a big difference along with walls, floors, faucets, sinks, cabinet, etc. In order to bring everything all together in the kitchen, you need to abide by a specific countertop product from the competitive world. There is no dearth of countertop materials, including granite, marble, quartzite, engineered quartz, and many more. On the basis of stone features, advantages to end-users, and chemical and physical properties, it is a granite product that wins the race. While searching for granite countertop types in the competitive market, focus on your kitchen architecture needs and granite material available around. With this content, seekers of granite will get a clear picture of various types of granite countertops.
Material/product-based Types of granite countertops
When you are choosing a material for a remodeling or new project at home, granite countertops emerge as an eccentric choice. Countertops are needed for garnering kitchen, bathroom or recreation room bars. Being enormously durable and heat-resistant, granite slabs and tiles are best-suited for having kitchen and bar counters. When it comes to choosing from various types of granite countertops, granite suppliers offer a big assortment of the slab, tiled, and modular granite.
Slab granite countertop: It is broadly recognized as one of the most stylish countertop materials that people prefer to buy online and offline. At a factory or workshop, stone experts fabricate granite to make it custom-fitted. Generally, gangsaw slabs of 260 x 160 cm up in 2 & 3 cm are used to chisel out customized countertops.
Tiled granite counter: It is built by placing granite tiles edge to edge using epoxy materials. When compared to slab materials, tiled granite countertops are more inexpensive. Basically, granite tiles in sizes of 30×30, 30×60, and 60×60 cm are used for making countertops.  
Modular granite countertop: For such granite countertop types, pre-cut granite pieces of standard sizes and shapes are used. This sort of granite counter is superbly ideal for a conventional kitchen. Moreover, it is the most expensive type of granite counter for a kitchen.
B2B buyers can buy any of three types of granite countertops in bulk from a popular granite market and supply the stone in retail to their targeted audience.
Edge-based types of granite countertops
You can also choose a granite type on the basis of perfect countertop edge profiles. There are lots of options available to choose from. The interesting part of buying such countertop is that it can be bought as per your kitchen décor needs and functionality factors. When it comes to opening up some original designs ideas, edge profiles give you an edge for having an exclusive style. Try out the following edges to add more twist to the story. These include:
Basic edges – Straight edge, round top and bottom, ¼ round, and bevel edge
Premium edges – Half-bullnose, step-half bullnose, full-bullnose, bevel top, and bottom edge
Custom edges – Classic ogee, flat ogee, waterfall, cove dupont, flat ogee, round ogee edge  
Granite countertops types on the basis of grading
The grading of granite is also another important factor that you can consider before buying countertop products. The grading of a granite slab product is well-defined by surface-level features of the stone, such as stone's hue, marks and veins on it, quarrying location, and thickness. Plainly speaking, there are three prime levels of granite, including:
Level 1 (Low grade or entry-level granite) – Builder or commercial grade
Level 2 (Mid-grade level) – A little more unique than the level 1
Level 3 + (High-grade granite) – Top quality (free from all flaws)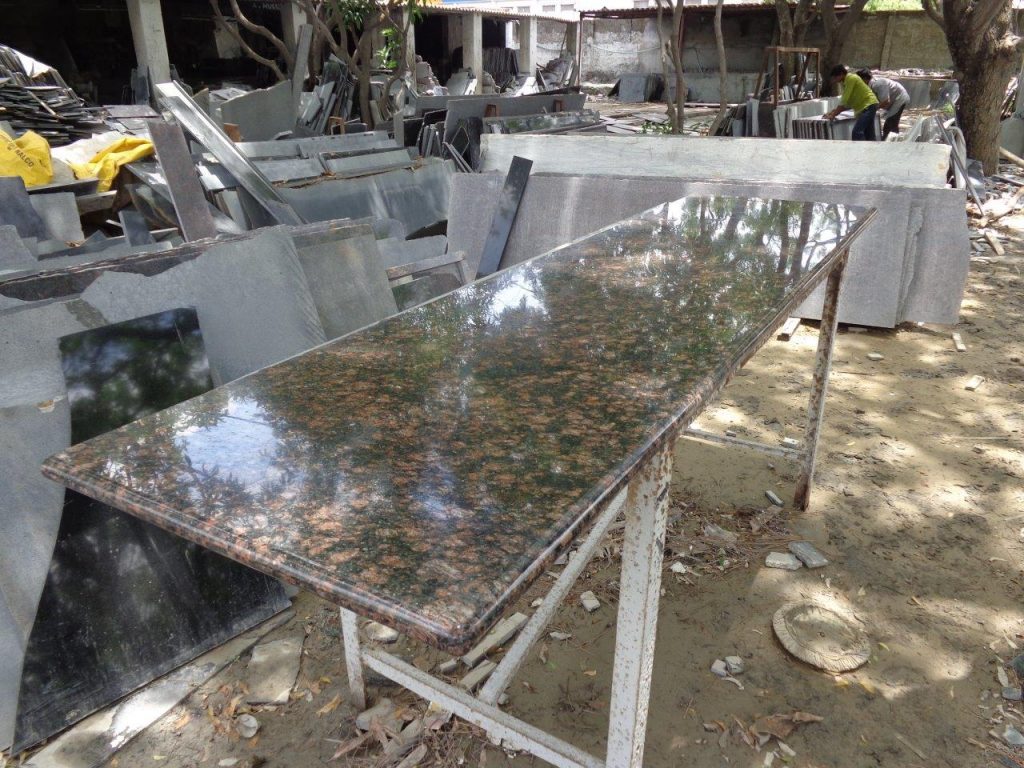 In addition to all mentioned-above types of granite countertops, one can also choose from various types of granite countertops on the basis of dark and light colors.
With one of the top granite countertop manufacturers and suppliers from India, B2B buyers can expect the timely availability of top quality granite types for countertops at competitive prices. Keeping the needs of standard and customized sizes in mind, an ISO-qualified company supplies customized counters and slabs for counters across 60 countries around the world.