Blog
Mechanical Properties of a Granite Product
December 30, 2020 admin
Granite is the best-known igneous rock available at the surface of Earth. From countertops to walls and from floors to vanitytops, granite is used in daily life all around us. It is widely used in the form of slabs, tiles, countertops, backsplashes, etc. It is chemical and physical properties of granite that make it the first choice of all for residential and commercial construction. When it comes to having a hard and durable stone, granite stone emerges as a truly beautiful natural stone with hundreds of colors and patterns. It is simply a unique and elegant stone that render a sleek rich feel. This content puts light on a few mechanical properties of a granite stone product that make it a big fit for a variety of construction projects globally.
Granite stone: Mechanical (Physical properties)
There are hundreds of granites available in various colors and patterns that commit a bold statement and grace with a difference. In today's scenario, granite is an affordable luxury. Broadly, granites get their name as per their minerals and the place of origins. Being a very durable siliceous stone, granite withstand the vagaries of nature effectively. When it comes to knowing why granite stone matters the most, simply read more about the mechanical properties of the stone that makes it a superb construction material. These properties are vital to know how granite will perform, what the strength of granite is, or how it will react to water and natural elements. Below given test types are important to determine the quality of granite stone.
Compressive strength: The primary purpose of this test is to confirm whether granite will stand external forces and shocks during transportation and installation or not. The procedure of compressive strength measuring granite includes: Water absorption test of granite, dry density test of granite, and compressive strength test.
Flexural strength: This granite test method is vital for deciding the bending strength of stone. It can be easily done with a simple beam with the help of quarter-point loading. This test also lets you know about the flexural strength between granite and other natural stone products.
Abrasion resistance: The abrasion resistance test was conducted on a few granite samples to assess the abrasive resistance of solid materials like granite. It is also concerned with the abrasion loss of thickness. Here, the weight of specimen before and after abrasion matters the most.
Water absorption: The water absorption test is concerned with the calculation of the saturated weight and dry weight of the granite samples. This test also talks about granite porosity and water permeability of the concrete. It is also useful in checking if there are any cracks or fissures rooted inside coating.
Polishing surface appearance: This sort of granite quality test is vital for understanding the amount of lusterness added to the surface of the stone.
Hardness: Explained in terms of the Moh's scale, the hardness testing of granite exposes the resistance of the granite stone to abrasion or scratching. The durability and performance of granite is directly related to the higher rating of stone in the Moh's scale.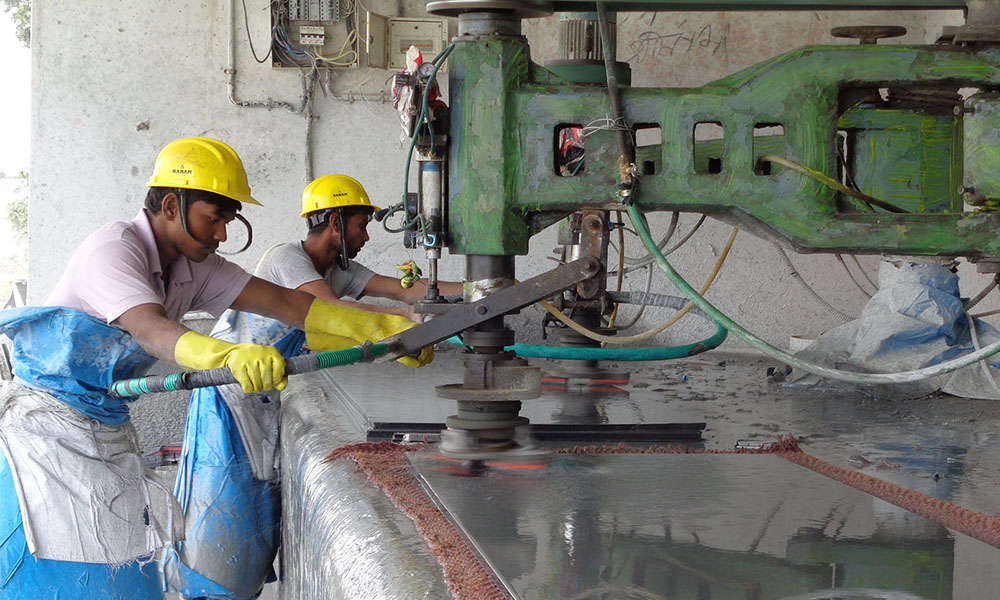 Physical features of granite
• Water absorption: 0.08 – 0.12 by volume
• % compressive strength: 200.0 – 203.3 MPa
• Density: 2830 Kg/m3
• Flexural Strength: 19.2 – 20.2 MPa
• Moh's scale – 7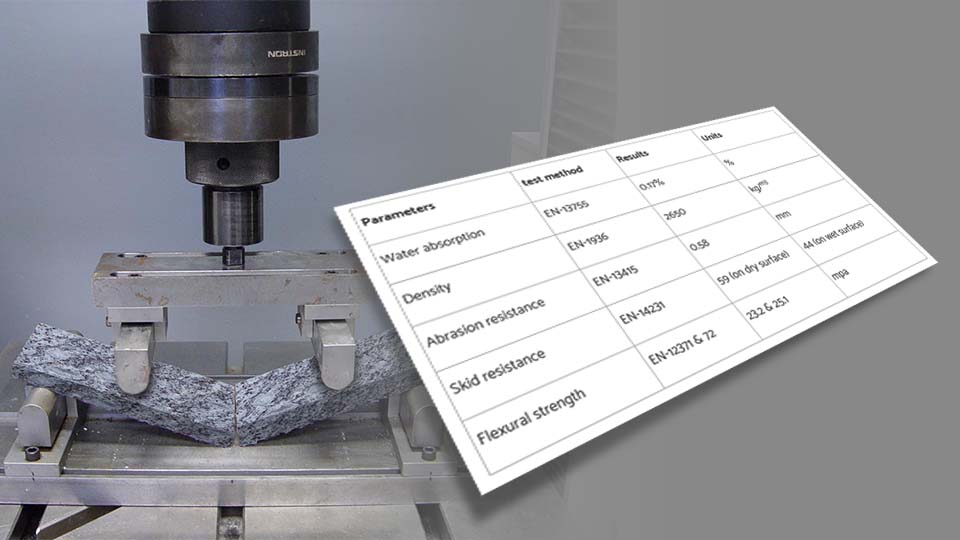 It is clear that granite quality always matters the most. That is why granite testing in the form of above-shown tests makes a big difference. India being a hub of colorful granite stone products caters to the changing needs of its global B2B buyers with standard, commercial, and premium quality stone, passed through all mechanical tests.
Whether you are searching for a black granite countertop or a white granite slab from any granite supplier in India, you need to ensure that the stone passes through all granite quality tests in an effective manner.