Blog
Stone of the month: Black Forest Granite
January 28, 2023 admin
The fans of granite stone who wish to enhance the beauty of their living spaces have made a fantastic decision in the color black, which stands for movement and emotions. Black forest granite stone is regarded as being excellent for a variety of interior projects, including worktops, backsplashes, staircases, walls, and floors since it can withstand cold conditions. This gorgeous black granite from South India may readily improve the aesthetics of any interior or exterior thanks to its snow-white swirls and stripes. Black forest granite is a tough stone with plenty of distinctive characteristics that are mined from south Indian granite mines.
Exquisite black forest granite, a well-known stone with a dark colour, is perfect for completing residential and commercial projects. Natural stone items, such as slabs, tiles, and worktops for kitchens and bathrooms, are elegantly used and give all walls and floors a fresh appearance. The black forest granite stone product wins the show when it comes to having something distinctive in off-white tones thanks to its special surface with snow-white swirls and stripes.
What is granite?
Feldspar and quartz make up the majority of the two components that make up granite. When dense lava progressively cools and crystallises before reaching the Earth's surface, granite is formed.
Granite is a remarkably durable rock that weathers slowly to produce thin soils, enormous boulders emerging, and characteristic tors forming the hilltops. This lava must cool down and transform into granite over a period of millions of years. Granite is very resistant to scratches and other elements since it is formed under conditions of intense heat and pressure.
The granite is termed as an Igneous Rock, which is taken from the Latin term "Ignis," which refers to "fire." Granite is made up of various minerals, the most crucial of which are feldspar, quartz, and mica.
The bulk of the quarries for Black Forest Granite are in Andhra Pradesh, mostly in the Chittor region. The demand for this black granite is satisfied by these granite deposits on a local and global scale.
This Indian granite has distinct little white veins running through it and a bright white color tone. The stone appears wealthy due to the surrounding aesthetic environment. Black Forest Granite's distinctive surface pattern allows it to complement almost any kind of décor.
Salient Features of Black Forest Granite
Delineates superior levels of aesthetics
Ideal for both indoor and outdoor architectural applications
Excellent weather-resistance
Can be used to prepare countertops, vanity tops, cutter slabs, and tiles
Mining of Black Forest Granite in India
Black Forest Granite is quarried in South India from the Chittor area of the state of Andhra Pradesh. These places are known to have several black quarries that produce this visually striking black granite. The granite is extracted from the quarries in the form of granite blocks in the region.
Before application, the raw stones are treated at several stages after being transported from the quarry to specialized granite processing facilities. At the following stage of processing, granite slabs are cut into pieces and polished.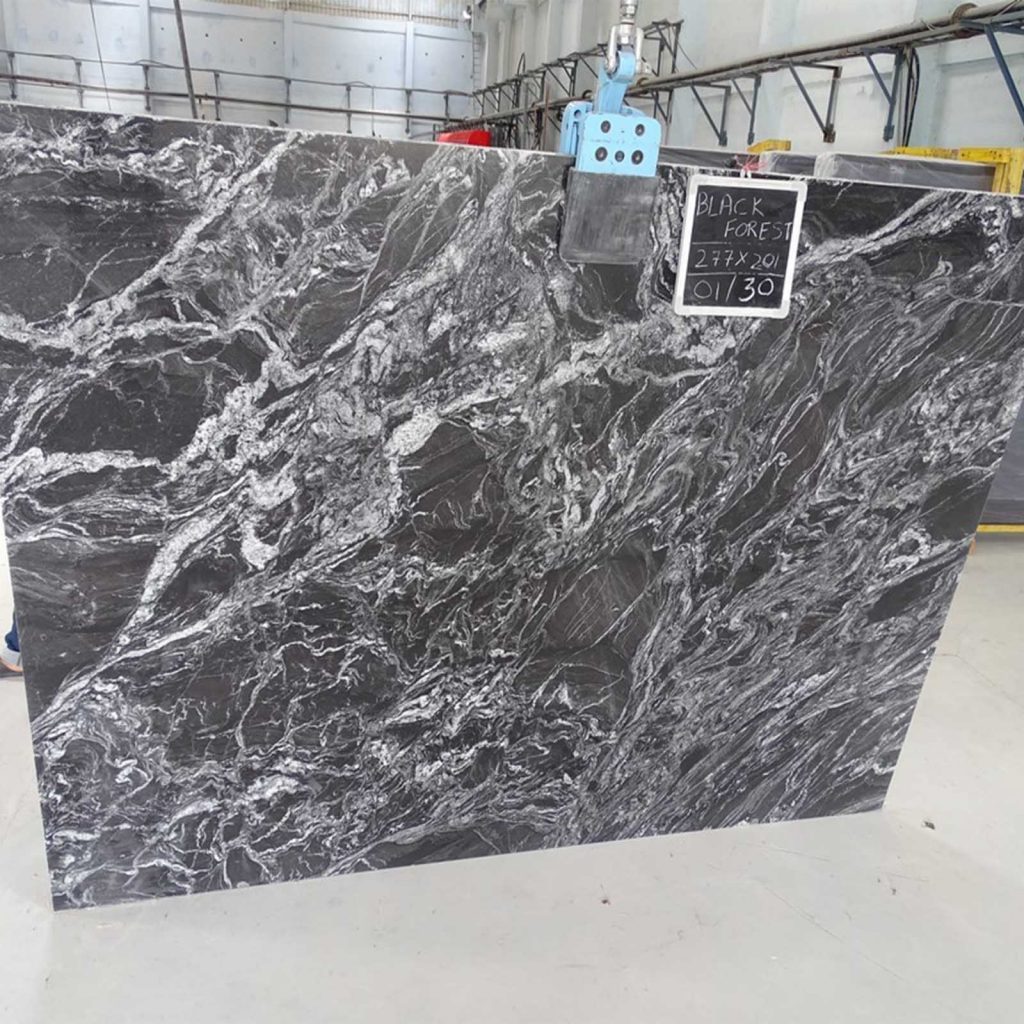 Processing Unit
These large blocks need to be cut into smaller pieces in order to be used because they cannot be used directly in an application. The most often processed granite sizes are gangsaw slabs, tiles, cutter slabs, countertops, vanity tops, and other sizes. Given the specifics of the use, a particular granite receives additional treatment. Black Forest Granite is most typically available in the following sizes:
Cutter slabs – 180 x 60 cm up in 2 & 3 cm
Gangsaw slabs – 260 x 160 cm up in 2 & 3 cm
Tiles – 30×30, 30×60, 60×60 cm
Countertops and vanity tops – Custom sizes
Finished Product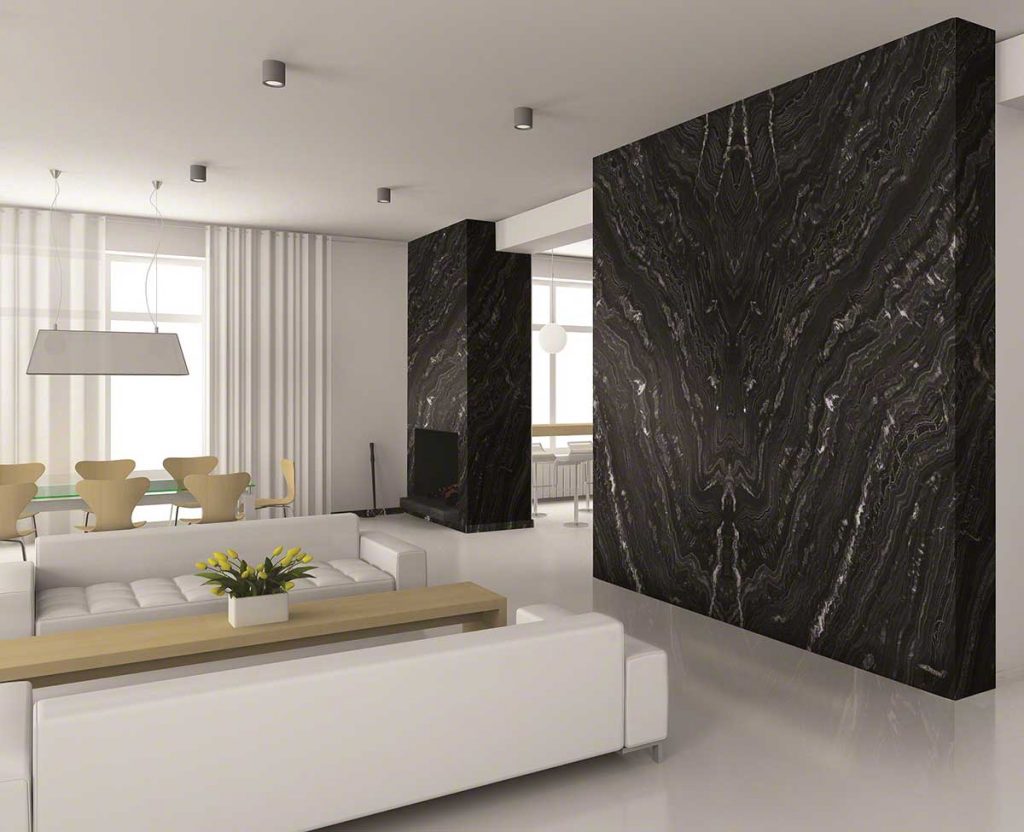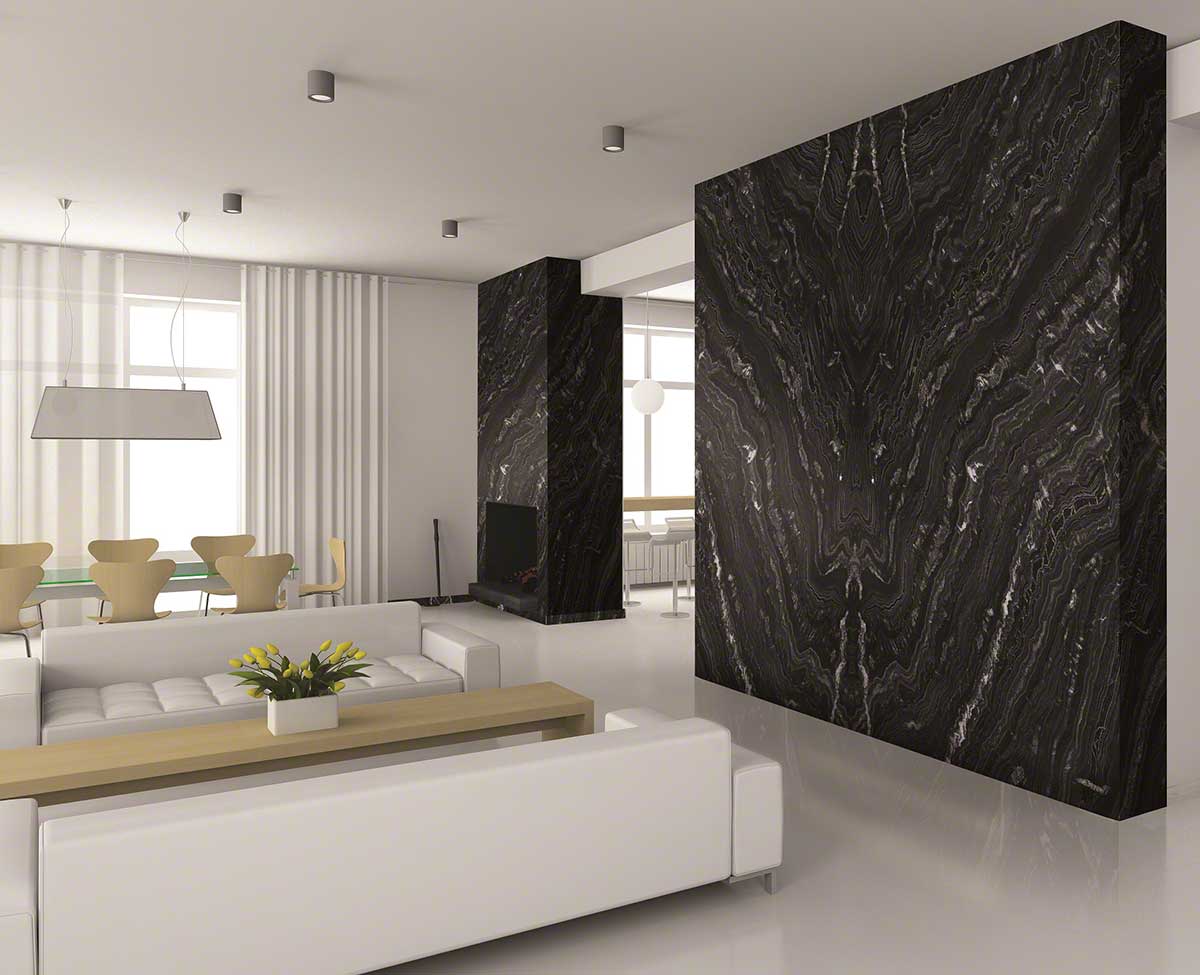 Following a precise cut of the Black Forest Granite, the stone surface needs to be treated to achieve the desired shine. The precise function for which the stone is intended influences the surface treatment choice. This green granite has machine-cut edges.
A well-polished stone is also more aesthetically beautiful and durable. The following are the most typical Black Forest Granite finishes:
Polished
Bush-hammered
Lepatora
Leathered
Brushed
Flamed
The Bottom Line
Black Forest Granite is often used in both interior and outdoor architecture projects due to its premium aesthetic attributes. The overall décor of the area is enhanced by a shining black-colored backdrop with irregularly distributed little white veins. This black Indian granite is extremely popular in countries like the United States, the United Kingdom, Australia, Germany, and others.
India has been a significant exporter of Black Forest Granite and other granite stones to other parts of the world since Indian granite is renowned for its superior quality in comparison to other granite stones.'