Granite is a wonderful natural stone used for different residential and commercial construction projects. Thanks to its chemical and physical properties that make the stone first choice of all. Being durable, beautiful, and anti-weather, granite in different colors makes a big difference. When it comes to choosing a particular granite stone from the long list of available granite colors, coffee brown granite catches all eyes. This sophisticated stone stuns all with its dark brown and black backdrop that also owns many shades of coffee and chocolate hues. The most interesting part of this stone is its chromatic palette that forms a band filled with decorative possibilities. Read this content and know more about this unique coffee brown granite stone coming from South India.
An introduction to coffee brown granite
The captivating surface of coffee brown stone entices onlookers. That is why this elegant stone is the first choice for exterior and interior applications. From countertops to mosaics, from bathroom wall to kitchen floor, and from pool copings to window sills, this glittering stone can be used in various ways. This fine-grained granite is versatile, elegant, and cost-effective. It simply matches well with white or light-toned cabinets in the form of kitchen countertops. The dark base and earthly hues of the granite stone bring in an exotic feeling to domestic spaces. Let's move ahead and know more about this dark brown igneous intrusive rock that enhances the beauty of floors, countertops, backsplashes, and other wall applications.
Coffee brown stone location and forms
• Origin of the stone – South India
• Quarry destination of the stone – Karimnagar, Andhra Pradesh, South India
• Processing unit of the stone – South India
• Available forms of the stone – Tile, cutter slab, gangsaw slab, countertop, and vanity top
• Stone recommend for – Commercial and residential projects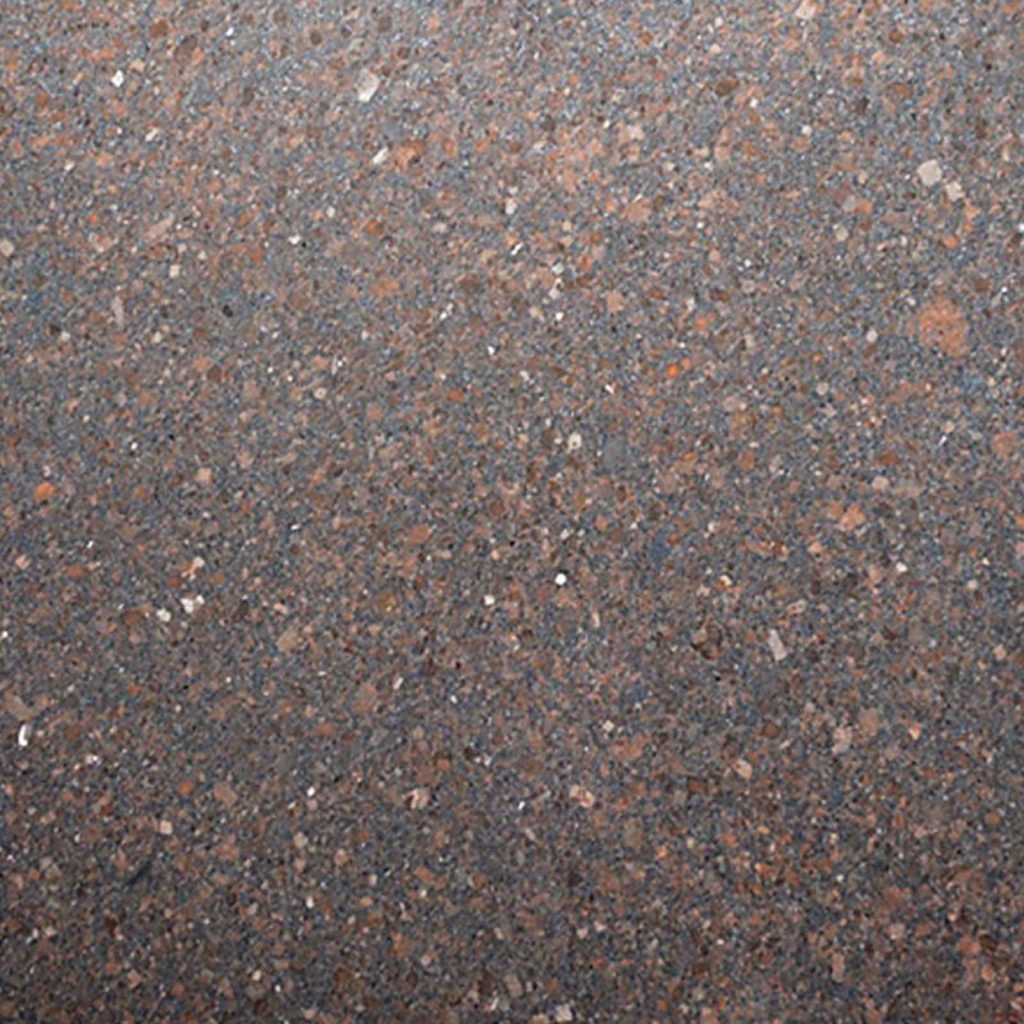 Coffee brown granite appearance
• Stone type: Coarse, dark brown Monzonite (igneous intrusive rock)
• Primary color – Brown
• Variation – Low
• Surface description – Speckles of brown hues and tones including coffee and chocolate
• Available surface finishes – Polished, flamed, lepatora, honed, brushed, leather, and bush-hammered
• Available edge finishes – Machine-cut
• After Freezing – 1810 kg/cm2
• Bulk Density – 2720 kg/m3
• Compressive Strength – 1920 kg/cm2
• Hardness on Moh's Scale – 6
• Water Absorption – 0.15%
Available stone sizes
• Countertops and vanity tops – Custom sizes
• Cutter slabs – 180 x 60 cm up in 2 & 3 cm
• Gangsaw slabs – 260 x 160 cm up in 2 & 3 cm
• Tiles – 30×30, 30×60, and 60×60 cm
• Cut to size – On demand
India is a big hub of brown granite stone products like tiles, slabs, countertops, and mosaic. B2B buyers can place an online order and get the granite stone of their choice in any quantity. There are some coffee brown granite suppliers that deal in big-quantity orders only. They are likely to accept the order that is less not than one full container load (depending upon the size and thickness of granite stone).
B2B buyers can make the most out of the granite buying process if they deal with an ISO-certified granite stone supplier and exporter.