Though India is known to have a large number of granite stones that are used worldwide for a range of applications, there are many granite variants that boast amazing beauty and versatility. Apart from being a tough material, Ivory Brown Granite is also known for its unparalleled beauty and durability. In this post, let's delve deeper and know more about this beautiful South Indian granite.

For ages, Granite has been largely used in a range of applications including paving, flooring, cladding, and other architectural applications. No matter what the application, granite always exhibits superb performance in terms of durability, stability, consistency, and aesthetics. Among various Indian granite variants, Ivory Brown Granite is a very popular Indian granite that is in huge demand from different parts of the world.
Ivory Brown Granite is of a subtle yellow color backdrop with an impression of red bands and smokes over it. Globally, this granite stone may be termed as granite but as per the guidelines of European Standard, this stone should be considered as a granulite. This granite can be used for a wide range of applications like vanity tops, tiles, countertops, worktops, fireplace surroundings, paving, backsplashes, and memorials.
The other names of Ivory Brown Granite are Ivory Brown Chiffon Granite, Ivory Brown Extra Granite, Ivory Beige Granite, Chiffon Beige Granite, Ivory Brown Light Granite, Ivory Brown Light Extra Granite.
What is Granite?
Granite refers to an igneous rock that is made up of primarily two elements: quartz and feldspar. It is an intrusive rock, which means that it is transformed into a crystallized form from magma that cooled down beneath the Earth's surface. Its name is extracted from the Latin term 'granum,' which refers to 'grain,' a locus to the feasibly found minerals in the rock.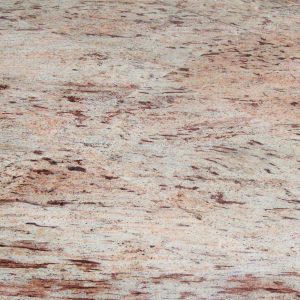 Though the term 'granite' or 'granitic' is often used as a general explanation for all types of intrusive rocks that appear like granite, the name actually refers to a rock that has a very peculiar mineral arrangement. Granite is composed mainly of two elements: quartz and orthoclase feldspar (a variant of feldspar).
Salient Features of Ivory Brown Granite Stone
A versatile granite for both indoor and outdoor décor applications
Superb resistant to harsh weathering and temperature
Suitable for all types of environment
A reasonably priced, visually appealing Indian granite
Option to purchase in multiple sizes, finishes, and edges
Mining of Ivory Brown Granite in India
Though there are different types of granites found in India, Ivory Brown Granite is primarily extracted from the Tiruttangal, Sivakasi in the state of Tamil Nadu. The mines of this granite stone are in ample number in the state and this stone is extracted from there for both domestic and international use.
India is known to be a hotbed of a wide range of granite stones. There are primarily two types of granite in India – North Indian and South Indian. The difference lies basically due to the extraction location of granite stone. Due to their extreme toughness and beauty, Indian granite stones are immensely popular all over the world. A large number of granite suppliers in India operate in different parts of the country and provide high-quality granite stones to global buyers.
Processing Unit
Conventionally, big-size granite blocks are cut using the machines to get slabs of the desired thickness, sizes, and finishes suitable for their eventual application in the destination jobs. At present, however, due to the adoption of newer technologies, the blocks are cut into slabs using a modern wire cutting machine. These slabs can be cut into different widths and modified to the client´s exact requirements. This advanced fresh technology results in great sawing quality and has immensely increased the production capacity at granite processing units.
Apart from this, several other techniques and machines are used to transform the base granite block into a more refined and modified version that can be straightly used in the desired application. For example, to do minor twitches and changes, hand-held tools like mauls and axes are utilized by the granite processing individuals. However, Indian granite manufacturers ensure that the granite stone is processed in the most exemplary manner so as to match the exact specifications of the project.
Finished Material
A processed granite slab is one that is cut the specific size for the desired application. In addition, it is polished to reveal its shiny character. A
A special granite polishing powder is used to polish the stone. All these activities are done in a granite processing unit.
In regard to the size, the most commonly preferred dimensions of Ivory Brown Granite are:
Countertops and vanity tops – Custom sizes
Cutter slabs – 180 x 60 cm up in 2 & 3 cm
Gangsaw slabs – 260 x 160 cm up in 2 & 3 cm
Tiles – 30×30, 30×60, 60×60 cm
Custom-sizes with different thickness
Finishes
Ivory Brown Granite can be treated in different finishes so as to get the desired texture over its surface. Different methods are used to attain a specific granite finish. The exact nature of the stone application determines the type of finish the stone needs
The most commonly applied finishes on Ivory Brown Granite are:
Honed – Popular for its excellent slip-resistance property, this granite finish is a perfect choice for flooring and countertops. It is easy to clean too.
Polished – A commonly applied granite finish, the polished granite stones are easier to clean and also boast of great resistance to occasional scratches.
Leathered – This finish is done by brushing the stone using diamond-tipped brushes. It leads to a highly stylish finish with better stain resistance.
Flamed – It is achieved by applying high temperature to the granite surface which leads to the formation of grains and distinctive hue on the stone surface.
Bush-hammered – This unique granite finish is achieved. This stone finish is perfect for worktops and countertops.
It is to keep in mind that this granite comes with a machine-cut edge.
Installation
Found in South India, Ivory Brown Granite is used for a wide range of applications both indoor and outdoor. Due to its neutral color tone, it leaves a classy appeal to any surrounding. Some of its common applications are flooring, countertops, worktops, fireplaces, backsplashes, claddings, paving, fountains, and others. Moreover, in commercial applications, this granite exhibits superb performance.
For global B2B natural buyers, Indian granite always remains a preferred choice as it comes in a variety of colors and finishes. Moreover, durability is another aspect that gives Indian granite a winning edge over others. Be it a commercial application or a domestic one, Ivory Brown Granite has all the qualities that today's dynamic architecture industry wants.