In the field of architecture and construction, the use of granite is quite prevalent due to many reasons. From its exceptional hardness to durability, distinctive design patterns, and availability of different colors, granite stone possesses several visual and functional features that make it a stone of choice for many reasons. Among various granite variants, one of the most commonly used ones is Steel Grey Granite.
As the use of granite has become quite prevalent in different parts of the world, Indian granite always remains the most preferred choice of architects and construction contractors who can attain their décor-related objectives beautifully. Moreover, this natural stone lasts longer than its counterparts. This is another reason behind the popularity of granite.
Natural stone is widely used in today's architectural landscape, whether in large-scale commercial construction projects or small-scale home improvement projects. This natural stone not only adds a stunning look to the overall architecture but also significantly improves the space's durability and functionality. When it comes to dimension stone, architects and homeowners have a plethora of options ranging from marble to granite to sandstone.
Steel Grey Granite is found in any type of stone product, whether it's a countertop, tile, slabs, or any other stone product. Many Indian granite suppliers and exporters have in-house stone treatment facilities, allowing them to deliver high-quality granite stones to customers all over the world.
What is Granite?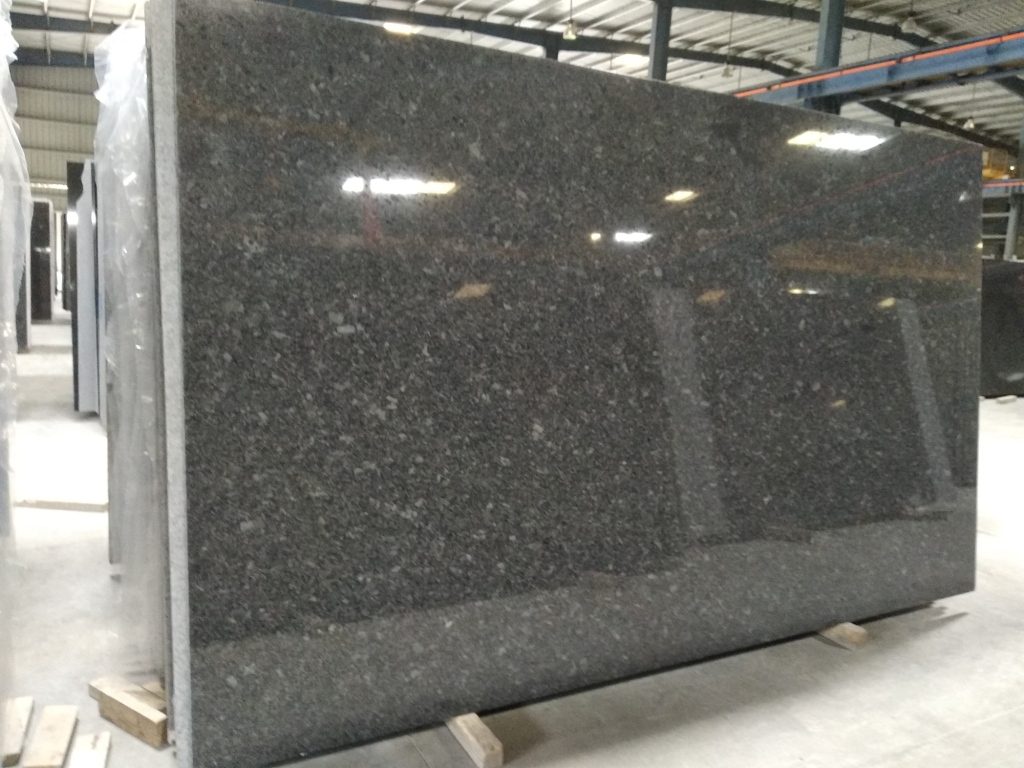 Granite has two main elements- feldspar and quartz. Granite is formed when thick magma gradually cools and crystallises before reaching the Earth's surface.
This natural stone is a highly hard-wearing stone that doesn't reach quickly to weathering. It leads to thin soil with extremely bigger boulders. This magma takes hundreds of thousands of years to cool and solidify into granite. Granite is formed under extreme heat and pressure, which is why it is highly resistant to scratches and other elements.
Called Igneous Rock, the term "Granite" is taken from the Latin word "Ignis," which refers to "fire." Granite can also be defined as a mix of various minerals. Some of the most prominent ones among them are quartz, feldspar, and mica.
A majority of Steel Grey Granite quarries are located in the state of Andhra Pradesh, particularly along their border regions. These granite deposits meet both local and global demand for this grey Indian granite.
This Indian grey granite boasts a subtle grey color tone with eye-soothing small black veins running through it. The general system gives the stone a classic appearance. Steel Grey Granite blends well with almost any type of décor due to the regular distribution of grains.
Salient Features of Steel Grey Granite
Delivers a premium touch to the overall setting
A perfect for both residential and commercial construction projects
Superior weather-resistant qualities
Can be available in countertops, vanity tops, cutter slabs, and tiles
Mining of Steel Grey Granite
Steel Grey Granite is extracted from the Martur region in the Prakasam district of the state of Andhra Pradesh. There are several mines available in the region that produce export-quality grey granite. The stone is extracted as granite rough granite blocks from the quarry.
After being extracted from the quarry, the rough blocks are transported to dedicated granite processing facilities, where they are treated at various levels before being applied. Granite slabs are cut and polished at the next level of processing.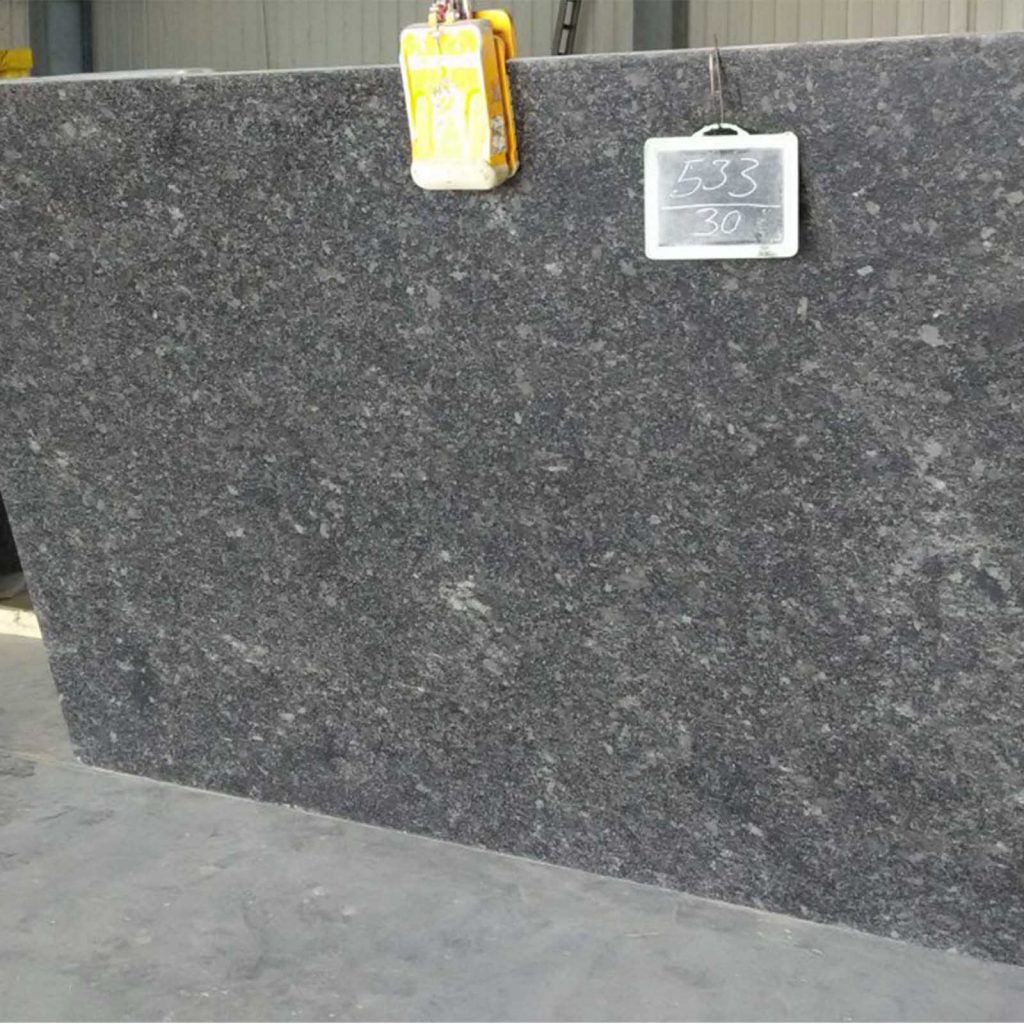 Processing Facility
Since direction application of granite blocks is not possible, they need to be cut into smaller sizes before the application. Gangsaw slabs, tiles, cutter slabs, countertops, vanity tops, and other granite sizes are the most commonly processed stone articles. A specific granite is further processed depending on the exact nature of the application.
Steel Grey Granite is most commonly available in the following sizes:
Cutter slabs – 180 x 60 cm up in 2 & 3 cm
Gangsaw slabs – 260 x 160 cm up in 2 & 3 cm
Tiles – 30×30, 30×60, 60×60 cm
Countertops and vanity tops – Custom size
Finished Stone
After the Steel Grey Granite has been precisely cut, the stone surface is further treated to achieve the desired finish. The choice of a surface finish is determined by the application for which the stone is intended. The edges of Steel Grey Granite are machine-cut.
In addition, a perfectly polished stone lends a superb visual appeal and serves people for a longer period of time. Steel Grey Granite's common finishes are:
Polished
Bush-hammered
Lepatora
Leathered
Brushed
Flamed
The Bottom Line
Because of its upscale visual characteristics, Steel Grey Granite is widely used in both indoor and outdoor architectural projects. The overall décor of the space is enhanced by a premium grey background with evenly spaced small golden veins. This grey granite is very popular in countries such as the United States, the United Kingdom, Germany, Australia, and others.
Because Indian granite is known for its high quality in comparison to other granite stones, India has emerged as a leading exporter of Steel Grey Granite and other granite stones to various parts of the world.