Blog
Top Kitchen Countertop Trends in 2023
February 1, 2023 admin
Be it any kitchen, a kitchen countertop is an intrinsic part of it. In fact, it is impossible to think of a kitchen without a countertop. It is one place in a kitchen where the action takes place. Whenever a kitchen renovation project takes place, replacing the countertop becomes an integral step in the overall process. Along with this, it is also important for architects and kitchen fabricators to stay on top of the latest kitchen countertop trends so as to deliver the best to their clients.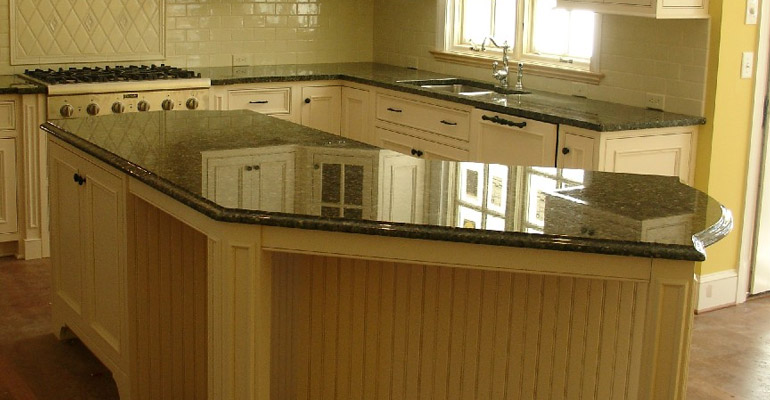 Below are some of the hottest kitchen countertop trends that would rock in 2023.
Quartz takes the lead
Widely regarded as a wonderful alternative to granite, architects always remain confused between choosing granite and quartz. Granite, a natural rock, has long dominated the countertop market, particularly for consumers looking for something robust, long-lasting, and attractive. However, it has a drawback—it is porous. This implies that substances like water, alcohol, and oils can discolor the surface by penetrating it. Even worse, it promotes the growth of harmful germs that may render your countertop unhygienic.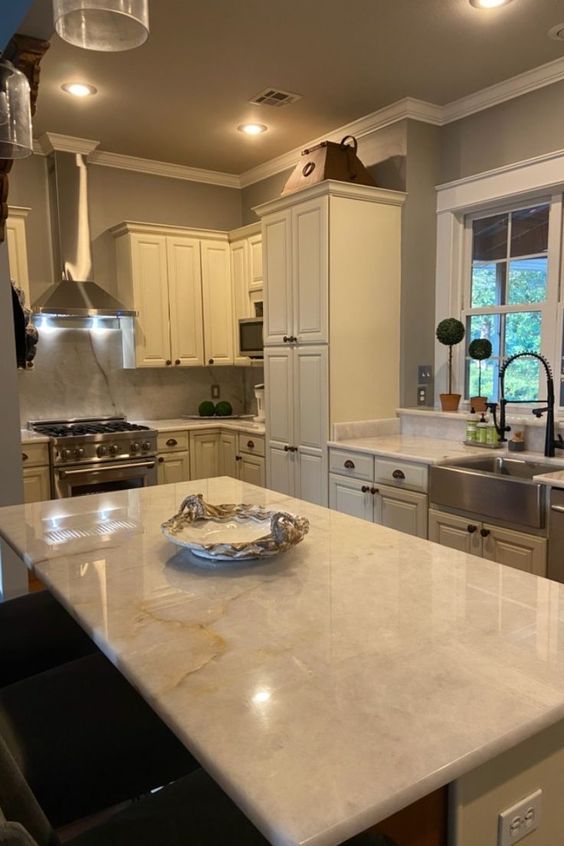 Quartz, however, does not require routine resealing since it is non-porous. As a result, it is one of the most sanitary countertop solutions for homeowners and has strong stain resistance. You can understand why many homeowners continue to choose quartz as their countertop material of choice since it requires no care and is incredibly sturdy and durable.
At present, quartz comes in a wide range of colors, surface patterns, and finishes which make it look like a natural stone. The latest one is a matte finish.
More focus on veining
Silky-smooth veining adds personality and elegance.
Homeowners are looking for both quartz and granite countertops with a little more personality. Thank goodness for technology, which can provide original answers. Contrary to the basic designs of the past, countertops today come in a broad range of patterns. Say bid adieu to the previous countertops' rounded particles and hello to realistic veining.
Natural stone slabs like granite and marble are being mimicked by materials like quartz. This entails infusing the countertop slabs with interestingly patterned veins. The property owner's creative personality in the kitchen will soar with this extra push. If you want something even more realistic, go without the polished item. Honed and leathered finishes offer the necessary toughness for the kitchen but appear completely different there.
By applying a non-porous sealer on the granite surface, the porous problem may be fixed. However, the sealer loses its effectiveness through time and use, necessitating regular resealing of granite countertops.
Boldness takes a centerstage
The contrast between the light-colored cabinetry and the black countertop is intriguing.
Dark counters, in particular, may easily appear quite gothic in some settings while yet being absolutely harmonic in others.
Bold-colored kitchen countertops are a terrific choice if you want to make a statement with your home remodel. The appearance is not exclusive to modern settings. In a traditional kitchen, a strong and striking hue also works well; black marble or granite surfaces provide gravity to rustic wood racks or a vibrant tile backsplash. Dark countertops, whether glossy or matte, on the other hand, will assist your dishes, flowers, and linens to stand out.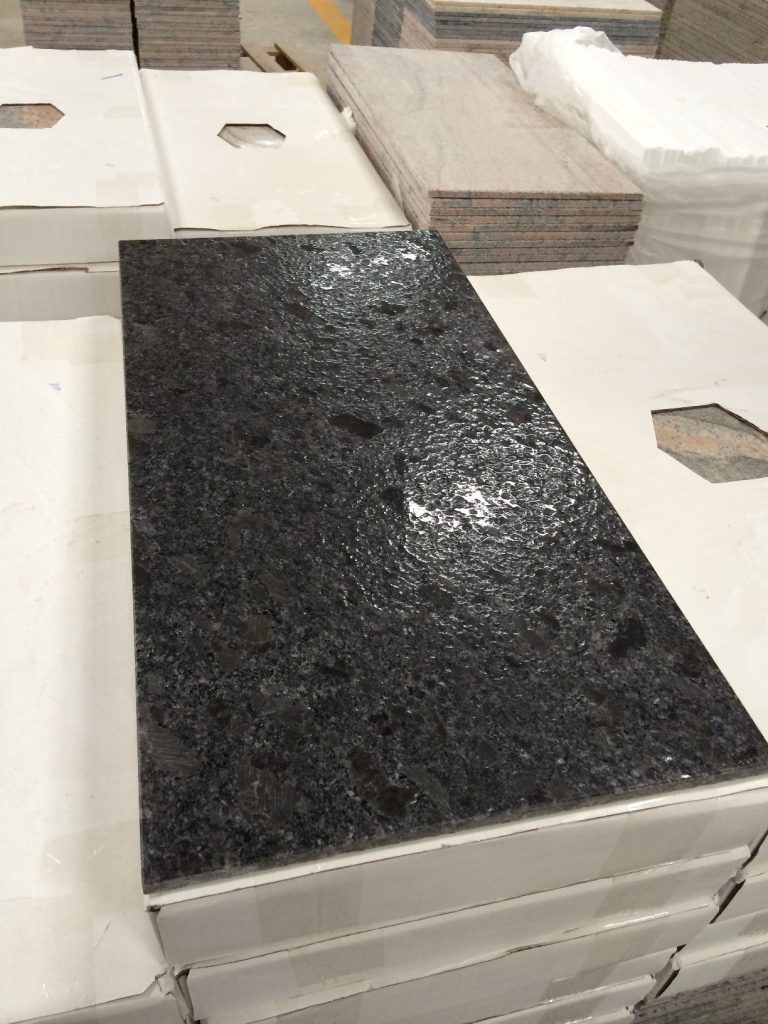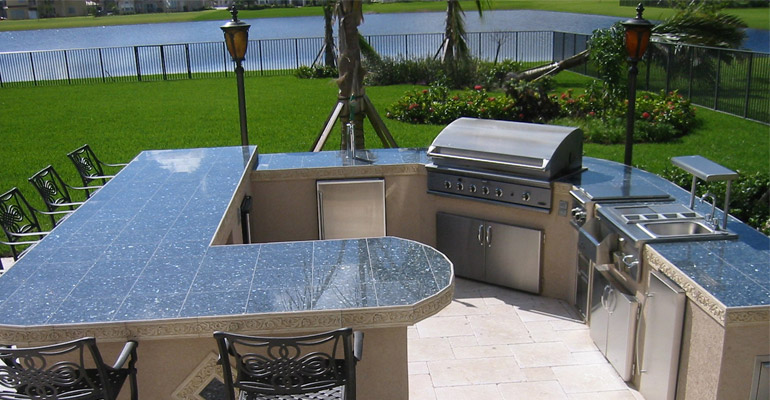 Outdoor countertops
In an outdoor setting, subpar workmanship will rapidly degrade. When choosing outdoor kitchen countertops, durability should come first and aesthetics should come second. Otherwise, you'll discover that your investment disappears in a flash.
An outdoor countertop needs to be tough, waterproof, tidy, and beautiful. For outdoor countertops, there are virtually as many material options as there are for inside counters. Some of your alternatives include granite, concrete, and tile. Avoid using manufactured countertop materials like quartz and Corian since they may fade when exposed to UV radiation.
Integrated Sink
Your cooking area will have a sleek and seamless appearance thanks to the integration of the kitchen sink and countertop. Unlike typical drop-in sinks, this style of sink doesn't overflow the countertop, offering a sleek, contemporary, and even minimalist appearance. Additionally, if you select an integrated sink, you won't have to worry about whether it will fit on your kitchen countertop because you can customize the size to your preferences.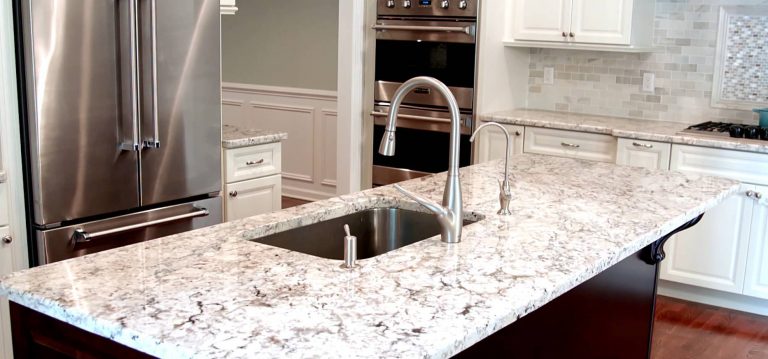 The Conclusion
Since countertops have a mainstay in kitchen décor, the aforementioned trends in kitchen countertops would help both architects and home owners in choosing the right countertop for kitchen renovation projects.